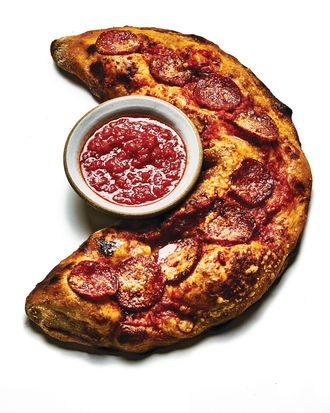 Photo: Bobby Doherty/New York Magazine
Is Dan Kluger really a Bensonhurst pieman trapped inside the body of a fine-dining chef? Not content with creating a Grandma pizza so good it makes you feel sorry for all other Grandma pizzas, the Loring Place chef has begun pushing sausage calzones: unusually crisp and thin-crusted half-rings of dough shaped less like overfed empanadas and more like edible boomerangs. They arrive at your table on old-school tin pizza plates with a traditional cup of tomato sauce for dipping. Which is not to suggest that these delicious things will remind you much of the calzones you've had at your neighborhood Vinnie's or Sal's.
As Kluger groupies (Klupies? Klugies?) might expect, this calzone is an elevated calzone and also one designed to whet the appetite not annihilate it — the calzone as share-plate hors d'oeuvre if you will.
The chef grinds his own sausage, cooks his own ricotta, even mills the emmer that goes into the dough. But it's the architecture that really sets it apart: Kluger positions little smoked-paprika-scented sausage links all along the inner edge, so you get a taste in every bite. Rather than the tidal wave of oozing industrial cheese you usually encounter with calzones, there's a minimalist blend of fresh ricotta and Murray's mozzarella. Most radically, though, Kluger varnishes the surface with sauce and decorates it with thin wheels of Flying Pigs Farm soppressata that sizzle and curl up as they bake in the manner that, according to pepperoni-pizza connoisseurs, makes life worth living.
*A version of this article appears in the August 6, 2018, issue of New York Magazine.