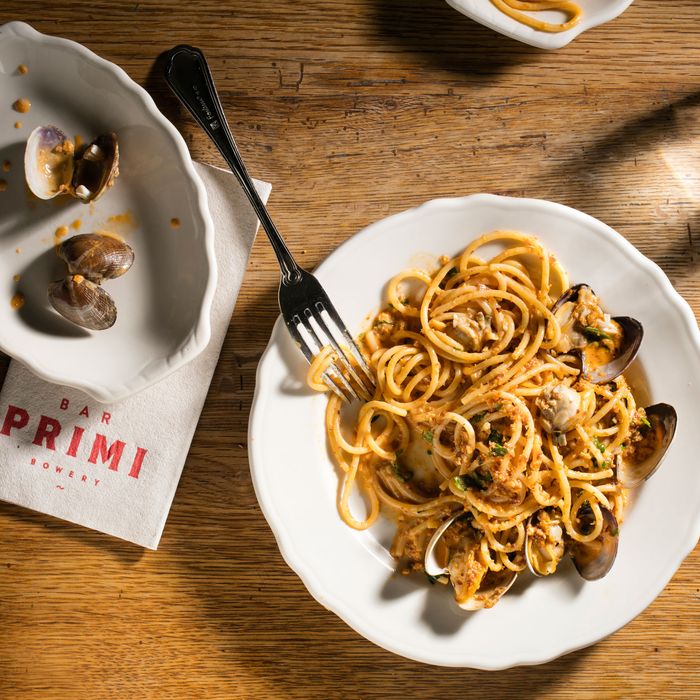 Bar Primi's version benefits from 'ndjua, the red-hot spreadable pork sausage.
Photo: Melissa Hom
Clam sauce is New York's least iconic dish. But made "red" with tomatoes or "white" without them, the outcome is the same: good. Every day, hundreds of restaurants in the city send out well-made versions of clam sauce tossed with linguine or spaghetti. Portions may vary — in the West Village, serving bowls might be small and handmade, while in the farthest reaches of Ozone Park, Queens, they could be shallow and as big as trash-can lids. The point is, there's a lot of clam sauce out there because there are a lot of clam-sauce fanatics.
While there may be renditions of spaghetti and clams dolled up with saffron and pink pepper, most cooks stick to an elemental roster of ingredients: garlic, olive oil, clams, white wine, red pepper flakes, parsley. The Italian dish is stubbornly immune to updates.
Chopped-versus-sliced garlic isn't as important as the quantity used, or when it gets added to the pan. The wine is usually industrial and poured from a large box in the corner of the kitchen. Tomatoes are typically whole and peeled, always from a can; parsley is flat-leaf. Fresh clams may be plump littlenecks, brawny cherrystones, or tubby Manilas with streaky green shells.
"I would never trust anybody who served me pasta with clams without the shells," wrote chef Giorgio Locatelli, in his 2006 cookbook. "I want to see for myself that they are fresh." Still, Locatelli instructs readers to leave only a quarter of the clams in their shells, which is how most restaurants approach the dish.
Deb Perelman, of Smitten Kitchen, recently published a declaration of her affection for linguine and clams, calling it the unofficial dish of summer. "I was surprised by the gap between the number of people who love the dish, who spoke fondly of it being their favorite beach vacation meal, and the number of people who actually make it at home," she wrote, in an email.
Maybe this should change in 2018 (here's Perelman's recipe). New York's history of the clam runs parallel with that of the oyster. Exoskeletons of both animals paved the city's streets and filled in swampy real estate. Though clam sauce has been there in the undercurrent of at least 70 years of local restaurant history, it's by no means a dish we can claim as our own. It went from being Italian, to Italian-American, to just New York–Italian–ish, if served here.
Starting in the early 1900s and up until a few years ago, clam sauce appeared on the menu of Hoboken's Clam Broth House, once described as a place where dockworkers mixed with investment bankers, and "where all refuse, including clam shells, cigarette butts, and napkins, is thrown on the ancient tiled floor." In the '90s, Dora Marzovilla's handmade pasta was fundamental to the clam sauce served at I Trulli, which the octogenarian matriarch these days makes with squid-ink linguine.
In the '80s, Anne Isaak, a former Chez Panisse chef, added an all-caps "SPAGHETTI CLAMS SAUCE" to the dense, handwritten menus at Elio's. The pasta twirled on the forks of actors and novelists, and has been available ever since. A violent 1972 mobland murder will forever be attached to Umberto's Clam House, even though the crime occurred at a different iteration of the restaurant two blocks away. (Coincidentally, the Underground Gourmet's Umberto's congenial review came out the same month.) Umberto's is to this day perhaps the city's only full-fledged, clam sauce–adjacent tourist attraction. Tour groups pass and gawk, and if the clam sauce is not particularly great, its presentation is suitably theatrical.
There's been no clam-sauce renaissance, but if anything changes with that, it might be traced back to Maialino. Jason Pfeifer, Maialino's current executive chef, opened the restaurant nearly nine years ago, under Nick Anderer. Pfeifer and Anderer went fact-finding through Italy until they found their ideal linguine and clams in Rome. The only problem was that vongole veraci, the tiny sweet clams used in the dish, weren't available in New York. So they set out to replicate the flavor of the bivalve freshly plucked from the Mediterranean.
It took a lot of research and development, but eventually the chefs devised a "base stock" made from assorted clams, bouchot mussels, parsley stems, and a touch of chile flakes. On pickup, Pfeifer lets parsley fry in oil a little before adding littlenecks and the stock. The chilies are Calabrian, ground, and passed through a coarse tamis; the olive oil used to finish the dish is fruitier and coastal.
"The pasta has to cook with the broth, and while it's cooking, you have to stir it constantly, without stopping, to get the pasta to release its natural starches," said Pfeifer. "That's how we get the sauce to bind to the pasta."
He said that the success of Maialino's version came down to re-creating the briny-sweet flavor curve of vongole veraci. "That was one of our biggest challenges," he said. "It took using mussels and different clams to get that one flavor. We were all maniacs about it."
Here, in alphabetical order, are 15 stellar versions of the dish.
al di là
Price: $19
Park Slope's enduring home of rustic Italian food has long been known for its hearty spaghetti vongole, which has plenty of minced parsley and oregano. It's probably the most restrained version in the city, and one that seemingly lets the salt in the clams do all the seasoning, instead of an excess of the sprinkled stuff.
Bar Primi
Price: $24.25
Bensonhurst native Sal Lamboglia uses loads of garlic and 'nduja, the red chile–laden pork sausage — this one made by La Quercia — to make a slightly sticky sugo to coat his spaghetti and clams. (The clams are Manila, the pasta Rustichella d'Abruzzo.) A shot of heavy cream, along with mussel and clam juice and a little white wine, also figures in, and the dish is finished with copious bread crumbs and plenty of chopped parsley.
The Clam
Price: $23
Tomato in the sauce has a spicy kick that suits the rustic appearance of the pasta, which includes an impeccably dressed mound of crisp, frilly greens atop the crown of hard-shell littlenecks.
Don Peppe's
Price: $26
Ozone Park's raucous, cash-only seafood house is emphatically clammy, in a good way. Garlic is caramelized to the point where it's candied; each bite averages one whole clove. The bounty of chopped Long Island clams includes plenty of adductors — the stubby, eraser-shaped muscles that typically cling to the inside shell after shucking — a tip of the hat to fresh sourcing.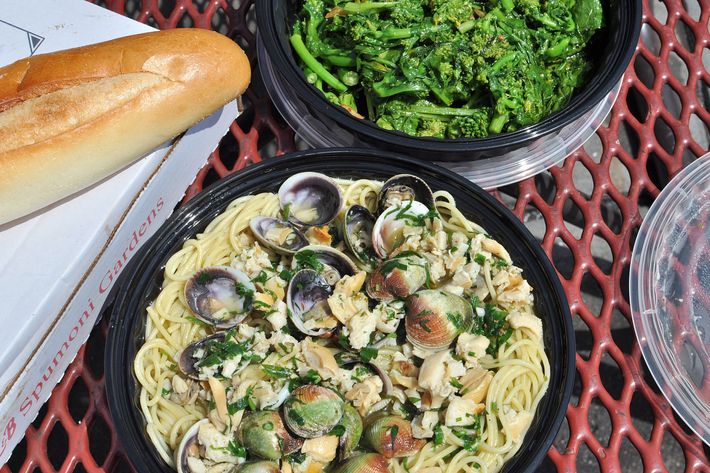 L&B Spumoni Gardens
Price: $15.95
Gravesend's most famous restaurant is sprawling and thronged. Its square Sicilian pizzas are National Register worthy, along with paper cups of its namesake dessert. Clam sauce is equally good. Red and white are heavily perfumed with fried garlic, and each order comes with a complimentary loaf of Italian bread. Even without the extra carbs, it's a titanic bargain.
Maialino
Price: $25
Spaghettini alle vongole may be prepared with cockles or Manila clams, but it's that rich broth, made with bouchot mussels and littlenecks, that informs the depth of this dish. Cooks agitate the pasta around the sauté pan with a vigorous stir, just before pickup, which disperses starch into the clam sauce, ensuring a thorough coating.
Mario's
Price: $18.50
If it ever feels like you're walking in on someone's birthday celebration at the 99-year-old Belmont institution, you likely are. Join the party and order in some clams. Mario's linguine is flat and thin. Littlenecks are sweet and not much larger than a quarter in diameter. For your second course, head on over to Dominick's for Linguini alla Gianni, a saucy mix of clams and chopped shrimp.
Ortobello
Price: $19.50
Red-sauce establishments still thrive in Bensonhurst, and few do it better than Ortobello. (Try the stellar chicken parm, served with a mantle of bubbly mozzarella, why don't you?) Tomato-brothy clams posillipo are worth mentioning as the perfect warm-up to the larger-format linguine and clams, which comes doled out in hefty portions.
Randazzo's Clam Bar
Price: $19.95
Pasta portions are king-size at Sheepshead Bay's century-old crown jewel of Italian seafood. The garlic is blanched, white, and slivered Goodfellas thin.
Roberta's
Price: $18
The twist in tonight's performance is that the role of linguine is being played by torchietti, a rumpled pasta that looks something like uptight campanelle. The yolk-yellow and oil-glossed shape is a perfect vehicle for picking up tiny clam morsels and bits of crisp garlic.
Sandro's
Price: $23.50
Feats of pasta virtuosity happen on the daily at the Upper East Side restaurant, including al dente spaghetti with thick clam sauce imbued with a "touch of tomato." The menu may be Roman in spirit, but the reduced gravy resembles classic Marechiaro, straight out of Naples, with a little tang and subtle spices.
Scampi
Price: $23
The kinks and creases in the shell-like pasta shape lumache, another thoughtful linguine alternative, sop up the extra sauce, a sharp tarragon pesto. A modern take, for sure, with an excess of finesse.
Upstate
Price: $16.00
There are tiny pots of fettuccine in addition to the surfeit of beer and half-shell Wellfleets, all buttery and dusted with cheese, plus steamed clams. The unorthodox noodle choice and presence of Parmesan breaks two cardinal rules of the nonexistent Clam Sauce Playbook, but really, it's fine, because the closest thing we have to the fish police is the show of the same name, which no one's watched since 1992.
Vic's
Price: $25.00
Clams are cooked perfectly and match the texture of the tonnarelli, which are big, eggy noodles with a starchy softness. Repeat forkfuls land the diner nutty bits garlic or hot chilies, and torn blades of green mint add a herbaceous punch.
Queen Italian Restaurant
Price: $25.75
Downtown Brooklyn's neon-stung old-timer excels at heaping plates of linguine and rough-chopped clams that seem to have been simmered in broth forever. Whole-roasted garlic cloves fortify the dish.