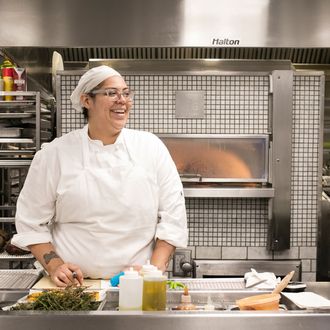 Kris Feliz, a cook at the Grill in midtown Manhattan.
Photo: Melissa Hom
Kris Feliz dreams of ducks, although they aren't the kind of pleasant, soothing dreams you might imagine. "I lose sleep over these ducks," she says. "I have come to a point where I wake up thinking about them." Just the other night she shot up in bed after a nasty dream where she'd left her ducks in the oven for too long, until their golden, crisp skin turned foul and black. She let out a sigh of relief when she realized that she was in her Brooklyn apartment, and the ducks in question were still safe in their aging room in midtown Manhattan.
Feliz is a line cook at the almost cartoonishly luxurious restaurant, the Grill, which opened to solidly enthusiastic reviews last year in the former Four Seasons restaurant. Every night, she is tasked with preparing the menu's honey-mustard duckling, something of a signature dish that has come to define the kitchen's commitment to turning out modern renditions of mid-century American classics. "There was never any doubt that we would have duck on the menu," recalls Dan Haar, the executive chef at both the Grill and its sister restaurant, the Pool. "Duck was always the important menu item in the Seagram Building. We wanted to do something equally impactful … Something that wouldn't be out of place in a 1950s American cookbook."
The resulting $45 entrée is thick slices of rosy-meat, golden-skinned roasted breast, gently sauced in a light glaze of honey and Korean mustard. The unadorned presentation is almost shockingly austere; a cook can't hide any faults under a frilly garnish or a quenelle of pommes purée. If the duck isn't perfect, it doesn't go out to the diners — and it's easy to mess up this duck. Cooked a minute too long, the meat becomes rubbery; too hot and the skin burns; if the oven is too moist, or the duck wasn't given enough time to dehydrate, the skin won't crisp like it's supposed to. Feliz says she was immediately drawn to the challenge. "Everyone knows not to touch my ducks," she tells me. "I don't like anyone else making them."
As chefs are justly celebrated for their culinary creativity and derring-do, the act of actually executing that vision falls to their team of often-anonymous cooks, and it is a grinding, Sisyphean task to cook the same dish dozens of times per night, perfectly, every single time, only to know that you'll have to wake up (after a few related stress dreams, no doubt) and do it all again the next night. The cooks responsible for the meat are toward the top of the kitchen hierarchy, given the responsibility of not messing up the restaurants' most expensive ingredients.
Feliz — who is in her 30s with long, loose curls and a loud belly laugh — was given the job, even though she's only cooked professionally for a couple of years. She was born and raised in Washington Heights, in a family of dedicated cooks. Most of the meals Feliz's mother and grandmother cooked were Puerto Rican, but Feliz and her mother often experimented with recipes from other cultures. As she got older, Feliz wanted to cook professionally, but culinary school was too expensive and the profession seemed too hard to enter without the formal education. Instead, she opened a dog-walking business. In 2015, Feliz heard from a culinary-school representative that the French Culinary Institute and its partner program in Italy were offering a scholarship. She applied on a whim, and she won. So Feliz applied for student loans to cover the remainder of her tuition, sold her business, bought a roll of knives, and crossed her fingers. "I gave up everything, without even knowing if it was all going to work out," she remembers. Her loans were approved the day before classes began. "My whole life led up to this. I get to cook every day, and I feel truly whole as a cook," Feliz marvels. "I feel like I am completely myself now."

When she started at the Grill, Feliz made beef tartare, shucked oysters, and plated salads, before working her way up the line. As she was training to work with more expensive proteins, Feliz watched a cook make the famous duck dish — and had to glean whatever information she could. "She had been cooking the duck for a year," Feliz remembers. "She was so locked into her routine that she wasn't talking me through it. I only had two days to train with her. I felt like it was a lot to live up to."
Each week, 60 Pekin ducks from Long Island are delivered to the Grill's kitchen, where they're trimmed and manicured, then arranged in a designated refrigerator to be dry-aged for a month. During that time, the ducks are regularly rotated to ensure even aging, which helps make the meat more tender and the flavor more concentrated. Improperly cooking the duck means throwing out a month's worth of work. During her first week cooking the dish, Feliz burned two ducks. "I was intimidated and scared and nervous in the beginning," she says. (She also hasn't burned once since.) When an order comes in, the whole duck goes into a 600-degree oven and Feliz sets a timer for exactly 18 minutes. She knows it's done when the skin is "candy-apple red." She glazes the duck with honey, lets it cook for two minutes, glazes it again before two more minutes in the oven, and then pulls the duck. The bird is left to rest for exactly 16 minutes. Feliz then carves the breast from the bone (the carcass is set aside to be put into a duck press for a separate pasta dish), carefully places it on a gold-rimmed plate, spoons more of the sweet honey-mustard sauce on top, sprinkles it with four or five crystals of flaky salt, and passes the plate off to a waiter who will roll it into the dining room on a silver trolley. "The idea," Haar says, "is every guest gets a perfectly roasted and rested duck breast. That only happens when the cook has excellent awareness of the flow of service, and the resolve to stay true to the technique during some extremely trying services."
During a typical service, Feliz will cook a dozen ducks for 24 orders. On the night I'm in the kitchen to watch Feliz, she knows it will be busy even before she's finished setting up her station. Within 30 minutes of opening, a flurry of orders has already come in, but nothing for duck. "I will be frustrated the whole night if I don't get to cook ducks," Feliz says, shaking her head. Finally, 15 minutes later, two orders for honey-mustard duckling roll off the ticket machine, and Feliz lights up as she readies them for the oven. "Don't touch the ducks!" she yells, exactly 18 minutes later, as the oven timer beeps. She's busy seasoning a pork chop, but nobody else makes a move for the ducks. Feliz slides the chop into its own oven, then weaves through the kitchen, avoiding busboys, porters, and other line cooks to get to her duck. The other activity is a blur around her, but Feliz is silent and still. She peers in and decides that it's time to glaze the skin. "I check on them over and over," she says. "Whether there's one duck in the oven or I'm fired on eight things, it doesn't matter — I give it the attention it requires."