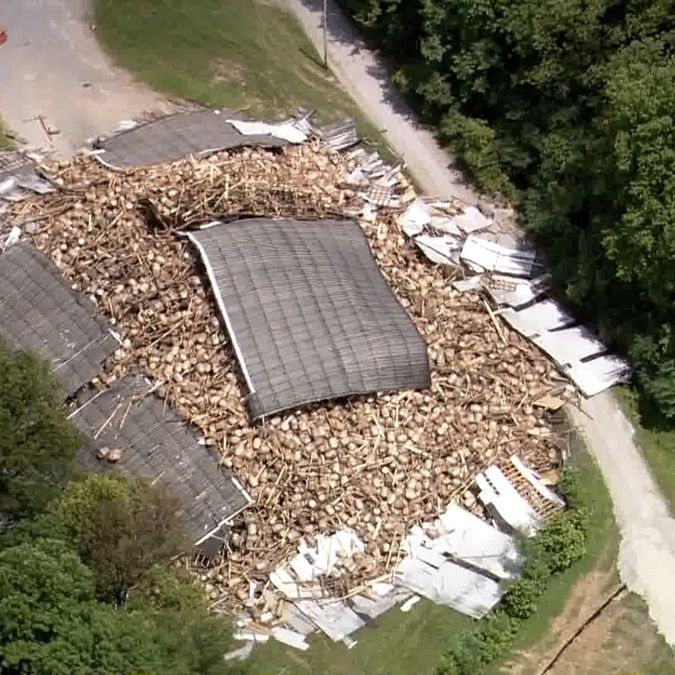 So long, sweet booze.
Photo: WLKY
In an apt metaphor for American society, what remained of the Kentucky bourbon warehouse came crashing down on July 4, two weeks after parts of the structure first collapsed. No injuries were reported, but it is currently not yet known how much (alcohol) our country has lost.
Owned by Sazerac, the Barton 1792 Distillery in Bardstown, Kentucky contained 18,000 barrels of bourbon and other spirits. Half of those barrels were affected by the initial collapse, and the rest were piled up in what a spokesperson for Nelson County Emergency Management described to CBS News as "a mountain of bourbon barrels."
As a result of the initial collapse and the river of bourbon it created, some 800 fish were found dead in nearby Withrow Creek. Sazerac's handling of the collapse got it cited, according to a Kentucky Energy and Environment Cabinet spokesperson, for failing to report the spill early enough and polluting waters. Cleanup crews were already present, and Sazerac called in more to deal with this collapse.
Maybe, tonight after work, take some time to hold your bourbon tight and tell it how much it means to you.