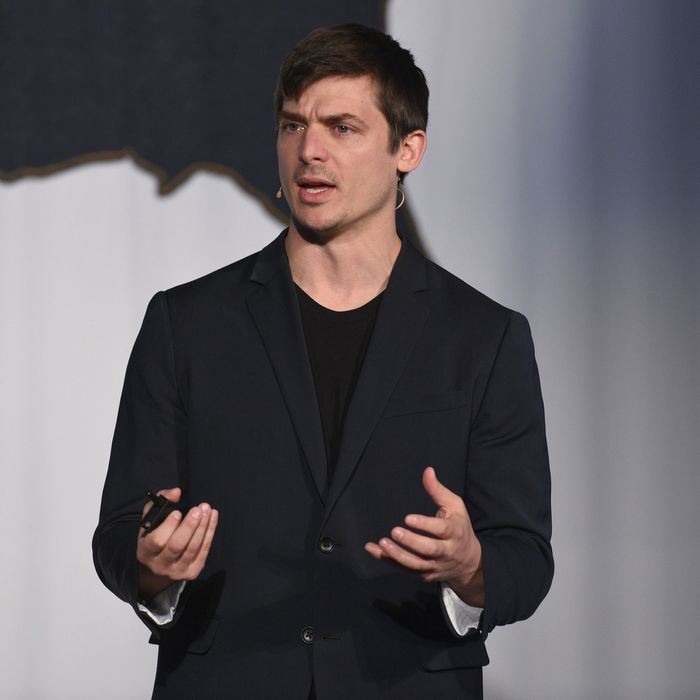 Tetrick.
Photo: Bryan Bedder/Getty Images for Martha Stewart
Hampton Creek — er, JUST, Inc. — may have reportedly struggled to find investors last year, following a buyback scandal. One thing Josh Tetrick, its founder, hasn't run out of? Chances, it seems: The company has rolled out its latest product, called Just Egg, which does not contain any actual egg.
Just Egg is a vegan substitute for whisked eggs. It scrambles nicely, apparently, and is now at fast-casual chain Veggie Grill everywhere from Hong Kong to Washington, D.C. Starting next month, it will be available for online purchase via Jet, and the fake egg is also making it to Gelson's, Wegmans', and Sysco's distribution pipeline.
One of life's great questions is, which came first, the chicken or the egg? For Tetrick, the answer is the egg (the company sold another fake egg, Beyond Egg, a few years ago), but the chicken is not, apparently, far behind. The company has declared itself determined to get its lab-grown meat out into the wild this year.
The company is maybe best known as the producer of America's most controversial fake mayo. Notoriously, it had contractors buy back its product in bulk to inflate sales and was investigated by the SEC. Nothing much came of it, but the FDA questioned whether its product should be considered mayo. (Nothing came of that, either.) As a result of its struggles, Tetrick reportedly fired core leadership, including the company's CFO, COO, HR chief, and others. After that, the entire board besides Tetrick left, and later, the company's products were pulled from Target as a result of allegations that pertained to food-safety issues and improper labeling.
Despite these reported issues, JUST, Inc. did eventually find funding last year, which it announced when it first revealed its fake egg. But, hey, this is also, as others have pointed out, a food company that likes to call itself a tech company. Anything is possible in Silicon Valley, like plants masquerading as eggs!
This story has been updated with more information about JUST, Inc.'s fundraising efforts last year.