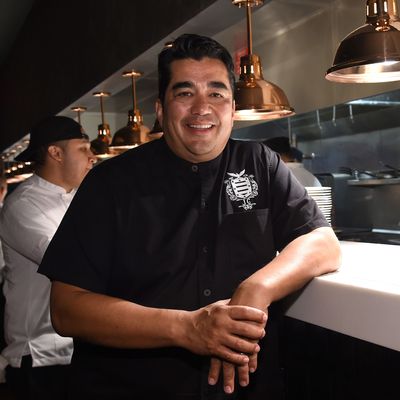 Jose Garces.
Photo: Dimitrios Kambouris/Getty Images
It seems as though the myriad financial and legal woes facing celeb chef Jose Garces have reached a conclusion. After months of legal developments, including an unsuccessful attempt by investors to block Garces from filing for bankruptcy, the majority of the Iron Chef's portfolio of restaurants has been purchased by 3BM1, a partnership between Louisiana's Ballard Brands and Philly-based investor David Maser, for $8 million in cash. Garces will remain involved as the group's "chief culinary officer."
As part of the deal, two of the chef's Philly restaurants, 24 and Garces Trading Company, will close this weekend, and "most, if not all" employees at the two eateries will be offered other jobs within the organization, according to a statement. The group has 750 employees in all; in March, Garces suddenly closed his Battery Park restaurant, Amada, and the fate of his employees there is unclear.
In addition to buying Garces and his investors out, 3BM1 will take on all liabilities, meaning the company will have to deal with any additional legal fallout associated with the restaurant group. It's also unclear what the new role of "chief culinary officer" will entail for the chef, but because Ballard Brands operates numerous properties here and abroad, a renewed push for expansion in Philadelphia and beyond wouldn't be a shocking development.