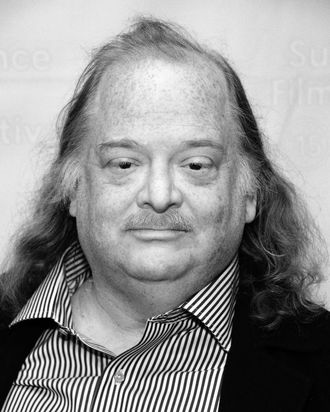 Jonathan Gold championed restaurants few others thought worthy of criticism.
Photo: Amanda Edwards/Getty Images
Jonathan Gold, the Los Angeles writer whose food criticism was read by millions and earned him the Pulitzer Prize, died yesterday at St. Vincent Medical Center in Los Angeles. Laurie Ochoa, his wife and an editor at the Los Angeles Times, where Gold wrote reviews, said that Gold had pancreatic cancer. He was 57, and would have celebrated his 58th birthday next week.
Without much more than a music history degree and an itinerant impulse to seek out the copious, undocumented fringes of Los Angeles, Gold started his writing career with restless and detailed accounts of the city's musicians for LA Weekly. He profiled N.W.A. as the group carved out its identity in real-time, in the studio, in part by sharing meals with Eazy-E and Dr. Dre in Westwood. "We met at Junior's Deli," he said, in Lucky Peach, in 2012. "Dre used to go to Junior's all the time because his offices were right near there."
In 1986, Gold's column "Counter Intelligence" began its run in LA Weekly. It covered vast patches of real estate and the city's immigrant culture, and because of its straightforward voice, it appealed to those who thought they didn't care for restaurant reviews. He considered tamales doled out of makeshift steam pots and bánh mì passed through drive-in windows with the same level of care his peers gave to steakhouse chicken florentine. Gold also upgraded the relics, like Musso & Frank: "This is what the cosmopolitan life was like, before Cosmopolitans," he wrote.
Gold put more than 100,000 miles on his pickup truck in service of looking through the dusty shutters of derelict cafes and into brand new strip mall storefronts. He pointed to steam table pans and ordered blindly, putting in the meticulous research after. In the early 90s, he interrogated butchers about who bought pig ears, and chatted up workers on smoke breaks to find out where they went for pho.
Gold visited up to 500 places a year, and his dispatches numbered in the thousands. They were collected in a book, published in 2000. Gold implored readers to try Ethiopian injera, fermented Thai sausages, Mexican mole, Cambodian noodles, and more. He won the Pulitzer in 2007 for his LA Weekly work. City of Gold, a documentary that trailed Gold as he made his way the city and featured chefs like Dave Chang and Roy Choi, debuted in 2015, the same year Gold decided to jettison his "pretense of anonymity." In reviewing the film, Michael Phillips of the Chicago Tribune commented on the critic's unique legacy: "an LA friend of mine told me that the only thing holding the city together was Jonathan Gold's columns," he wrote.
Few people outside of Gold's inner circle knew about his illness, which was diagnosed at the beginning of the month. The pang of heartache felt by journalists, chefs, celebrities, fans and the good people of Los Angeles, however, was immediate. A few of them are below.