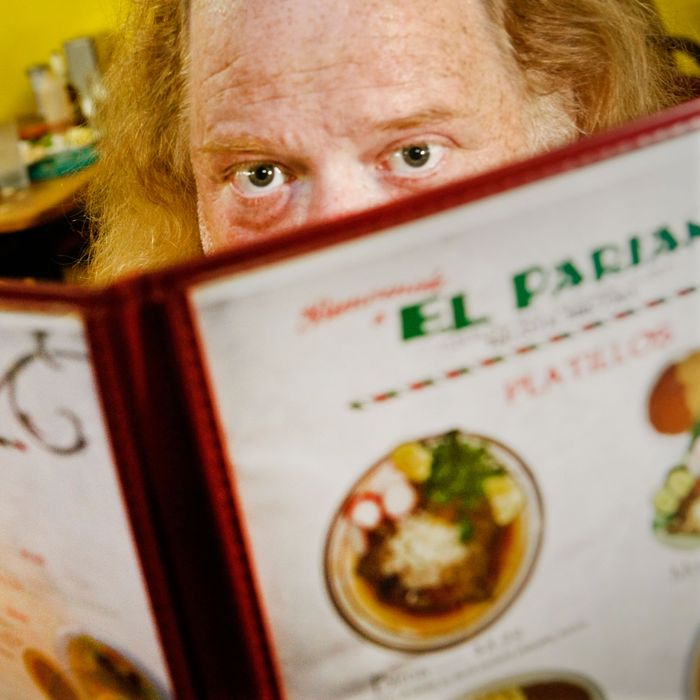 Gold, in 2010.
Photo: Anne Cusack/Los Angeles Times via Getty Images
Long before the Pulitzer Prize, the avuncular long-form profiles, and the movies that people made about him, Jonathan Gold managed to cultivate a grander, slightly more beatific air than your average portly food writer. He was less of a prophet, exactly, than a kind of immovable wise man, someone that those of us who occupied the same little world that he did would travel great distances to see. I made my first pilgrimage long ago, not to L.A., which I imagine was a little like meeting Melville himself for a tour of the old docks around New York harbor, but to Italy, where Mr. Gold used to retreat during the summertime with his family, to get away from his endless, bedeviling deadlines and to ponder the more important things in life, like fire-grilled Florentine beefsteaks, unfussy Tuscan wines, and the quality of the soft, gently gamy tripe sandwiches, which he liked to consume during his trips to the San Lorenzo market in Florence.
I happened to be in Tuscany with my own family for a week of summer rest and recreation, staying with an editor friend of mine, who, to her possible regret, had signed the great man to a book deal years before. Although she'd received nothing much in the way of chapters, or even pages, for this project ("I'm a little mad at Jonathan right now," she confided as we drove up and down the green Tuscan hills), she'd managed to wheedle an invitation to lunch at the farmhouse where he always stayed, which was predictably impossible to find, and sat at the end of a winding country road.
I'd been wanting to meet Jonathan Gold long before I became a portly food journalist, of course. Before I was a critic, I was an avid eater and restaurant goer, and I'd consumed his famous reviews of atmospheric, divey-sounding joints like Heavy Noodling in Monterey Park (which presaged the New York Xi'an noodle craze by about a decade) and the hilarious, barbecue-less L.A. Toad in Koreatown, which are gathered in his great collection of early work called Counter Intelligence. I'd picked up my own copy during a trip to L.A. on some random freelance assignment, and had devoured the whole thing on the flight back home, cackling in the tiny seat, hunched in the steerage section in the back of the airplane. I still give copies out to aspiring writers, whether they're interested in food or not, and to friends who are looking for that elusive single volume that will help knit together, and maybe even partly explain, the great unruly tapestry of a city.
Gold is being justly celebrated now as the great bard of L.A. (which he was), and on a much broader, more meta level, for leading the buzzing, disorderly hordes of writers out from the narrow, snooty confines of white-tablecloth restaurant criticism into the much more relevant, accessible, ecumenical world that is food writing today. This is true, of course, but it's also true that Gold had the kind of magical, poetic gifts for description and persuasion that you don't see much of anymore, not just in our little food universe, but in the hectic, increasingly digital world of letters at large. Gold was an old-fashioned print reporter, who'd grown up the way many writers in my generation did, in a static world of limited space, and quaint weekly deadlines, where you "tortured a singled paragraph" — as he put it in City of Gold, the great documentary about the old-fashioned critic's life — sometimes for days on end, to capture the essence of what you were trying to convey to your reader. I always thought the accumulated Gold columns, which he turned out so torturously, week after week, were a little like the cantatas Bach wrote for church every Sunday: The ones from 30 years ago have the same fresh, particular sound as the ones he wrote the month before he died. These detailed, anthropological little explorations of hole-in-the-wall places like China Islamic and El Gran Burrito would become road maps for high-profile members of the great Kitchen Slave generation like Tony Bourdain and David Chang, who used the information and Gold's particular, atmospheric, granular style to inform their own restaurants and travelogues, which would in turn be beamed out to ever larger, more populist audiences.
What do I remember about my long ago pilgrimage to see the great J.Gold? I remember that when we finally arrived, he and his wife welcomed us to a long table set for lunch, under an arbor of green leaves. I remember that my own little girls were comforted by the sight of a restaurant writer who was possibly larger than their father ("I think he might even eat more than you, dad"). I remember that our excellent pasta lunch was covered in a rich, probably not-very-healthy cream sauce that he'd prepared himself, and that he might have even rolled the noodles, too. I remember that he sat at the head of the table, as we ate our lunch and drank glasses of sturdy Tuscan wine, with an owlish look of contentment on his face, dispensing bits of wisdom.
Did he believe in diets for restaurant critics? Hell no, he did not. How many times did he visit places before writing about them? He couldn't remember, but it was an awful lot. Did the bad meals he'd had over the years outnumber the good ones? Of course they did. He'd recently finished a stint in New York writing for Gourmet, so which was a better eating town, L.A. or New York? New York for technique and general excellence, L.A. for atmosphere, authenticity, and variety, the great J.Gold said. He'd just been to Florence, for those tripe sandwiches, and to the town of Carrera, not to look at the towering chunks of marble, but to tour the famous caves filled with gently aging hunks of lardo. "Were they worth a special detour?" I asked, as my wife shielded her eyes, and my editor friend started looking nervously at her watch. "Oh, yes, you must go immediately," he said, with a happy, distant twinkle in his eye, looking, it later occurred to me, like a great art critic and connoisseur describing a last visit to Giotto's frescoes in Assisi, say, or the Sistine Chapel.