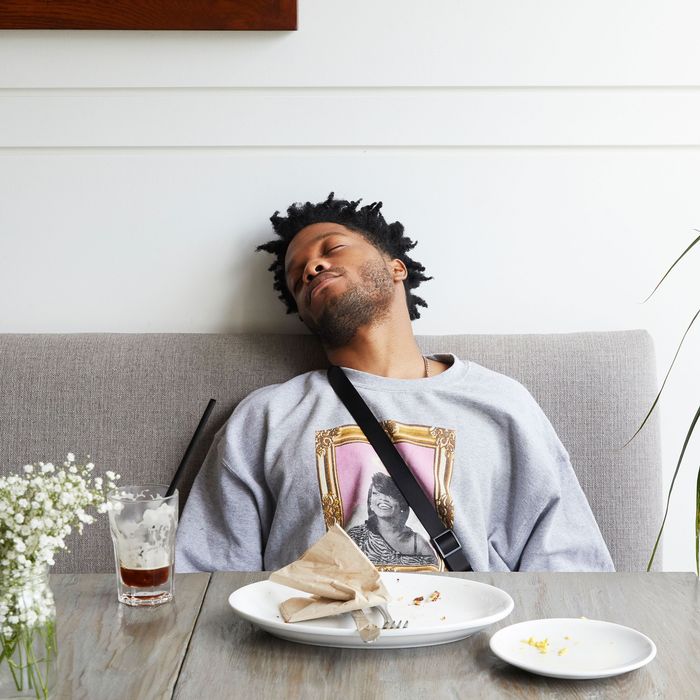 "Who knew oatmeal pancakes would be a thing I'd fall in love with, because those two things separately are disgusting to me."
Photo: Yuri Hasegawa
Comedian and actor Jermaine Fowler is having the biggest week of his professional life. On Monday, New Line purchased his comedy pitch, the Come Up, and today sees the wide release of Sorry to Bother You, which our friends at Vulture are calling "the punk film 2018 deserves." The science-fiction-ish comedy from Boots Riley is also Fowler's first movie, one in which he stars with Lakeith Stanfield and Tessa Thompson, after breaking into stand-up and eventually starring on the short-lived Superior Donuts. Effortlessly and approachably funny, he's the friend you wish you had to spitball with while out to dinner. As it happens, he's also "a dude who loves food." Or more specifically, he's all about dry-rub chicken wings; Pop-Tarts, for which he has very strong feelings about flavors; and all things breakfast, which lately has meant a lot of breakfast burritos. Read all about it in this week's Grub Street Diet.
Thursday, July 5
Started the day with a breakfast burrito. That was from a food truck on set. But, that was a onetime thing. I usually get my breakfast burritos from the Rooster Truck outside Alfred Coffee in Studio City.
My general approach to food is that I usually eat it. I usually eat the food. Most times I order it. With my schedule, I usually order out these days. I try to eat more at home, but it's really hard to because I just don't have time to cook, which sucks because I love cooking.
I eat anything except oatmeal, grits, and Cream of Wheat — that shit is disgusting. It's mostly a texture thing. Black people get mad when I say stuff like that. Mostly Southern folks. I just really hate Cream of Wheat; it tastes like vomit, and growing up, that's all my parents could afford most times. So I don't want to eat that shit now that I've got money.
Lunch was a walk away from set, at a place called Yard House in Brea. That was my first time going there. It was right next door, so we tried it out, like, Might as well. We only had 30 minutes to eat, so we were like let's hurry up, and it was a pleasant surprise. I got the miso-glazed sea bass and jasmine rice and drank an IPA. That's my favorite kind of beer. I like Dogfish Head, really bitter beers that taste like I'm drinking cigarettes.
I skipped dinner.
Friday, July 6
Let's keep it real: I was still on set, and had the same breakfast burrito and lunch. It was that good the first time I had it.
Look, I hate routines. Routine is so boring to me. The only routine I really have is, most times I go to bed and watch the same movie every night. That's cool with me.
I don't know, it depends on what you want out of life really. I'm a guy who likes to be surprised, and then sometimes I just like things being normal. I'm on the fence about all that. I don't know. Eating something every day that you love is great. But eating something out of routine is just not healthy. There's a difference, you know, between having a routine and doing something you actually love that you don't even know is routine. The word routine and something you love are not synonymous, you know.
Saturday, July 7
Another breakfast burrito, but this one was from the breakfast joint Alfred's. I've had it every morning since I discovered it a couple of months ago. I know I was saying I hate routines, but the thing is, Alfred's burrito is so good. Sometimes I go with my daughter, but most times I go by myself and think about what I want to write. I love it because they put tater tots in it and grill it to crispy perfection. It just doesn't taste too heavy after I eat it. It has this creamy, spicy sauce that's really good. They do a good job with it. Honestly, I won't say I'm sick of it, but I will say I might be having some withdrawal. That's what food's for. If you like something, you gotta keep eating it. You'll fall in love with it again. Like, different songs I had to give up for a couple of months, and then I play them again after a while and I'm like, "Oh, yeah, I still love it."
For lunch, I went to Barrel & Ashes, another place in Studio City. It's the best cookout food that's in the Valley, and Texas barbecue in Southern California. Also, they have the best chicken wings I've ever had in my entire life. Ever. They're juicy, but they put a dry rub on it; it's a good little contrast with textures and flavor. It's so good. That place is awesome. Mac and cheese, baby. The mac and cheese there is good; I've had better, but it goes well with their wings.
Dinner was maple granola and rice milk. It's just so good to me. I get the granola from Trader Joe's. Growing up, my nana used to always make me oatmeal cookies, so I guess it's a little bit of that that makes me like it.
Sunday, July 8
I usually wake up, watch TV with my daughter or try to read something with her, then around 10 o'clock we eat. I cook her eggs or I have a little Pop-Tart.
This day, I had a toasted Pop-Tart. Oh, man. My flavors are cinnamon sugar, oh my God, or brown sugar; and then there's blueberry; and then there is black-motherfucking-cherry. Which is so fucking delicious, man. Black cherry, man. Black cherry is one of the most delicious flavors of all time. Soda. Pop-Tarts. Fruit. It's a good fruit.
Yeah, those are my favorite flavors. Black cherry being No. 1. If you've never had that flavor, what is wrong with you? You've got to get that.
I sometimes give my daughter pieces of it, and I eat the majority of it. You know, it's mine. It's my Pop-Tart, and I don't want to — I'm not a big sharer when it comes to my food, and my daughter is no exception. She has to learn that if she wants my Pop-Tart, she has to go buy her own. She's only 1 year old, but that's the way of the land; that's how I do things. I'm the king lion, you know.
For lunch, I ordered spaghetti from a place called La Cava. That's the best Italian food I've had in my life, besides my mom's spaghetti. It is so good; that's my go-to, baby. They do this Bolognese sauce, man, it's so perfect. They just know how to make al dente pasta and it just tastes so good. Just talking about it makes me hungry.
Dinner was a burger from In-N-Out. Yeah, you know me, man. Animal-style all the way. I know what people mean when they say the fries aren't good 'cause they sort of taste like paper; if you eat 'em alone they're disgusting, but if you eat 'em with the burger they're perfect. Listen, nothing is better than McDonald's fries from the '90s. Right now, the recipe is different. I know because I grew up on it. I ain't gonna lie, I think Shake Shack is better than an In-N-Out burger. I like those fries a little more, too.
Monday, July 9
Back on set, and back on my breakfast-burrito grind.
Lunch this time was an açaí bowl ordered from this place in North Hollywood, RioZonas Açaí.
Also, fruit snacks. Unhealthy, gummy fruit snacks. The ones from Welch's. Those are delicious. I grew up on those, so I will go out of my way to find a bag if I'm on set and chow down on those dudes like they're real fruit, like they're healthy for me.
Dinner was, again, granola with rice milk. The thing is, granola by itself is so dry and gross. When you put it with rice milk you get this delicious texture and flavor. The maple is so good; the rice milk I like because it's not as thick as your normal, like, cows' milk or almond milk. It's easy to digest and goes well with the cereal; it's just good. I like it because it takes away the dryness from the granola and adds this not so — you know, dairy especially adds this very rich flavor you kind of can't eat or digest too much of.
I used to love cookie dough, but I had to stop eating it because it was too rich for me and I couldn't digest it. Milk is the same way. It's too rich and creamy. Rice milk is better; it meets in the middle for me. It's got the thin sort of wateriness — watery is the wrong sort of adjective for milk. It's good; it's not too liquid-y because it has the starch. Oh, man. Explaining rice milk to somebody is hard. I'm not a chef. I'm just a dude who loves food.
Tuesday, July 10
Breakfast was griddle cakes and eggs at Breakfast by Salt's Cure. The main restaurant, Salt's Cure, is the best breakfast spot in L.A. Yeah, man. That was delicious. Oh my God. They make the pancakes with oatmeal and dude, dude, they're so good. That's my favorite spot to go eat. Breakfast to me is the most important meal of the day. So eating there just makes me so much happier. It's just a great spot.
See, my mom used to make these pancakes when I was a kid and I hated them because they tasted so greasy, like Crisco greasy. Now that I'm older, I kind of discovered this place and how they did it, and I'm like, Man, I wish my mom made pancakes like this. Not to shit on my mom's cooking; my mom can cook her ass off, but the pancakes, I didn't like 'em. There was something about them. Ah, man, I hate to say it, but this place makes better pancakes than my mother, and she'd kill me if she heard me say this shit. It's just so good. Also, I hate oatmeal. Who knew oatmeal pancakes would be a thing I'd fall in love with, because those two things separately are disgusting to me.
Their orange juice is freshly squeezed. They do it right in front of you, which is really cool to see if you like watching orange juice get squeezed. Most breakfast places taste really greasy and sort of rushed. But here, they take their time with the preparation of the food. They soft-scramble like I've never seen before. The eggs don't taste burned.
They treat their breakfast as they would their dinner or their lunch. They put just as much thought into it. They really take their time with the ingredients and are really creative with what they conjure up. Most places that have dinner, breakfast, and lunch, one thing is better than the others. The chef, I just think he's a fan of breakfast himself. You kinda gotta be if you do it that well.
Lunch was tamales, I got two: chicken and corn. For dinner, I had a honey-lemon cough drop. That was from CVS Pharmacy, the acclaimed restaurant that everyone loves so much.