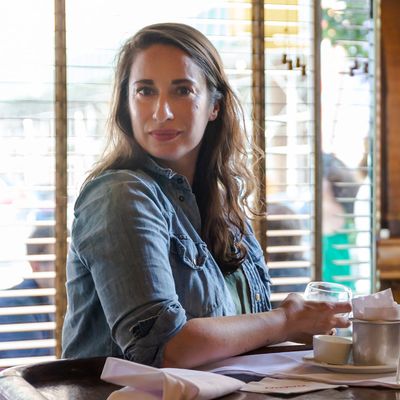 "My classic Odeon meal is a Gruner Veltliner (or several) and French fries, so that's what I had at noon."
Photo: Mark Abramson
Jen Doll's writing has appeared, well, nearly everywhere: the Atlantic, Elle, GQ, the Hairpin, the New York Times, New York, and many other places. This September she'll also publish her new YA novel, Unclaimed Baggage. Doll now splits her time between New York City and upstate New York, where she's found herself leaning into a new Bustelo habit and becoming "unreasonably proud" of her gardening efforts. This week, though, she did get to the city, where she visited her old favorite, the Odeon, before heading back upstate to eat at a town fair and ruminate over Chex Mix. Read all about it in this week's Grub Street Diet.
Thursday, July 19
I woke up super early, for me, to go on a walk with a friend, but she didn't text me for 45 minutes. This was good because it meant I had lots of time to chug coffee. I always start with coffee, and it's almost always hot (cold coffee is for heat waves and the afternoons).
My boyfriend, Ezra, recently bought an Imusa six-cup stove-top espresso maker, our smaller two-cup Bialetti just wasn't enough! So there's enough for two cups each, plus leftovers to drink later on ice. We use Bustelo. I have become accustomed to — nay, I love Bustelo. It's cheap and it goes down with this pleasant chalky sensation that makes me nostalgic for the coffee I drank while backpacking through Europe in college. Ezra is a nurse and has to be at work by 7 a.m., so he makes the coffee and leaves mine for me to heat up. It's a very sweet gesture, this coffee-leaving. The first time I stayed at his house after we started dating, he foamed my milk for me. That was how I knew.
I'll add almond milk, or almond-coconut milk and one Splenda-type thing; usually Stevia or Truvía because they are more natural, according to Ezra. I also pour myself a fresh glass of water and add Natural Calm, the lightly lemon-raspberry-flavored one. A friend turned me onto it when I was having anxiety attacks. It's got magnesium and vitamin C and makes you very regular. So use with caution.
Finally went on that walk, then mailed some letters. I'm spending the summer mostly upstate at the house my boyfriend and I recently moved into in High Falls. The town has basically five restaurants, including one right by the post office; it's a funky daytime café called the Last Bite. I walked over and ordered a breakfast wrap with eggs, sausage, cheddar, and avocado. When I got home, my boyfriend's sister was there (we had yoga together) and I shared the wrap with her. It was really good.
Post-yoga, I went to the city for some appointments. I still have an apartment, but a friend has rented it for the summer, so I stayed with a college friend in Tribeca one night and then with my brother and his family in Ridgewood. I bused in, went to my friend's place, and said hello to her and her kids, who are both under the age of 3.
I was starving and went to the Fika right next door. For some reason, I was craving one of those premade refrigerated wraps that you grab right from the case. Maybe splitting my earlier wrap created an imbalance in the universe that required me to eat a second half-wrap? Whatever the cosmic narrative, I consumed half a chicken-salad-spinach wrap and an iced coffee with almond milk and Truvía.
When the kids were in bed, we went to another nearby place, Greca. I told my friend's husband that I was doing a Grub Street Diet. He scoffed and told me that he reads my Twitter, so he knows that all I eat is pizza. "When was the last time I tweeted about pizza!?" I asked, but then I decided that what I really should do with this food diary was prove him right: All I do eat is pizza. All anyone should eat is pizza. We shared a bunch of things, including the spring salad with watermelon and beets and other good things; the "not meatballs and spaghetti," i.e., spaghetti with lentil/mushroom meatballs; and a smoked mozzarella and basil and tomato naan pizza. (Ha!) We also had, between us, seven glasses of really good rosé.
Friday, July 20
Woke up before 7 a.m. because babies get up early, and we watched weird YouTube Kids shows and played. I had black coffee, and later, an açai bowl and another coffee, this one with almond milk and Stevia, from Greca. This was my first açai bowl. It was perfectly fine and a lovely bright-magenta color, but I have a terrible admittance: I really prefer savory to sweet and will always choose the cheesy, carb-y breakfast over the fruity, yogurt-y one. Life is too short to eat stuff you don't really like. This might be a self-fulfilling prophecy, but so be it.
Then I went to the Odeon, a restaurant I adore and have probably gone to most consistently throughout my 20 years of living in the city. I think, maybe, when I first moved here it was one of the early places I went to and it captivated a certain part of my New York soul. You couldn't really afford it when you first moved here, and then there's an arc where you grow into the restaurant that you always dreamed would be your fantasy restaurant.
My classic Odeon meal is a Gruner Veltliner (or several) and French fries, so that's what I had at noon. Since I'd been up since 6:30 a.m., it seemed okay. Plus the bartender assured me that it's just fine. (A shout-out to that incredibly elegant hostess with the amazing dresses!)
The rest of the afternoon was full of appointments, so I kinda "forgot" to eat, or more like did not have a good opportunity. I am a believer in making food an event rather than a simple subsistence thing, which means I rarely just "grab a snack." I got a Diet Coke (we have a love-hate relationship) from a street vendor and then realized that it's just another thing to carry around, along with my overnight bag and my computer. How do people even live in this city? Also, I've stopped using straws and the Diet Coke splashed down my chin as I drank and walked.
Finally, made it to my brother's house. My almost 2-year-old niece was in the plastic kiddie pool in the backyard, and my sister-in-law offered me a white-wine spritzer. Who am I to say no?
That night, we had homemade potato salad, succotash (with lima beans, a variety of other vegetables, and hot sauce — I love hot sauce), and drumsticks from the grill. Plus, more white wine. It was all delicious. And I was in bed by 10:30 p.m.
Saturday, July 21
I got up, shockingly, before everyone else, and didn't want to wake them by making coffee, so I waited. It was horrific, the waiting. When my brother got up, we had coffee, and then my sister-in-law made muesli with yogurt and frozen blueberries and honey. It was good, but you know how I feel about savory versus sweet.
My niece wanted to play with Play-Doh, so we made weird shapes and creatures, and it was very soothing. I wondered why there are no wellness establishments yet touting the benefits of Play-Doh for adults. And then I thought about how there was always that one kid who ate Play-Doh, and maybe it was me.
But I did not eat any Play-Doh. Instead, I caught my bus back upstate.
The Rosendale Street Fair was over the weekend, one town over from us and where the bus stop is. Ezra met me and we went to a friend's house where I could put my bag down. It was time for fair food.
Fair food is complicated even though it should be easy. On the one hand, I want to try everything. On the other hand, I'm weirdly against walking and eating. It breaks my "food should be an event" rule. And there are so many choices, it's kind of like grocery shopping while hungry. The world is full of disappointments; what if you choose wrong?
I was saved by a sign that promised "wood-fired pizza." (Next to it was another promising fried ravioli, fried Oreos, mozzarella sticks, funnel cakes, pretzels, and chicken tenders, so we definitely headed in the right direction. It was the Hansel and Gretel of fair food.) As I went in for the pizza, I got momentarily distracted by a truck offering fried pickles. But no: I would've had to invest in an entire basket!
We got a funghi pizza, which was cheesy and bready and excellent. We also got a cider and a beer, which were average, and then picked up my bag before heading to another friend's party in Kingston. There was Negroni punch, as well as grilled meats and party snacks. I wasn't hungry, but then the Negroni punch hit and I went to town on Chex Mix, while I also had a conversation about how Chex Mix is the perfect party food. You could build entire friendship groups based on which Chex Mix item you prefer. (During this conversation, I ate almost all of the brown, salty, wafer-y things.) The pretzels are like the Charlotte, the nuts are Samantha, maybe the wafers are Miranda, and the Chex are Carrie.
Then we wanted "real" food. We went to one of our favorites, the Anchor in Kingston. We had recently gotten the awful news that one of their employees, who was here legally, was picked up by ICE, allegedly for a DWI he had in the past. The restaurant has started a letter-writing campaign to show support for him, so we went to write letters. We also shared wings (medium, with hot sauce on the side), a burger (with blue-cheese crumbles, grilled onions, and bacon), and bacon, cheddar jack, and scallion-stuffed tater tots (that are more like hush puppies). I had some white wine, too.
My letter came out very angry. The food was good, but it's not quite the same — which, you know, it shouldn't be. I thought about how unfair it was that we got to peacefully have a meal in a restaurant while people were being deported. Someone got suddenly ripped away and the wings aren't as good, and that's extremely shallow because who cares if I like the wings or not? Was it shallow or crass to have them while we also wrote letters of support for someone picked up by ICE? I don't know. Maybe there's no right thing and everything is bad.
Sunday, July 22
Started with a cup of coffee with foamed milk because Ezra was off from work. Followed that up with an iced coffee, and eventually he made a plate of mozzarella, tomatoes, basil, and balsamic vinaigrette, which we devoured. I've been growing basil (along with tomatoes, summer squash, cilantro, and a bunch of other stuff), and I'm unreasonably proud!
Ezra's sister was still here, so we arranged dinner with her and their mom. I've been wanting to go to the Westwind Orchard, where they make cider and wood-fired pizza. It had been raining on and off, so it was pretty quiet. There were kids at a free-range party, dogs roved around, and adults drank and ate oysters. We ordered four pies, and I got rosé. (Ezra got a flight of cider, which we all tried; the elderberry won.) One pie was a classic, hard to improve upon margherita, but there was also a cheeseless one with capers and anchovies, another with kale and guanciale, and a fourth with squash blossoms and tomatoes. I got a second glass of wine, this time a Gruner Veltliner. I felt very sated.
Monday, July 23
Ezra brought me a coffee in bed, but I decided I should get up and work. I wrote for a while, then made an egg sandwich with arugula, some basil and parsley from the garden, and a slice of American cheese. (I love American cheese, probably because my mom wouldn't let us have it when we were kids.) I slapped it all on a sesame bagel from Bodacious Bagels. I like them for their subtle Bill & Ted referencing as well as their bagels.
I have been perfecting my egg sandwich. The key is the pan (nonstick) and timing. You have to get the yolk to remain runny enough to soak into the bread, but not so undone that the whites are also runny. It's a patience game, much like writing.
I spent most of the day on a new novel, and felt bleak about my progress. (Mondays, Wednesdays, and Fridays are for feeling bleak. Tuesdays and Thursdays are for surges of unrealistic positivity.) I then went to an exercise class that Ezra and I have started; it's called 30 Minutes of Everything. When we got home, I was ravenous, so I scoffed down the remnants of a bag of Tostitos Hint of Lime and a handful of almonds. I also thought of Barack Obama, which I always do when I eat a handful of almonds, and felt sad.
For dinner, I made pesto, using tons of basil from the garden. I used the recipe for buttery basil pesto with linguine from Colu Henry's Back Pocket Pasta. I've been working my way through it; every single recipe is marvelous. (It's all pasta, it's all delicious, and it has butter and, I don't know, vegetables.) Except I prefer funky, weird-shaped pastas to long, skinny ones because there are more angles for the sauce, so I used gemelli instead of linguine. I am Italian. I feel that this is my due. We also had a tomato and cucumber and spinach salad and some grilled chicken sausage. And white wine.