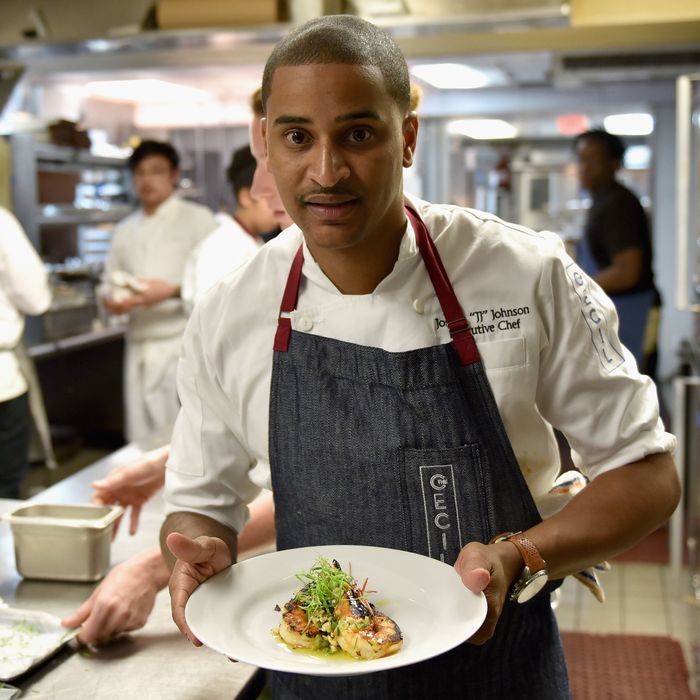 Photo: Fabiano Silva/Getty Images
Last night, the Post logged a real-estate transaction, relating the news that chef J.J. Johnson, formerly of the Cecil and Minton's in Harlem, has signed a lease to open a new, fast-casual restaurant in the neighborhood. In part because of his held-over residency at Chefs Club, the news likely didn't come as a surprise, but Johnson says the report jumped the gun.
"I just signed the lease nine days ago," Johnson tells Grub. "I was hoping to announce it on my own terms, to let Harlem know first. No offense to everybody else, but it's a community-based restaurant that's being built for the community."
"I appreciate all the support, though," he added, saying he found out about the Post story when a friend texted him this morning to schedule celebratory drinks.
Johnson will be the sole owner of the as-yet-unnamed project, which has been funded with help from friends, family, and investors. Its location at 109 Lenox Avenue, between West 115th and 116th Streets, puts it near the 2 train. The focus will be rice-based grain bowls, featuring rices from around the world. Grains, particularly those central to the foodways of the African diaspora, have long held interest for the chef. Johnson says he wants to work directly with farmers, figuring out along the way what's available and for how long. Once he's established a network of suppliers, Johnson hopes to sell his grain bowls for no more than $13, alongside a selection of beer and wine.
"This is a little glimpse of what it's going to be," he says. "It's truly a rice concept. It's not like we're going to be shoveling grains into a bowl and giving it to people. I live in Harlem, and I don't think there's anything in the community for people to eat on a daily basis. I want people to come here two or three days a week."
For now, though, he emphasized that the restaurant is in the design phase. But if all goes according to plan, a hard ask in New York City's chaotic and complicated restaurant scene, Johnson would like to open the restaurant later this year.