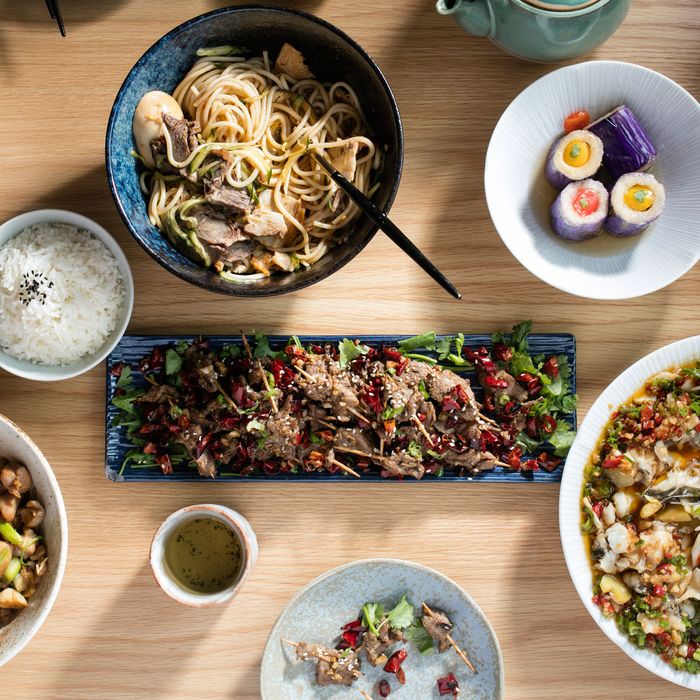 New York's increasingly pricey, fraught dining landscape is filled with many challenges these days, but for lovers of that old totem of the local dining scene, Chinese food, the eating has never been better. Thanks to an influx of sophisticated young chefs and restaurateurs from the old country, the city is awash in more traditional and fusion delicacies than at any time since the Great Sesame Noodle Awakening of the mid-1960s. This is especially true down in the East Village, a region that my colleagues at the Underground Gourmet have christened "Chinatown North." Wander the avenues below East 14th Street and you'll find Yunnanese rice-noodle restaurants (Little Tong, Dian Kitchen), Taiwanese beef-soup parlors (the Tang, Ho Foods), newfangled "dry pot" and shellfish-boil establishments (Málà Project, Le Sia), and one-stop shops serving a veritable festival of the kind of dumplings, rice pots, and sticky-sweet desserts that are popular on the streets of booming food capitals like Taipei, Beijing, and Hong Kong.
The latest and in many ways most-accomplished addition to this vibrant new East Village community is a poshly appointed little establishment on lower First Avenue called Hunan Slurp. Hunan is a South China province famous, among history scholars, as the birthplace of Chairman Mao, and among American Chinese-food scholars as the home of the immortal General Tso, for whom New York's favorite addictive, crispy-sweet carryout chicken dish is named. There's no record of General Tso's chicken in the actual Hunanese culinary canon, of course (like many beloved local Chinese favorites, it was invented in Taiwan), although the province is well known for its bounty of rich, gently simmered pork dishes, its impressive repertoire of "mi fen" rice noodles, and a taste for the kind of spicy pyrotechnics favored by the louder, more rambunctious neighbors to the west, in Sichuan.

Hunan Slurp's proprietor is a young artist turned chef named Chao Wang, who, as the restaurant's website explains, "seeks to cure his homesickness through cooking." His artistic touch is evident in the elegant storefront space, which is decorated along the walls with moon mirrors and a pattern of blond-wood beams and has communal tables lined with shiny golden metal stools. As the name indicates, the specialty of the house is mi fen, which Wang has presumably been pining for during his time subsisting on containers of carryout food in New York. There are ten varieties on the menu here, presented in stylish porcelain bowls, each topped with nourishing combinations like chopped chicken thighs (with wood-ear mushrooms), carefully arranged fans of tofu and sliced beef, and numerous varieties of barnyard pork, including chunks of deliciously gelatinous bone-in trotter.
"These are next-level Hunan noodles," said a woman at the next table, who noted that she was from the city of Hengyang, where Wang grew up, and was slurping her dinner dressed in a rakish summer straw hat. Rice-noodle devotees consider the lighter, white noodles to be more refined than the wheat-heavy, sauce-covered noodles up north, and the lady in the hat was enjoying what she called "the specialty of my hometown," which was a bowl of steamy mi fen threaded with pickled vegetables and pork and topped with a single fried egg. Other elaborate home-style specialties that evening included the delicately milky "Fish Fillet" (its color comes from a combination of pork bone and fish broths) and the bountiful "Hometown Lu Fen," which the kitchen constructs with layers of tofu and beef and char siu pork and serves, just like in the noodle stands around Hengyang, with a little saucer of fiery chile oil on the side.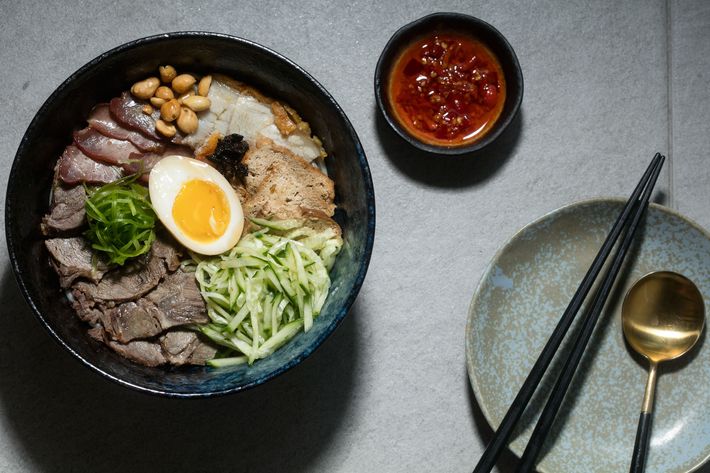 Hunan Slurp is much more than another random East Village noodle shop, however. If you don't want to fill up on mi fen, it's possible to make an excellent meal out of the artful, tastefully plated cold dishes alone, which, on the evenings I visited, included nuggets of bony sweet-and-sour spare ribs, helpings of cool cucumber poured with a tangy garlic vinaigrette, and dainty little towers of softly braised chicken feet tossed in chile oil and topped, like many of Wang's creations, with a colorful garnish of edible flowers. His "Hunan Charcuterie" is an offal lover's dissertation on the pleasures of Chinese-style cold smoked meats (you'll find tripe, pig's ear, and beef shank in the mix), and the more familiar hot dishes, like stir-fried chicken (tossed with bulbs of garlic and ginger) and pork with smoked bean curd, have the deeply flavored, just-cooked quality of a first-rate Chinese home kitchen.
Wang fills his restaurant website with all sorts of wistful, Proustian associations to the markets and street stalls of old Hunan, and much of his elevated, home-style cooking is clearly designed for homesick expats like himself. There weren't many takers at my table for the small mountain of sweet, impressively peppery frogs' legs that I ordered one evening ("These bones are a little creepy, Dad"), but the equally bony whole fish, which is purchased fresh in the morning and served in a dish brimming with a smooth, bracingly fiery chile sauce and crowned with green scallions and a mash of ginger and garlic, is worth a special pilgrimage. The traditional desserts — squares of almond jelly, cold mung bean, and barley soup — are designed to soothe the palate after these fireworks, but if you want to feel like you're back in New York again, ask for the ice cream, which was flavored
with avocado when we ordered it, purchased down the street at Il Laboratorio del Gelato.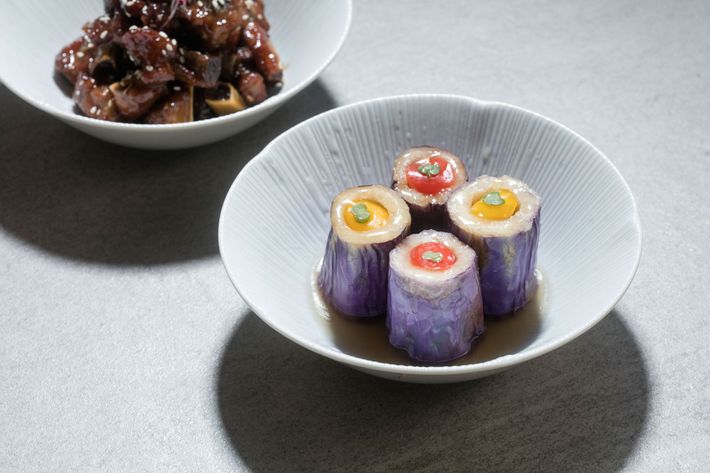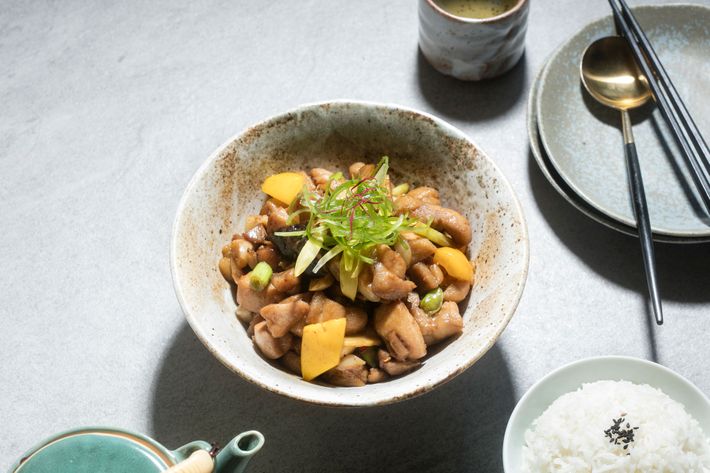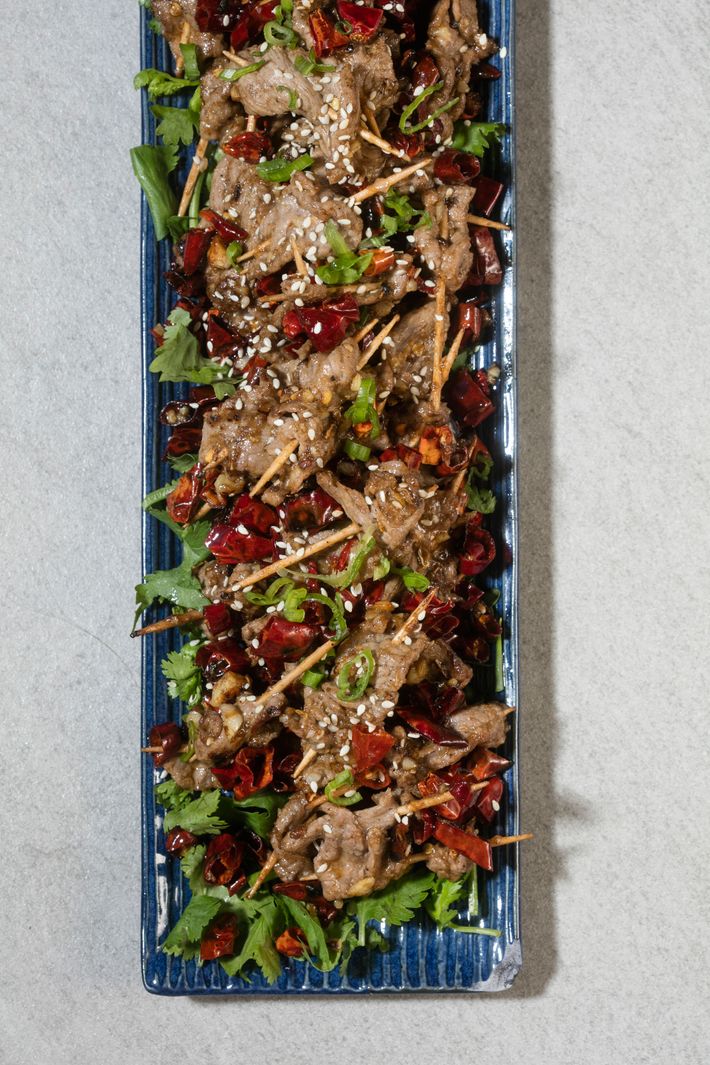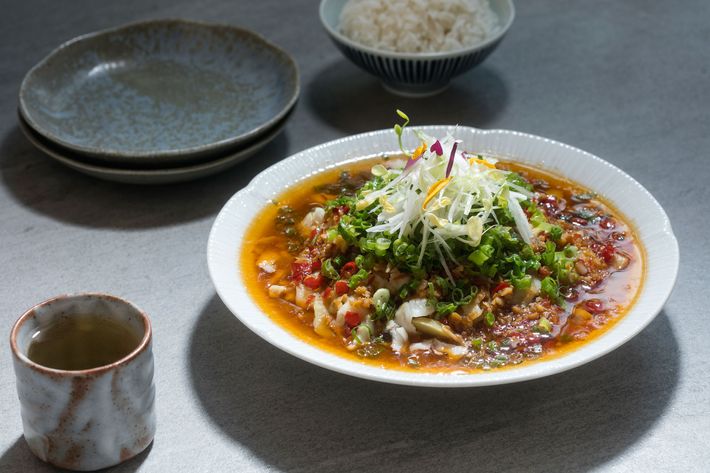 Hunan Slurp
112 First Ave., nr. 7th St.; 646-585-9585; hunanslurp.com
Open: Lunch and dinner, Tuesday to Sunday.
Prices: $6 to $38.
Ideal Meal: Sweet-and-sour spare ribs, smashed cold cucumbers and/or Hunan charcuterie, "Fish Fillet" and/or "Hometown Lu Fen" mi fen, whole fish and/or stir-fried chicken.
Note: There's no liquor license yet, but a tallboy or two of Zywiec Polish beer from the bodega across the street is the perfect complement to your spicy noodles.
Scratchpad: One robust star for the elevated Hunanese noodles; another for the next-level non-noodle dishes, several of which are worth a special trip.
*This article appears in the August 6, 2018, issue of New York Magazine. Subscribe Now!