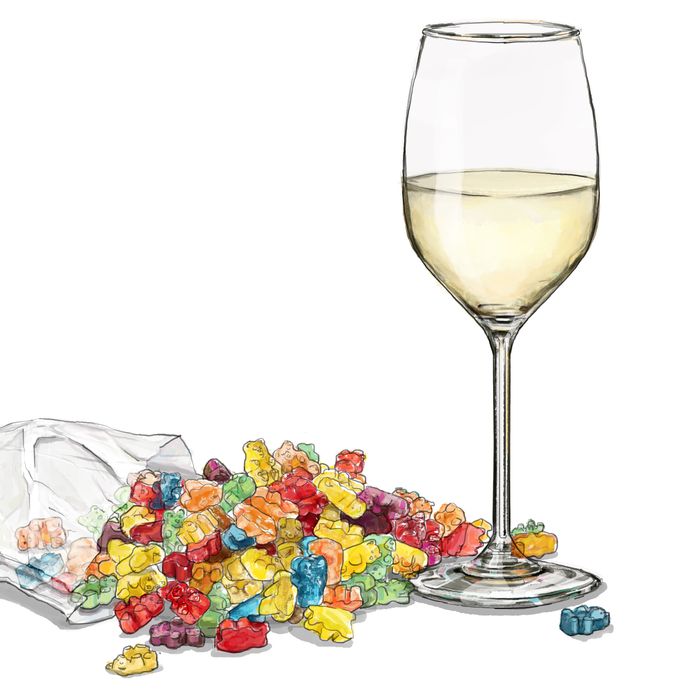 It's so good.
Illustration: The Ellaphant In The Room
It's possible that we're living in the golden age of gummy bears. There are so many colors, flavors, styles, and artisanal interpretations that it's practically head-spinning. They were always good, of course, but now it feels like gummy bears have also grown up — and so should the way we consume them. A fine gummy bear demands an equally fine wine to drink with it. (Really! Stick with me here.)
Regardless of the gummy bears you choose, they will have several distinct characteristics: They will be chewy but firm, tangy but sweet, flavorful but not complex. That list of juxtapositions needs wine that follows in a similar footpath. South African Chenin Blanc provides just that kind of dichotomy.
Chenin Blanc is a grape to which I am obliged to show some deference: It's a personal favorite. The hallmark of this white grape is its combination of zip and body; there is no other grape with such a contrast of piercing and pure acidity bundled with the round flavors of rich fruits.
Originally from the Loire Valley in France, it is a transplant that has done exceedingly well on the other side of the equator. In fact, the most famous New World Chenin Blanc is from South Africa. Locally, they call the grape "steen," and it is the most famous white grape of South Africa for good reason. While the climate there is warmer than in its homeland, the double oceanic influence — both the Atlantic and Indian Oceans moderate the Cape's wine-growing regions — coupled with how seriously they take their production has led to a multitude of great bottlings.
It's lovely no matter what, in other words, and its stone fruit, melon, passion fruit, pear, and honeysuckle flavors blend surprisingly well with the bright fruit flavors in the gummies. Further, the acidity helps wash away the heavy gelatin, while the tart aspect of most gummy bears will be melded with the sharp notes of the wine.
I know it's a stretch, but trust me. These three bottles are a good place to start:
Brûlée Chenin Blanc  ($14)
A softer, rounder, easy-drinking style that also acts as a solid introduction to these wines.
Forrester Reserve Old Vine Chenin Blanc ($17)
This comes from a classic producer that helped put South Africa on the modern wine map. Lots of melon, and grapefruit for days.
Morgenzon Reserve Chenin Blanc ($33)
Here we have a showstopper that provides a perfect balance between lush flavors and mouthwatering texture.