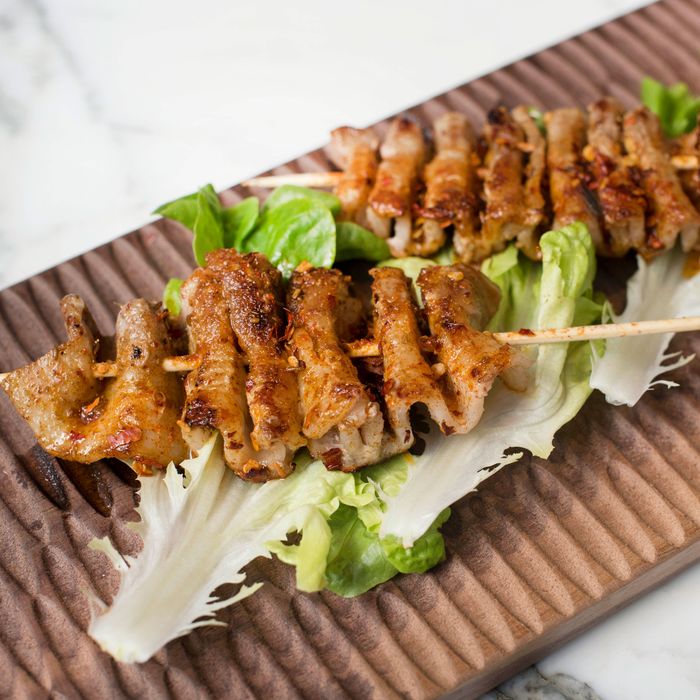 Eat skewers like honey-barbecue pork belly and green pepper with sweet-and-sour sauce.
Photo: Liz Clayman
There is no other Chinese restaurant in New York quite like Hao Noodle and Tea, which brought a contemporary, cosmopolitan style of food that picks and pulls from regional cuisines. It's also, according to one Adam Platt of New York, the city's very best place for Chinese cooking of any kind. The restaurant, however, is only the first of a handful that owner and Chinese restaurateur Zhu (Julia) Rong plans to open in the United States, and last night she opened the second Hao Noodle a little north of the original on West 14th Street.
The focus, as Grub previously noted, is on Chinese drinking food. The chef is Dong Dong Peng, the original Hao Noodle's pastry chef, and another chef from China is awaiting a visa. There's some overlap between the two restaurants on the menu, which has plenty of cold appetizers, like spicy celery with shredded ham, and noodles such as Shanghai's popular yellow croaker noodle soup, which has a broth as milky white as tonkotsu.
Another calling card here is the lineup of grilled skewers, rooted in Chongqing style. Don't expect a few different cuts of meat all prepared the same way; there's the requisite lamb with cumin-chili rub and quail eggs; chicken wings with gong bao sauce; honey-barbecue pork belly; and eggplant with fish-flavor sauce to name a few.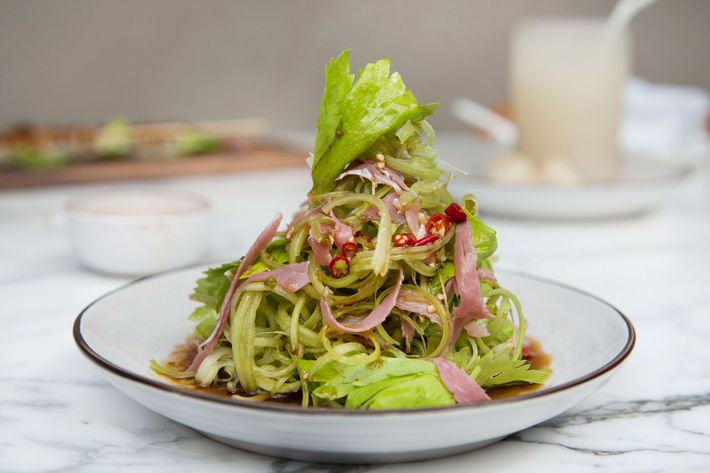 Going off the grill, another signature is the section of lu wei, meat or vegetables (options include pork trotter and dried tofu) stewed in aromatic, spiced soy sauce. For those looking to start a night out by digging into a shared plate, there are plenty of options: Vegetables like braised eggplant with oyster soy sauce, broiled and braised oysters, and Sichuan-style roast fish. Beyond that there are seared cubes of A5 wagyu with basil and chili, a trophy meat dish that rings in at $80 for eight ounces. Plenty of beer and wine are promised for drinking, but the liquor license is pending. It will be issued, a rep says, in roughly a month and a half.
It'll no doubt be a fun place to be, though. The front of the restaurant sports a darker palette and more minimalist design, with some high-top tables and an open kitchen. That opens up into an airier back room that has a kind of atrium greenhouse feel to it, courtesy of a giant skylight, abundance of plants, and a wall-length painting of trees, drawn so they look electric and lurching, and one happy looking dog. There are tall candles that wouldn't be out of place in a Victorian home and, as at the first Hao, art from Rong's personal collection.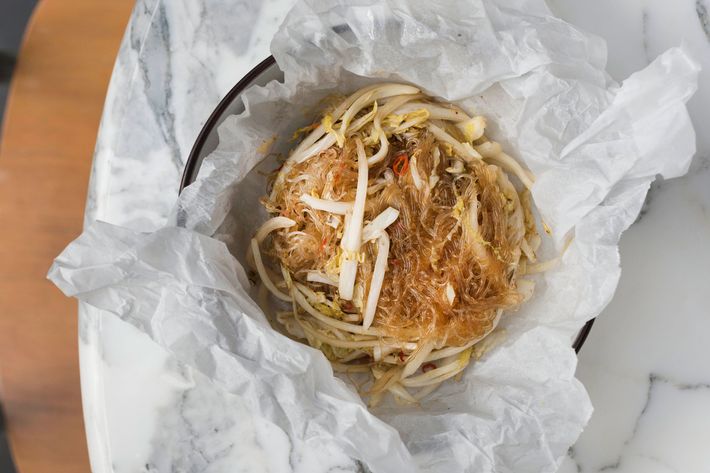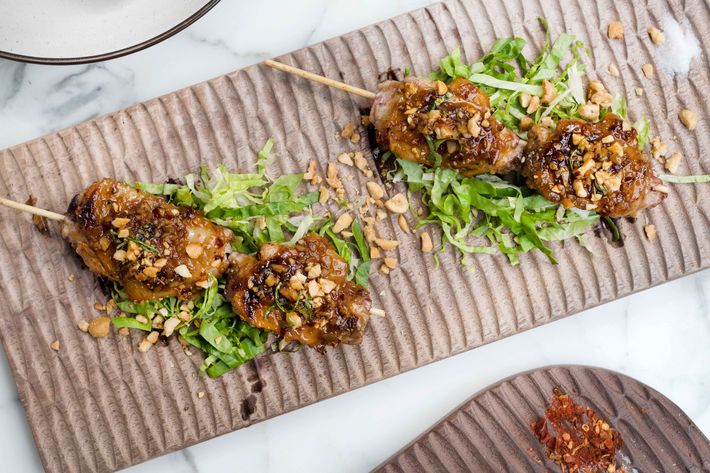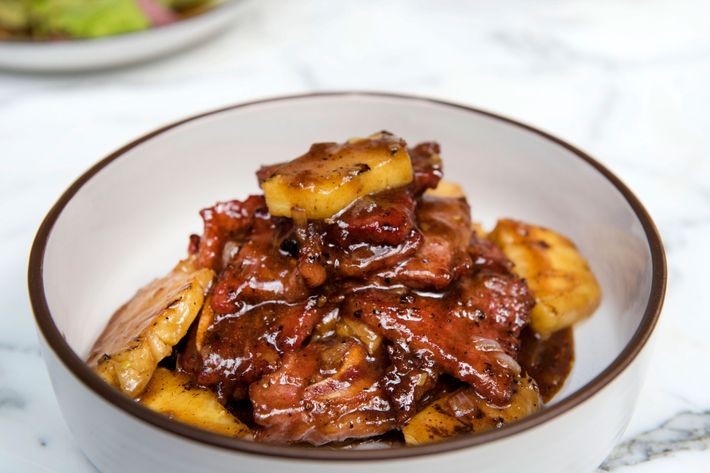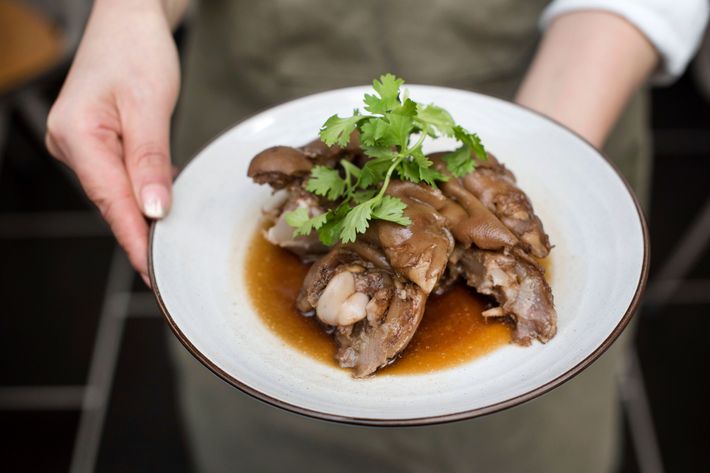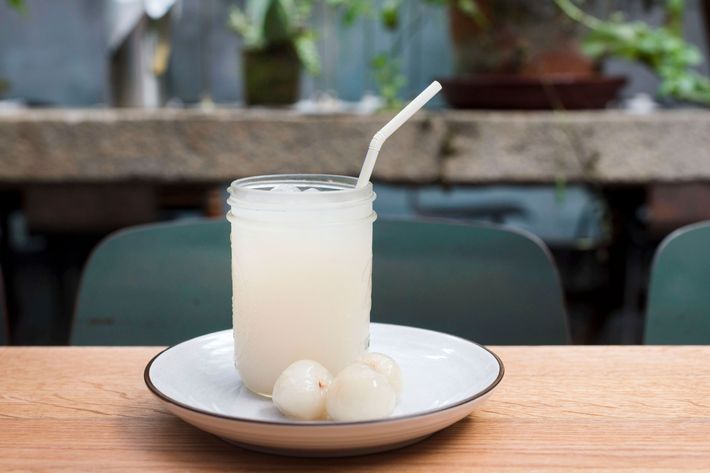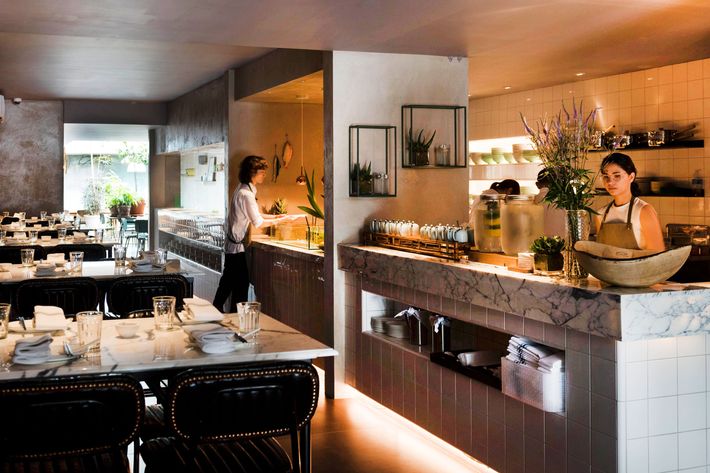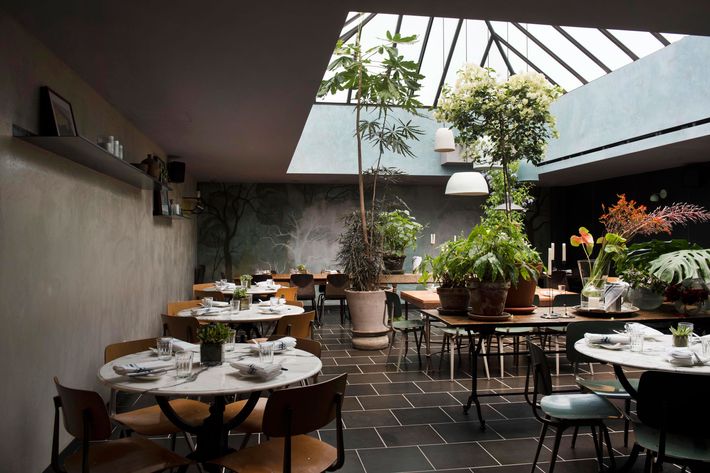 Hao Noodle Chelsea, 343 W 14th St., nr. 9th Ave.; 646-882-0059