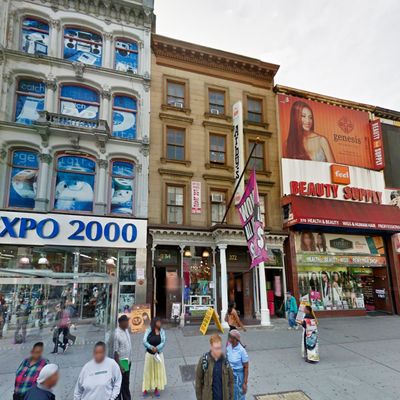 The former Gage and Tollner in Downtown Brooklyn.
Photo: Google
New York is a city that bulldozes its way into the future, which doesn't always leave room for the great old places. Like Downtown Brooklyn's grand Gage and Tollner, which opened in 1879 and moved into a four-story brownstone in 1892, where it stayed until closing in 2004. Since then, its resuscitation — and brief lives as a TGI Fridays and fancy Arby's — has been a fixation for some New Yorkers. (Last year, the space hosted panels about the Brooklyn food business.) This was, after all, a restaurant where the great Edna Lewis once cooked. Now, it seems that the restaurant will get a lifeline. Three Brooklyn restaurateurs, the New York Times reports, will try to bring the restaurant back, and not as something newfangled but as an old-school house of chops and oysters.
Considering the historic building, the restaurant's history, and money involved in bringing it back, it seemed likely that the space would fall into the hands of a deep-pocketed, nostalgic group like Major Food Group. Not so. The Brooklyn trinity in question consists of St. John Frizell, of Red Hook staple Fort Defiance, and Sohui Kim and Ben Schneider, owners of Red Hook's Good Fork and Korean barbecue palace Insa.
To help them raise the $1.8 million they need, the three are hoping to draw smaller amounts of money from a bigger crowd by launching a Wefunder campaign on Monday. (Do not expect two-time NBA Finals MVP and the Grill investor Kevin Durant to join this round.) The space's original lamps and wall-length mirrors are reportedly preserved, and Frizell, Kim, and Schneider say that Kim, who will be the chef, will keep the menu old-school with potential dishes like Welsh rarebit and clams casino. Gage and Tollner was once revered for its seafood, though these are very different days for the world's fish and New York oysters.