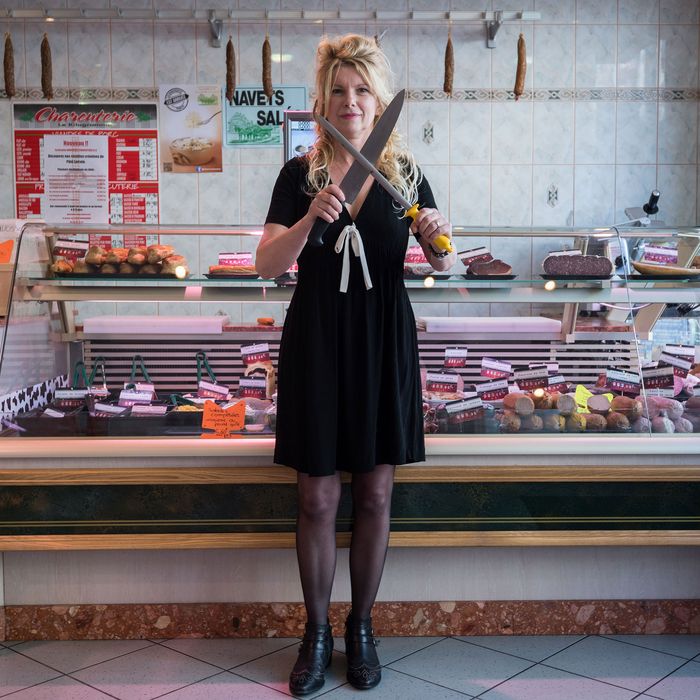 Ready for battle.
Photo: Patrick Hertzog/AFP/Getty Images
French butchers are crying kale. In the latest front between the meatheads and the plant-based. Shop owners say that vegans are breaking windows and scrawling graffiti on shops, showering them in fake blood, and generally vandalizing their stores. The meat men are so intimidated by the cauliflower contingent that they're calling for protection.
In an attempt to reinforce the butchers' ranks, the president of the French Confederation of Butchery, Butchers, and Delicatessen, Jean Francois Guihard, wrote a letter detailing the incidents to the Interior Minister in June. Speaking with NPR, Guihard said without the country's butchers — of which he says France has 18,000 — "the social fabric will be gone." One of those shops in Paris' 15th arrondissement is operated by Didier and Sandrine, who in talking to NPR both appealed to empathy for "hardworking people" running small businesses.
Didier took it a step further: While he says he has no problem with people not eating meat, "imposing their beliefs on others is like a dictatorship." This sentiment is in line with another given to the news outlet by a customer, who told it that vegans who attack butchers are terrorists. The vegans, though, say they're actions are being blown out of proportion. The French vegan association L214's Brigette Gothiere tells NPR they don't attack butchers, but only secretly document inhumane practices at slaughterhouses.
This speaks to a tension and, at the end of the day, a philosophical difference. The butchers don't have any issue, obviously, with meat consumption so they see themselves simply as hard workers being attacked. But if you're opposed to eating animals, no exceptions, and see meat as exploitation, you're not going to be polite because someone has built a business. More humane meat isn't the end-game; no meat is.
The incidents in France recalls a similar, though isolated, one that occurred in Toronto starting in December 2017. That month, the restaurant Antler put up an outdoor sign reading "venison is the new kale," a joke aimed at a nearby restaurant. Vegan activists, though, took umbrage with it and protested the restaurant with signs with slogans like "Take Death Off the Dinner Table." What started as a single protest with six people ended up lasting several months and started affecting business, causing Antler's owner Michael Hunter to butcher a deer leg in front of the vegans.
Like the French vegan activist who spoke with NPR, the Canadian who started this protest, Marni Ugar, says that their actions are being sensationalized. She told The Guardian "everyone thinks the vegans were freaking out. We weren't," and that she goes "to vigils at slaughterhouses" and has "seen so much worse".
It again goes back to differing values. While fellow Toronto chef James Santon of the Black Hoof talked to The Guardian about ethical meat, University of Sunderland lecturer Alex Lockwood says "there is no humane killing." On the bright side — maybe? — at least some think lab-grown meat will be on restaurant menus in just three years, at which point we'll have to debate whether it's humane to grow animal parts in a lab instead of growing them in a field.