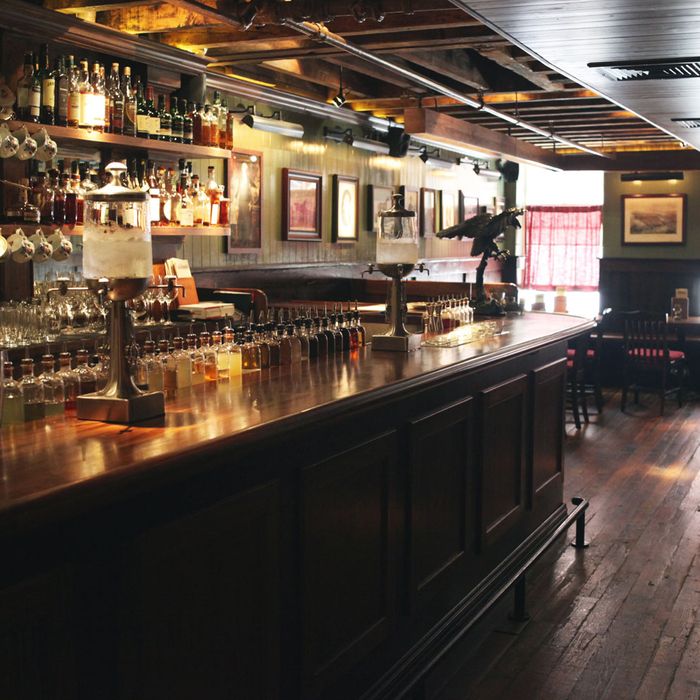 The Dead Rabbit is considered by many to be one of the city's best cocktail bars.
Photo: Corrine Durand
A two-alarm fire that broke out on Water Street early Sunday morning left the Dead Rabbit in the Financial District with fire and water damage. Sean Muldoon and Jack McGarry's three-story bar, which was built to evoke the 19th-century dawn of modern cocktails and has made repeat appearances on the World's 50 Best Bars list, will be closed for the foreseeable future.
"Several of our kitchen staff members were on site and had the presence of mind to shut off the gas before safely exiting the premises," write Muldoon and McGarry, in an email. The bar's staff has begun the arduous process of salvage and cleanup, but the partners, who also own the Cuban-themed BlackTail, cannot be certain about the timetable for reopening. Below, their statement, and a photo from the scene taken Sunday morning.
On Sunday morning, a fire was reported on The Dead Rabbit's block, which FDNY valiantly extinguished. Several of our kitchen staff members were on site and had the presence of mind to shut off the gas before safely exiting the premises. Their quick-thinking action averted a much worse situation and we are grateful. FDNY is now investigating the cause of the fire and has The Dead Rabbit's full cooperation.

While details are still sparse, we do know that The Dead Rabbit sustained some fire and water damage, the extent of which is now being determined. As such, the bar will be closed until further notice. That being said, we are fully committed to reopening as soon as possible and remediating any and all damage.

The Dead Rabbit is no stranger to adversity, having opened in the aftermath of Hurricane Sandy. The bar will bounce back, a bit bruised perhaps, but unbowed, and ready, willing and able to serve our guests. In the meantime, everyone's patience and understanding will be greatly appreciated during this difficult time.

Sean Muldoon and Jack McGarry, Co-Founders and Managing Partners