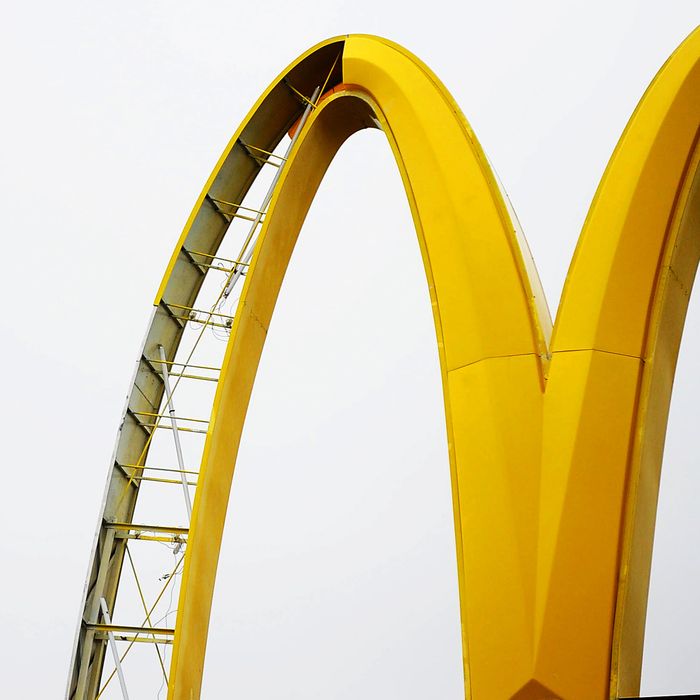 The embattled fast-food industry will move away from no-poach contact clauses.
Photo: Ian Hitchcock/Getty Images
After four years of work without a raise at an Apopka, Florida, McDonald's, Leinani Deslandes felt some career advancement was overdue. Deslandes, a mother of two, had gone from $7 an hour in 2009 to $12 two years later, along with a promotion to mid-level manager. Despite all indications, her raise was denied in 2016. "I thought, It's got to be this franchise. Let me go try another McDonald's," she said.
Another store 15 minutes away offered her $14.75 an hour for the same work, but there was a immediate obstacle: To transfer, Bam-B Enterprises, Deslandes's franchise, had to "release" her from its contract. Deslandes hadn't ever heard the words "no-poach agreement" before, but she soon learned that contract language barred franchisees from hiring each other's employees. In apocryphal terms, the practice is meant to stop disgruntled employees from taking trade secrets to a competitor. In reality, there aren't very many trade secrets left in fast-food. No-poach clauses decrease employee turnover overall and — inadvertently or otherwise — reinforce systematic wage suppression. The burger and taco chains continue to profit at the same time.
When Deslandes asked to be let out of the contract, a supervisor responded by saying that a previous shift deposit had been $100 short. "He told me if I stayed with the store, they'd forget about the missing money," Deslandes said. She quit and took a job at Hobby Lobby, for less pay.
In a lawsuit, Deslandes alleged that because McDonald's no-poach clause extended six months after employees left their franchise, the company violated antitrust laws. Last September, in a statement to the Orlando Sentinel, McDonald's explained that the practice had ended after Deslandes left and before the lawsuit. "As of March of this year, McDonald's excluded this provision from U.S. Franchise Agreements going forward," a spokesperson said.
The relative obscurity of no-poach contracts, which are not specific to the restaurant industry and are for the most part hidden in the depths fine print of new-hire paperwork, began to come to an end last fall, when papers like the Times and the Sentinel reported on their more egregious aspects, which is to say all of them.
Attorney Richard McCune, who represented Deslandes in her lawsuit, says that no matter the intention, the practice effectively amounts to franchises "owning" their employees. Another client of McCune's is Kristen Ion, a Pizza Hut shift manager who worked for 12 Pittsburgh-area locations owned by Aurora Huts, a franchisee, since 2011. Ion's lawsuit claims that she was promised $9 an hour at hiring and given minimum wage, or $7.25. She was never promoted in six years, and only got raises after threatening to quit.
In Iowa, a McDonald's worker with previous experience at the chain was turned away at another location, ten miles south, after initially being offered a job with more hours and better pay. "They work so hard, but they're scared to look for better opportunities," said Maria Sanchez, the worker, about her co-workers. "They feel like slaves and are scared of their supervisors."
In March, Senators Cory Booker and Elizabeth Warren introduced a bill that would ban no-poach agreements as "anticompetitive." A Justice Department report in late 2016 blasted the tactic as unlawful, and Makan Delrahim, the department's assistant attorney general for the antitrust division — he's also the former deputy White House counsel for President Trump — warned previously that violators could face criminal prosecution.
A more seismic change happened at the beginning of last week, when a collection of attorneys general from ten states and Washington, D.C., demanded eight corporations — Arby's, Burger King, Dunkin' Donuts, Five Guys, Little Caesars, Panera, Popeyes, and Wendy's — to clarify their usage of the legally binding language. In a letter, signees cited a research paper that identified no-poach language in "80 percent of quick service restaurant franchise contracts," and asked them a series of open questions about their practices. New York State attorney general Barbara Underwood, who previously publicly called for more information from fast-food giants, also joined the coalition.
The direct, and public line of questioning seemed to have hit its targets. On Thursday, an effort spearheaded by Washington State attorney general Bob Ferguson announced an agreement in which seven companies vowed to "immediately end" the use of no-poach clauses in employee paperwork. Included were several food-court players, like Auntie Anne's, Buffalo Wild Wings, Carl's Jr., and Cinnabon. Violators face civil penalties.
McDonald's, the largest grossing chain in the U.S., was also named in the Office of the Attorney General's announcement, even while the chain had previous said it would no longer enforce no-poach clauses. "McDonald's removed and now no longer includes a provision in our franchise agreements that related to a franchisee's ability to solicit or hire workers from another McDonald's restaurant," a spokesperson wrote to Grub Street, reiterating the statement it gave to the Orlando Sentinel. The crucial difference is that the new agreement is legally binding, and the chain's locations in Washington are now required to "remove no-poach language in its contracts with Washington state locations within 60 days."
While last week's announcement is unprecedented, holdouts remain: Burger King, Five Guys Burgers and Fries, Little Caesars, Panera Bread, and Popeyes Louisiana Kitchen were named in this week's multistate investigation announcement, but so far haven't commented publicly.
It's unclear if the apparent concession on the part of fast-food companies is just good for workers, or if it's more of an evolutionary survival tactic for an embattled industry.
The ratio of available jobs to unemployed Americans right now is the best it's ever been, yet wages are worse than in 2017. The same paper cited last Monday by the coalition of attorneys general found that the chances of collusion between chains were high because all it required of franchisees was to simply not hire each other's workers. Their paper goes on to say that the practice "might help explain a recent puzzle in the U.S. job market: unemployment has reached a 16-year low and job openings are at an all-time high, yet wage growth has remained surprisingly sluggish."
On Saturday, the New York Times cited no-poach clauses and noncompete agreements as tactics that have contributed to an economy where "corporate profits account for 13.2 percent of the nation's income. Workers' compensation has fallen to 62 percent," even with 4 percent unemployment. The same article cited a research firm's report that found that companies like Apple and McDonald's have made announcements tallying $680 billion in buybacks of their own stocks this year. "In essence, they are directing a majority of the windfall to investors and chief executives, who tend to have large stock-based compensation packages," the Times reports.
Washington attorney general Bob Ferguson, whose office reached the deal, said, low-wage employees "will be affected across the United States at more than 25,000 locations" because the seven chains are now required to stop enforcing their agreements immediately.
But the country's chain-restaurant landscape remains dense. Allegations of no-poach clauses have been directed at Pizza Hut, Domino's, Papa John's, Sonic, and others still not mentioned by name. Combined, it includes 50,000 restaurants and a million workers.