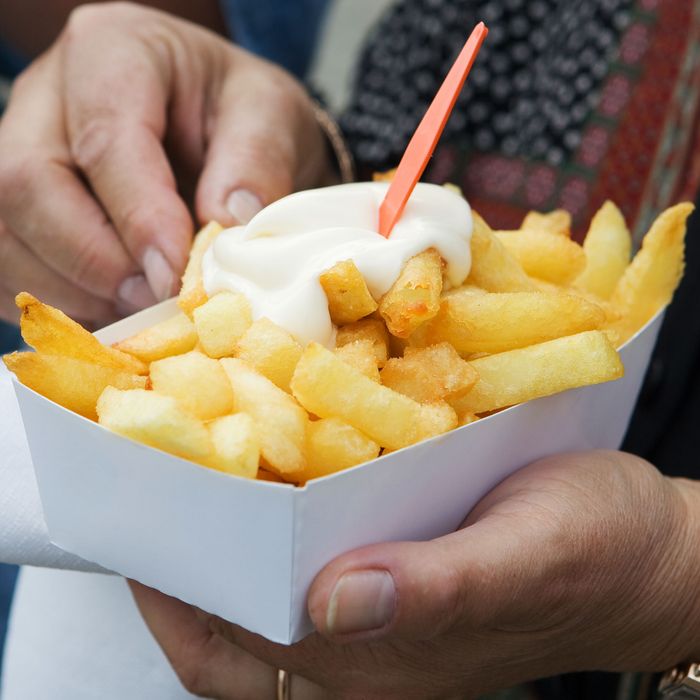 You still have time to change!
Photo: Getty Images/iStockphoto
Today at 2 p.m. ET, Belgium will square off against France in the semifinals of the World Cup. It's been a real run for the Belgian national team, which has only made it this far once before. (According to an Australian friend who actually understands what's going on, Belgium has "some young hot shots.") For this reason, you should root for Belgium. But whether you are that guy in a frites costume or Team Mbappé, this game is an excellent occasion to remember one of life's great but underappreciated truths: Fries are better with mayo.
If you are the average American, you probably eat your French fries with ketchup. No one is judging you — eat whatever you want! — but also, did you know you've been doing things terribly, terribly wrong? There could be no better day to right your wrongs and declare your allegiance to French fries with mayo. Both the Belgians and French understand that this is how things should be done.
There is something outrageously delicious about the combination. It's all (fine, most of) the good things in one place: fried starch coated in a fatty, eggy sauce. It's partly the chemistry of ingredients complementing each other perfectly. (Unlike French fries and a certain other sauce.) You think, for a few minutes anyway, that maybe this is what the good life feels like. The act of dipping in mayo even feels more luxurious. It's rich, but not overpoweringly rich because the potato is a manageable size and crisp as New York in the fall.
Ideally, these are Belgian fries. They are mayo vessels so masterfully double-fried that they were a revelation to Americans raised on mushy diner fries and who still, for some reason, think McDonald's fries are good. If not Belgian, go for fries at a French restaurant or just thinner fries. Though, maybe not Cuban shoestrings. A thick, fat diner-style fry slathered in mayonnaise? Not so ideal, unless you're really stoned and/or it's stuffed into a gyro. (Now, that's an idea.) There's no need to spruce the mayo up, but if you're so inclined to add spice or, say, roast garlic, why not? It'll be better than ketchup, that's for sure!
In New York, there are plenty of places to indulge in this habit. Beeline to Pommes Frites, the Belgian fry specialist where sauces include traditional mayo and roasted garlic aïoli, or Home Frite, which serves lemon-garlic aïoli and malt-vinegar aïoli. Keith McNally restaurants like Balthazar and Lucky Strike aren't on mayo automatic, but they have ramekins ready. Williamsburg pub Allswell knows what's up, and assumes you do, too. Andrew Carmellini's Lafayette gives you mayo and ketchup; the only reasonable thing to do is to throw the ketchup out. Uptown, Harlem Shake serves jerk fries with jerk mayo. There are, of course, plenty more options. Anywhere that has mayo on hand should do the right thing. But if you're worried, there's an easy life hack: BYOMAYO.
Look, no one is trying to start a digital riot by declaring ketchup bad. But, as wiser people have said before, ketchup (read: Heinz) makes everything taste like nothing but ketchup. Which is to say, like over an overpoweringly, cloying sweet glop. This is fine if you want to get punched in the palate or just to eat ketchup. But don't you want to be a sophisticated adult who eats fried potatoes with fatty sauces?
While some Americans get the superiority of mayo, there is still a lot of work to be done. Many Americans still seem to be as behind in this matter as in many other important issues. When asked "Ketchup or mayo?" one Cut writer responded, "Ketchup, mayo is gross," to which Grub retorted, "You're gross." Infuriatingly, a New York fact-checker responded, "Ketchup. I'm not a cop. Do you like fries with mayo? Ew." Another Cut writer and New York's resident barfly each answered, "Both!" — which Grub begrudgingly accepted; our barfly gets mayo if she has a salad or "something vaguely acidic to cut through fat." One friend of Grub says she hates mayo, while another answered oddly, "BBQ."
From this rigorous survey, it's clear that some people still have bad taste, though some progress has been made. Don't be like the anti-mayo propagandists. Be like the New York staffer who is half-French (also extremely French) and answered mayo, no contest. "Ketchup is a tragic choice," she says, correctly.
Also, the second-best dip for fries is ice cream.