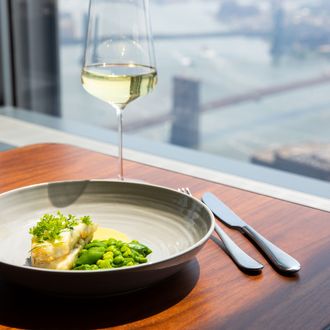 Enjoy the turbot, and please say 'hi' to the Brooklyn Bridge for us.
Photo: Nitzan Rubin
The work of Walt Whitman, born 200 years ago next May, in part informed the name for Union Square Hospitality Group's newest restaurant. Manhatta has 90 seats on the 60th floor of 28 Liberty, the redone landmark Financial District building formerly known as One Chase Manhattan Plaza, which has helpfully been renamed after its street address. All this is to say that Manhatta was built from scratch, from pieces of old and new New York, and it's every bit the stately restaurant you'd expect.
It also seems like a great place to drink, with a handsome black walnut bar that stretches a staggering 40 feet. Beverage director Matt Whitney's wine list skews French and focuses on Burgundy. The cocktail list sports a namesake drink, and others are based on the general theme of a classic Manhattan.
Together with the adjacent Bay Room, Union Square Hospitality Group's first-ever dedicated events space, the layout is a combined 38,000 square feet, and four spectacular exposures. There are 100 artworks throughout the combined space, selected by USHG partner Fosun International and the Artist Pension Trust, with others from "The Fosun Foundation, JPMorgan Chase, and photographer Karsten Staiger," according to press materials.
Chef Jason Pfeifer most recently cooked at Maialino, which he helped open. "When you open a restaurant like Maialino," he said, "you have a kind of road map on how to get there. When you build a Roman trattoria, you go to Rome. You taste the dishes, and you can really pull ideas on re-creating that, or making them better if you can."
It might be tempting to try to ID the gist of a bygone New York in the menu, and Pfeifer says his process included detours through and old cookbook or two. Maybe there's a touch of Delmonico's in the fried oysters, or an intimation of Gilded Age pizazz in the grilled lamb, or a hint of the Côte Basque in the quenelles, made with lobster, not pike.
But Pfeifer says his past experience, like his context with classic French at Per Se, American with a Japanese influence at Gramercy Tavern, and his eight years of precision braising and pasta at Maialino as prereq work for the new space. "We started with a blank slate. From a creative standpoint, that's been the most interesting thing," he said.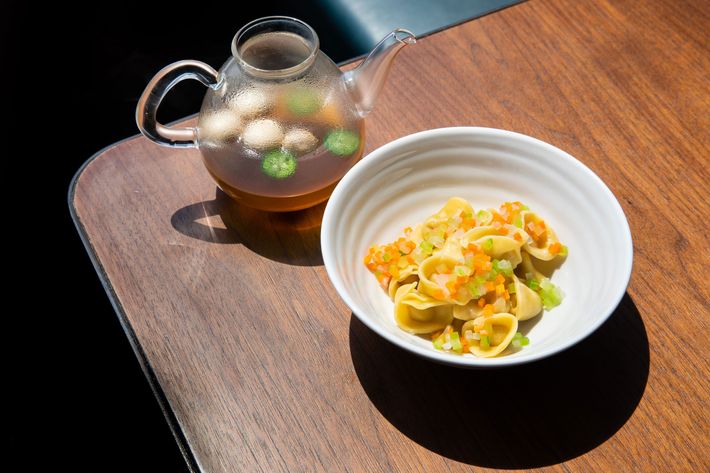 Duck tortellini with consommé starts with Crescent duck legs confitted in duck fat with black pepper and star anise. The meat is cooled, picked, and tucked inside dough. The broth's laborious process includes old-school clarification with a raft of egg whites, duck breast, and vegetables. As servers take the dish to tables, clear teapots of consommé steep with white soy sauce, mushroom, jalapeño, and a little ginger. It's poured à la minute. "The shape of the pasta sort of cups the consommé as you eat it," says Pfeifer.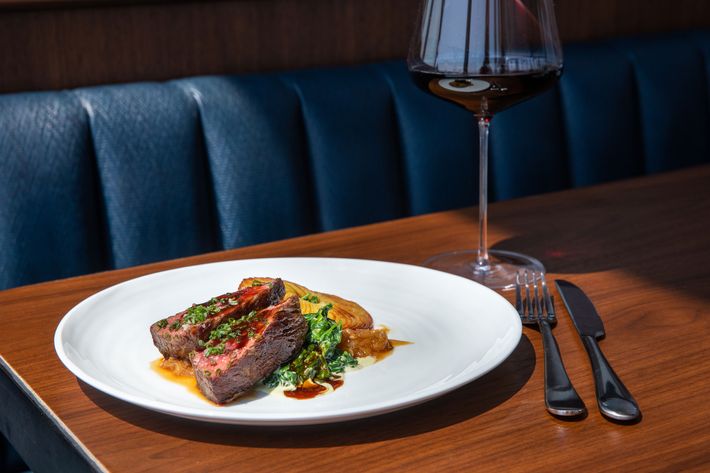 Wagyu bavette is served with pommes Anna and creamed spinach, and in topsy-turvy news, the heirloom-tomato-salad starter is served with a little sorbet, while the last-course cheese option listed with the desserts includes a salad.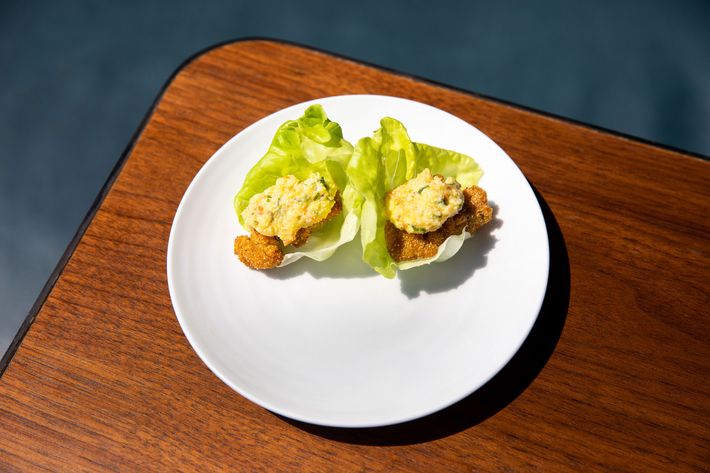 Snacks from the à la carte bar menu include tempura fried Maine sea scallops, set into shells with a remoulade made with plenty of chopped cornichons and lemon juice. Scotch snails riff on old-school garlicky escargots and sausage-coated Scotch eggs. Croques madames are topped with soft-yolked eggs, and fried Island Creek oysters are swaddled in lettuce cups with gribiche.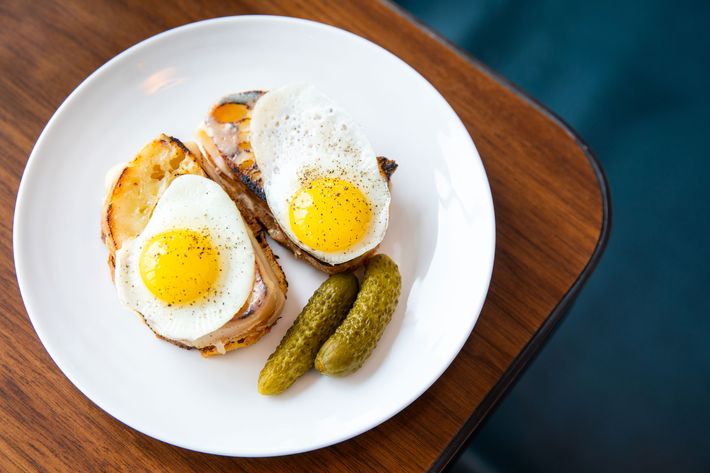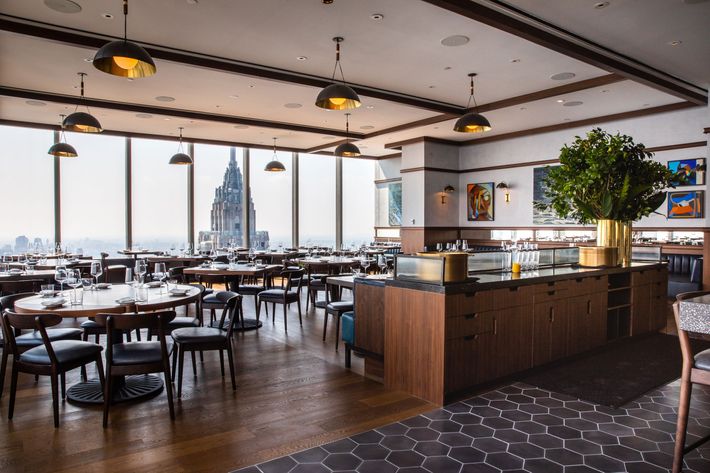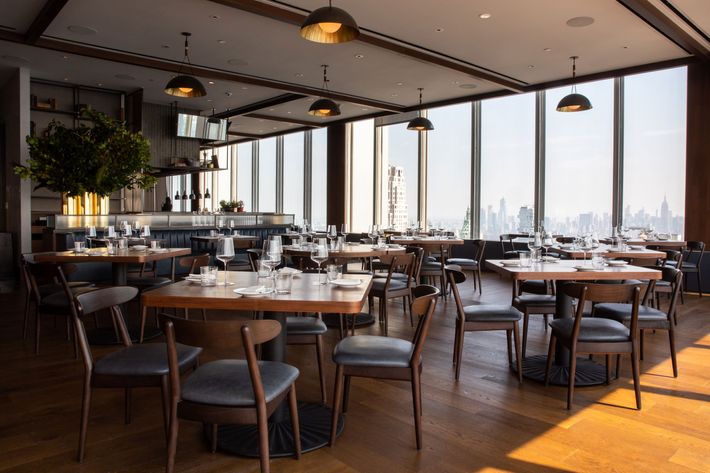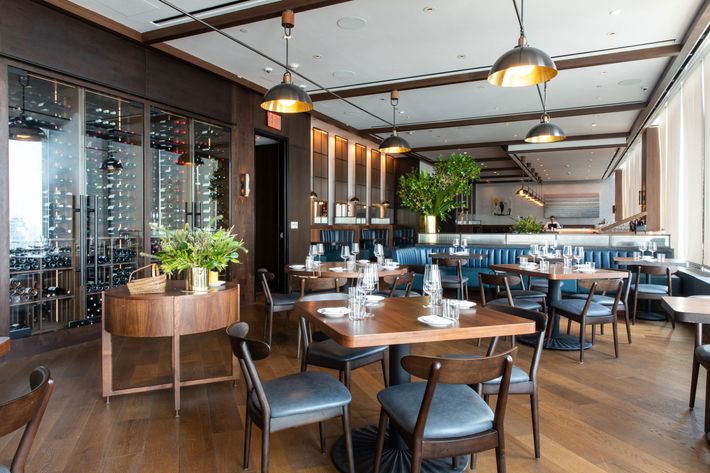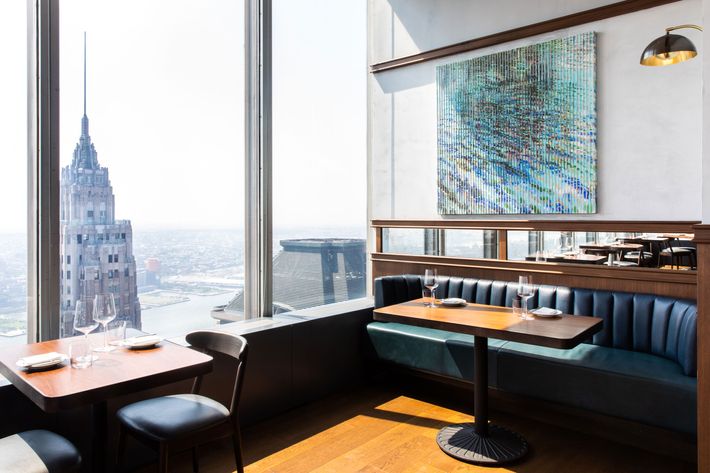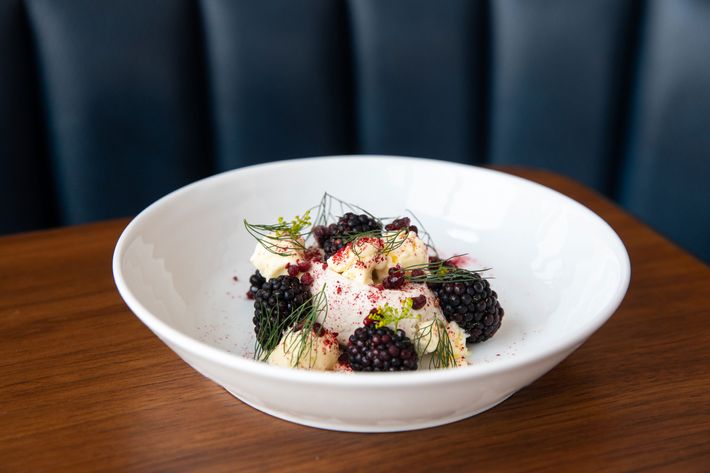 The restaurant is only open for dinner for now, with details of lunch service to be announced shortly. Like its sister restaurants, Manhatta is a no-tipping venue.
Manhatta, 28 Liberty St., at William St.; 212-230-5788