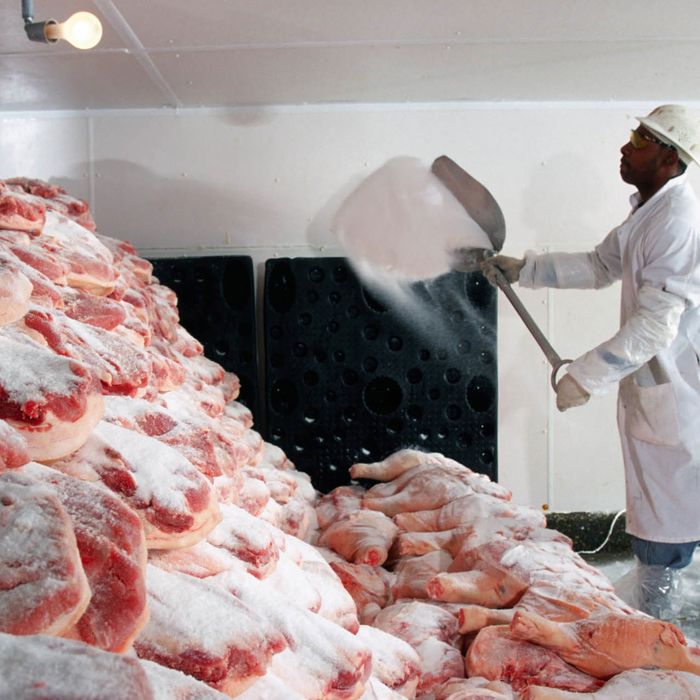 A worker salts hams in Smithfield, Virginia.
Photo: Dennis Brack
For four centuries, lucky Southerners have stuffed their faces with country ham, served at holiday meals, sliced and stuffed into biscuits, or fried in a pan and mixed with coffee for red-eye gravy. In more recent years, it's become a fetish item for high-end chefs, who have turned it into a thinly shaved delicacy. Yet supplies of the iconic American food are now drying up, a crisis made clear this month when pork enthusiasts learned that Smithfield ham — the signature product of Smithfield, Virginia, that, according to rumor anyway, kept soldiers from razing the town during the Revolutionary and Civil wars — is no more.
Genuine country ham is to cold-cut ham as real Parmigiano-Reggiano is to Kraft Singles: To make the fat-streaked country hams, whole legs are dry-cured, gently smoked, and left to age in the open air. The resulting meat is nutty, sweet, smoky, and deeply complex; there's a reason it's been called "hillbilly prosciutto." There may be nothing better than the ham tucked inside a freshly baked biscuit. Chefs covet country hams the same way bourbon lovers covet Pappy Van Winkle, carving razor-thin slices and treating it with the same care they'd give to $100-a-pound jamón Ibérico from Spain. In one episode of Mind of a Chef, chef and southern-food evangelist Sean Brock is so enamored with a long-cut country ham, he nearly fondles it. "I have this weird thing where everything is my 'favorite,'" he admits, arm resting on the exposed shank, "but this I've used as a pillow before."
Country hams can be made by anyone with enough salt, time, and pigs on hand, but there is perhaps no place more closely associated with the dry-curing, traditional version than the town of Smithfield, Virginia. It is the "ham capital of the world," and by Virginia statute, a genuine Smithfield ham must be "aged for a minimum period of six months … within the corporate limits of the town of Smithfield." And that's about to become much more difficult because Smithfield Foods — the world's largest pork producer and a subsidiary of Chinese meat-processing conglomerate WH Group — has now closed the last smokehouse capable of producing real-deal Smithfield ham.
Officially, the company claims it "has absolutely no intention of ceasing production of Genuine Smithfield Ham in the town of Smithfield, Virginia." Instead, it calls this an "opportunity to assess alternatives for the production of our Genuine Smithfield Ham," which seems impossible unless a new smokehouse is opened. CEO Ken Sullivan promises that "while we have closed the original smokehouse that produced these hams due to its age, we have plenty of these hams in inventory." The future, after that, sounds bleak: A spokesperson tells Grub that the company goes through about 100,000 pounds of Smithfield hams a year — about 6,000 of its 13- to 16-pound hams — and calls the business "essentially a rounding error … in the context of our 3 billion–pound U.S. packaged meats business."
Ham lovers are nevertheless aghast. Sam Edwards III, of the celebrated Edwards Virginia Smokehouse located just 20 miles from Smithfield, says his team was "sad to hear the news," since it's yet another sign of the industry's declining capacity. "This leaves the U.S. with maybe 20 dry-cured producers now," he says. "In Spain," he adds, "you can't move a hand without hitting a smokehouse."
Linton Hopkins — the James Beard Award–winning chef and a founder of the Fellowship of Country Ham Slicers — says that when he heard the news, he rushed out and bought two Smithfields "for posterity." (He's sure they'll store for several years.) "I was texting Allan Benton after hearing the Smithfield news," he says, referring to America's most famous curer of hams, "and we both agreed that names are worth preserving if they elevate something we honor and revere." He adds that his local Publix carries Smithfields; never more than one or two, but it still makes him sad thinking they could vanish.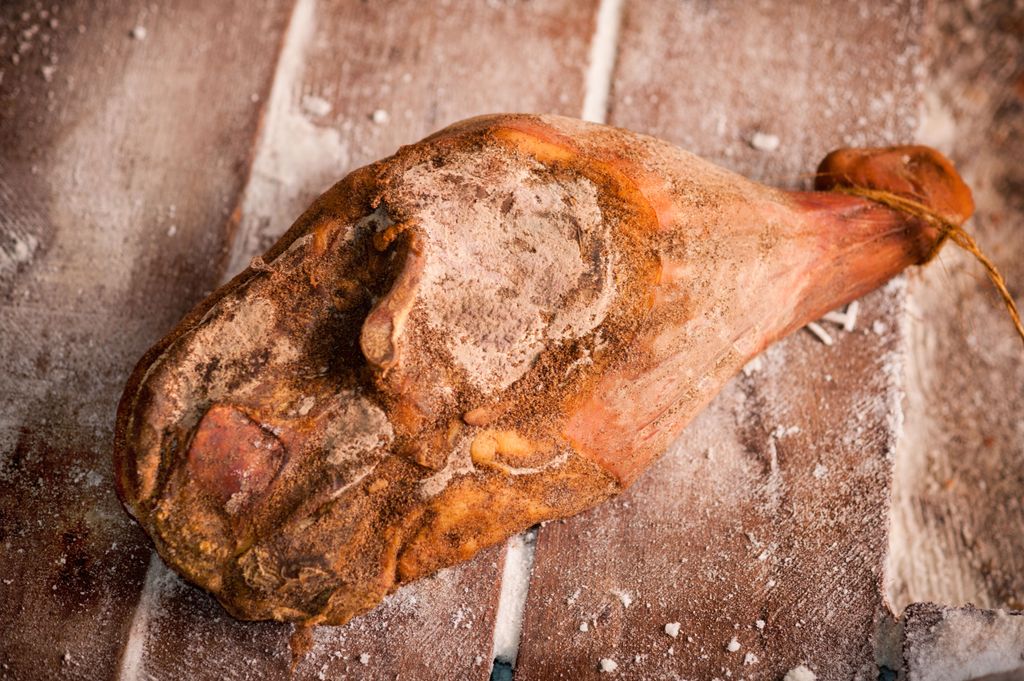 The problem, of course, is that country hams are a difficult-to-produce, niche product that are equally hard to sell at great profit. In fact, low margins are a huge problem, says Steve Coomes, author of Country Ham: A Southern Tradition of Hogs, Salt, and Smoke, but also just one of several the industry currently faces. "The country-ham world is contracting," Coomes warns, "and we're in a position to lose its identity." Domestic production is 2.5 million cured hams per year, compared to 4 million cured hams imported from Europe, and since 2016, fires have destroyed Sam Edwards's smokehouse (online orders reopen in September) and Harper's Country Hams. They accounted for over 10 percent of industry sales, with about 50,000 and 230,000 hams a year, respectively. A smaller North Carolina producer, Mom'n Pop's Country Ham, recently got taken out by a tornado. "America's capacity to make country hams has dropped dramatically," Edwards says. "We shot ourselves in the foot — the pride of the holiday dinner table became a loss leader in grocery stores."
Another problem is that many producers are aging out of the business, and a new generation has not yet stepped in to take over. For example, Benton, whose ham is a fixture on Momofuku Ssäm Bar's $38 charcuterie board, is 70 years old. Coomes believes that, at a minimum, the economics of the industry need to be rethought. Smithfield Foods sells its back stock of Genuine Smithfield Ham for $160 each. A less aged version goes for $150, and something called an "Uncooked Ham in a Cloth Sack" for $130. Coomes says that whole hams from artisan producers will cost half of that, $60 to $80: "Allan Benton is the poster child for this," he explains. "He'll sell an 18-month-old ham to Zingerman's in Michigan that Zingerman's then resells for $200. These producers have never been comfortable raising prices because it will offend their loyal customer bases."
Yet against all odds, Coomes is optimistic: "If the old guard doesn't, trust me, somebody will step up and fill the need." He points to Facebook curing groups and DIY ham-makers. It reminds him, he says, of the home-brewing communities of the '80s that helped jump-start the craft-beer revolution: "It could be microprocessors doing only a few hundred hams per year," he surmises, "but if the number gets high enough, the mind-set will change, and people will scale their operation up."
One hopes so because people need to put something on their biscuits, and frankly, it's just not the same with even the best Italian prosciutto.