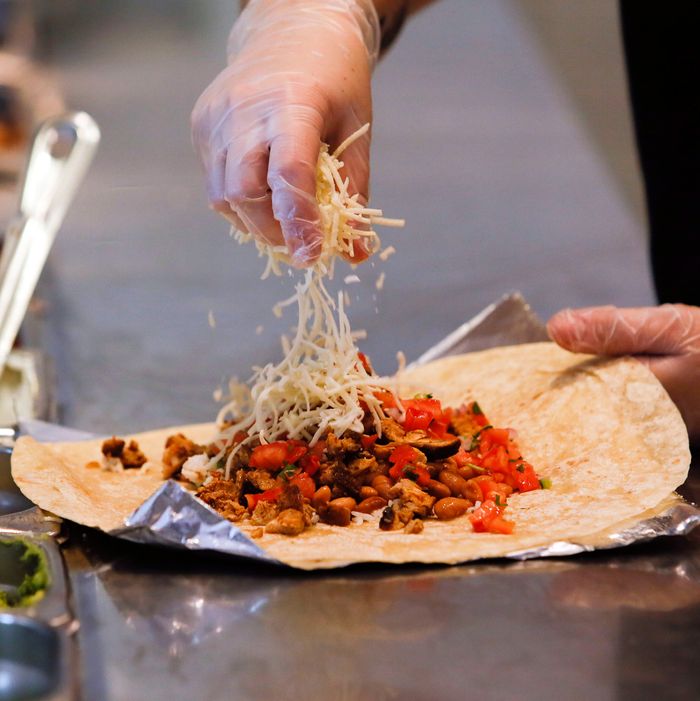 Another Chipotle store, another case of food-poisoning claims.
Photo: Patrick T. Fallon/Bloomberg via Getty Images
Uh-oh: Chipotle voluntarily shut a restaurant in Powell, Ohio, after customers who ate there claimed to suffer nausea and diarrhea. Initially, it was 2 individuals who posted claims to food-safety website iwasposioned.com, but now that number has increased to more than 170 people since the news was first reported by Business Insider.
You'll recall that the chain experienced a series of food-poisoning outbreaks that torpedoed its year in 2015, closed a store in 2016 over norovirus concerns, and had another significant norovirus outbreak in 2017 at an L.A. store.
In Ohio, the local health department tells Business Insider that it received illness reports from seven customers on Sunday and Monday, and that Chipotle told health officials it received four to five complaints from customers. Additionally, health officials tell the website that Chipotle reported that two to five employees called off work due to illness on Sunday and Monday.
This is bad news on the heels of what feels like the first good news for the chain in a while. The company reported a 3.3 percent increase in same-store sales during this year's second quarter, with revenue increasing 8.3 percent to 1.3 billion, and an improvement in digital sales. The company also shuttered 29 stores in 13 states last Thursday, and may close up to 65 this year as part of its plan to get back in the fast lane on the burrito highway.