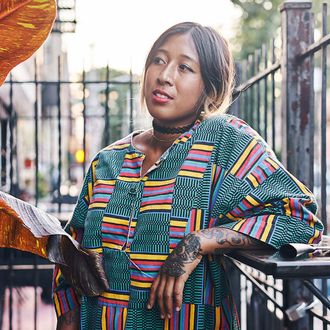 Chinchakriya Un, outside her prep space in Brooklyn.
Photo: An Rong Xu
"I'm in and out of different stalls and stores so much that I don't even know their names," Chinchakriya Un said, with a laugh. The chef had left her Brooklyn apartment at dawn with an empty external-frame backpack slung over one shoulder. In Chinatown, Un soon tracked down a jar of salty preserved limes at a table set up between two parking meters. She picked up taro, tamarind, and moringa. Almost every stall carried galangal, but Un wanted the full root, and finding it took up more of the morning than she had planned. When she returned to the commissary kitchen that she rents space in, Un's backpack was also filled with fermented fish, Makrut-lime leaves, and bundles of bright-green herbs.
This is a typical day for Un as she prepares for Kreung, her series of Cambodian pop-up dinners held in bars and other spaces throughout the city, hosted with Matthew Hassell, her partner and co-founder.
"Kreung is an expression of my heritage, my culture, of the things that I love and respect," she said. It's also the name of the fragrant, lemongrass-heavy Cambodian spice paste that Un threads into nearly all of her dishes. The paste and the dinner series connect the chef to her extended family, 8,000 miles away. While other chefs might stage pop-ups as proof of concept for brick-and-mortar restaurant investors, Un is raising money to buy a tractor for her relatives. Her cousin's family will use the $80,000 tractor to farm rice in harvest season. Un has her eye on a shiny new farming tractor manufactured by Kubota.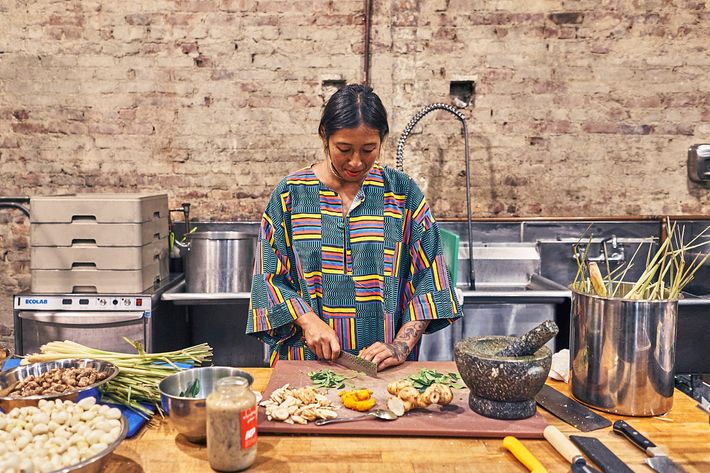 Chinchakriya Un — Chakriya for short — was born in a Cambodian refugee camp 31 years ago. She and her parents moved to Massachusetts when she was still a baby, where they joined a population of nearly 26,000 Cambodian immigrants and refugees. Soon after that, Un's parents moved to South Carolina. The warm weather was more comfortable for Un's mother, who has shrapnel in her legs, left from land mines she stepped on in Cambodia.
Growing up, Un watched her mother make food, but cooking didn't interest her, and even after working as a line cook at L'Artusi, she never once considered making Cambodian dishes. Instead, she learned to make pastas, reductions, and sauces mounted with butter — European techniques and flavors.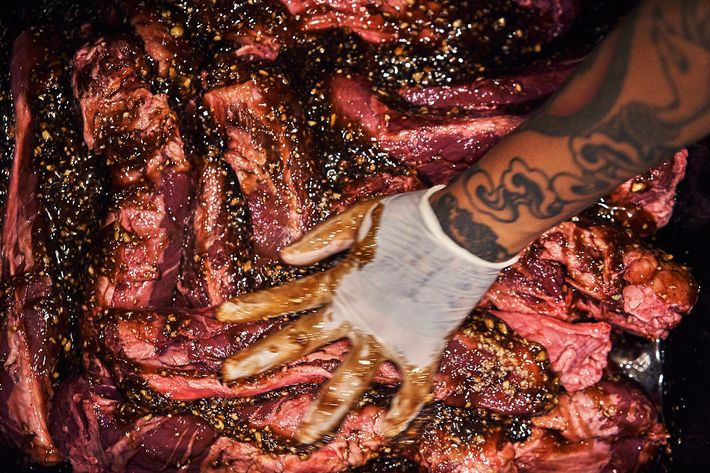 That changed four years ago. Nearly three decades after leaving Cambodia, Un quit her restaurant job and boarded a flight to Phnom Penh. She met aunts, uncles, and cousins in the town of O'smach, in the Samraong District, of the Oddar Meanchey Province of northwestern Cambodia, where her mother was born. She trudged through the same rice fields where her mother stepped on land mines. Forests were cleared out and new construction was underway. Still, Un recognized the land from her mother's vivid descriptions.
"I cried every day," she said.
"Maybe because of my trauma with the Cambodian identity, I didn't know how to enter into that space again," added Un, reflecting on the intensity of her first trip home. But as she immersed herself in the language and the culture, it all came back rapid-fire. And, of course, there was the food: Un spent the rest of her trip watching her aunts lovingly prepare each meal. One day, while cooking dinner with a cousin, he mentioned that his family needed the tractor.
On her return to New York, the chef launched Kreung. On their own, the pop-ups were too costly and labor-intensive to sustain, so Un began to cater large dinners as well. "I've had moments where I've been really bad to myself," Un said. "I've been embarrassed I can't get this tractor sooner. But I come from an immigrant family. We came here less than 29 years ago. Growing up, I didn't have any type of financial coaching. Nobody has really taught me that."
The remainder of her cooking instruction has come from an unlikely source. "I follow a lot of Cambodian YouTube moms," she said. "I don't know any of their names. I'm just like oh, Mae, the Khmer word for mom." It's a uniquely 21st-century phenomenon, that some of the world's most remote, rare, or endangered cuisines can now be referenced with something as easy as a link.
At home, Un began to mimic their techniques. One YouTube mom made a sweet cassava cake that now stars on Kreung menus. At the advice of these YouTube mothers, Un began to adapt recipes when ingredients weren't available at local markets, replacing a certain kind of coconut water with Coco Rico soda, for instance. Now, Un plays the YouTube videos on her laptop, on a nearby counter, when she prepares for events.
At Kreung pop-ups, Un serves grilled steak, mushrooms, and a slew of sides. For all dishes, there's plenty of tuk prahok kreung, a pungent, salty dipping sauce made with kreung paste and fermented fish. "It adds a salty, umami richness and depth like no other," Un said.
In Spartanburg, South Carolina, where Un's mother lives now, she has a big garden where she can grow all the ingredients she needs. She dehydrates and ferments fish on her porch and preserves vegetables. Often, Un's parents pack two coolers full of ingredients, including homemade tuk prahok kreung, in the back of their Chevy SUV before starting the 700-mile drive to Un's Brooklyn apartment.
In 2000, the Bronx was the only borough home to more than 1,000 Cambodians, and Kreung has become a de facto shared meal for the city's spread-out immigrant community. "It's been cool to hear Cambodians share their stories," Un said. Often, her parents will sit among the diners, sharing stories of their childhoods.
Kreung still operates out of bars that don't have full kitchens and event spaces outfitted with camping stoves. All are welcome, and despite the sometimes makeshift kitchens, Un feels closer to cooking and to her family than ever before. "It has become apparent to me that if I put food on the table, the Cambodians will come," Un said. "It's why I continue to do this."
On July 14, Kreung will be part of a lineup that includes Bunker and the Little One at Happy Family Night Market, a daylong festival at 99 Scott in Brooklyn centered around Asian culture and food. The full lineup and more information can be found here.