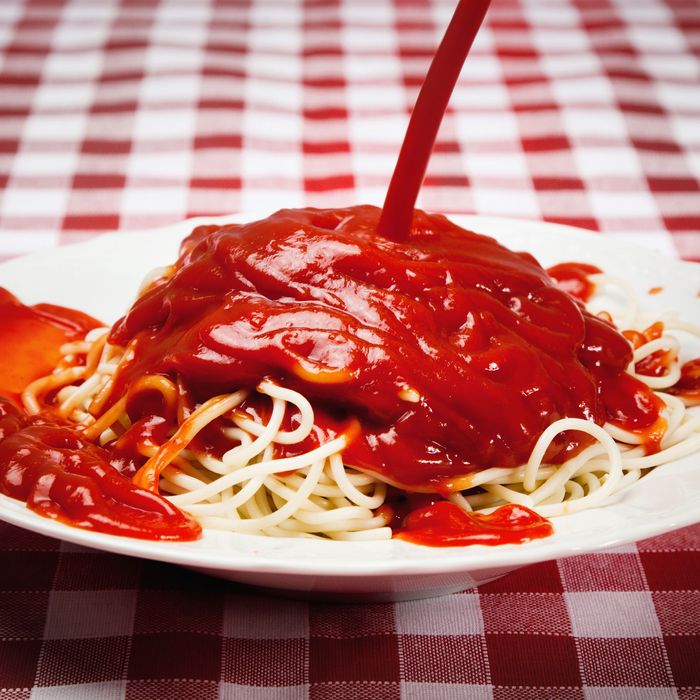 This is un-American.
Photo: Tomasworks/Getty Images/iStockphoto
Donald Trump's Supreme Court nominee Brett Kavanaugh has encountered the first and possibly toughest obstacle in his nomination process. The Yale Daily News, as pointed out by Splinter, has exposed him as a man who in college was a guy who ate pasta with ketchup.
Of course, this is exactly the kind of heinous position that would appeal to Trump, a man who eats ketchup with well-done steak. Ketchup is, of course, an overpowering bully of a condiment. Some might say, despite the ketchup industry's propaganda that it's an All-American Condiment, that it does not belong on any American table. Much less in the government. Like Trump, at least the younger Kavanaugh was a person with what sounds like an aversion toward things that taste good. A roommate tells the Yale Daily News that Kavanaugh was a "bland eater" who didn't want anything spicier than ragù, and would not dare with pizza toppings more exotic than pepperoni.
This ketchup leak raises some serious questions. How important was Kavanaugh's love of ketchup to Trump during the nomination process? Is he trying to create a cabal of ketchup lovers in his administration? Can you really trust a man who loves or loved ketchup this much, and would most definitely take the ridiculous position that French fries should not be eaten with mayo? Obviously not.