One thing you can say about this cheap-eats town of ours: It never gets old. Statistics show that in New York, a ramen shop, slice joint, food court, pita parlor, clam shack, or kosher vegan taqueria opens every 12 seconds, and that within 15 minutes, 92.67 percent of these eateries declare bankruptcy and shutter. And yet would-be gastropreneurs and passionate mom-and-pops alike keep at it. This makes for a dynamic dining scene, but it also makes it difficult for the average eater to keep up with the latest trends. You never know where things stand. Are burgers over? Are pancakes the new cupcakes? Is toast toast? Can fusilli be cooked in ten seconds? Is fine-casual better than fast-casual? Is Danny Meyer opening a Taiwanese-sausage stand? Is there ever an occasion where you should eat pizza with a knife and fork? Or tortellini with chopsticks? Do you have to be high to eat a ­peanut-butter-and-carrot sandwich?
This is where our annual guide to all that is new and cheap and delicious comes in. Think of it as an attempt to answer all your burning budget-gourmet questions. In the list that follows, we reveal, among other things, the latest places to go for gumbo, Japanese spaghetti, Sinaloan breakfast tacos, and a box of souvlaki.
Later in the week, we'll also introduce you to the new regional-Chinese restaurants that have suddenly appeared in the East Village, a neighborhood we hereby designate Chinatown North. We've even drawn you a map. On the pizza-slice front, we'll tell you why the square is still in and the round out. And as a special bonus, we'll take a look at the Queens Night Market, a weekly food festival that celebrates, at last count, the thrillingly eclectic cooking of 80 countries as well as the notion that food should be not only affordable and delicious but a way to bring diverse folk together — something worth attempting no matter how hard it is to keep a budget–friendly restaurant up and running in this city.
Mac and Cheese for the Masses
Madcap Cafe
387 Court St., at 1st Pl., Carroll Gardens; 929-337-6117
New York needs more Heather Fullers, chefs who ascend the fine-dining ladder at places like Per Se and Momofuku Ko, accumulating technique and experience, then harnessing that power to serve humanity via bacon-and-egg sandwiches on housebaked flatbread, cheesy baked pasta, and veggie "nachos" that benefit from topflight knife skills and the deft marriage of pico de gallo and green-goddess dressing. The open kitchen is comically small, and so is the menu, but regulars can expect frequent specials like gringo-but-great ground-beef tacos and a Key-lime pie to rival Steve's. With its potent cocktails and crowd-pleasing comfort food, Madcap is part bar, part diner, and altogether charming.
New Mexican in Town
Taqueria Sinaloense
40-08 Case St., nr. Elmhurst Ave., Elmhurst; 917-832-7797
This bright, cheerful ambassador of the western-Mexican state of Sinaloa has turned the spotlight on such relative local rarities as chilorio, the chile-infused, lard-fried pulled pork that eats like rillettes on fire, plated with the city's most sumptuous frijoles, a dense but creamy mass of Peruvian beans studded with chorizo and green olives. Machaca, a sort of pounded beef jerky that is derived from a pre-refrigeration method of preserving meat, is cooked with eggs, onion, and tomato and wrapped in a flour tortilla to make a terrific breakfast-style taco, earning such discriminating fans as Steven Alvarez, a St. John's University professor who teaches a class called "Taco Literacy." Equally good if not specifically Sinaloan treasures are unearthed from the steam table up front — pork ribs con verdolagas (melted purslane leaves and stems in an oily, piquant sauce), or glistening barbacoa exuding its concentrated muttony essence. Express interest and owner Elvía Castelán will adopt the demeanor of an irrepressible Baskin-Robbins scooper, converting first-timers into regulars one sample plastic-spoonful at a time.
Pie en Plein Air
Petee's Café
505 Myrtle Ave., nr. Ryerson St., Clinton Hill; 646-494-3630
There's much to love about this all-day outpost of the tiny Delancey Street pie shop Petee's: the comparatively palatial space, with its black-and-white checkerboard floor and pink-and-green color scheme. The long marble luncheonette counter upon which resides seemingly every pie in the Petee's playbook lined up in a soldierly row, and looking like a Wayne Thiebaud fever dream. And then there's all the new savory stuff exclusive to this location, including a sausage-egg-and-cheese on a housebaked biscuit and an outsize muffuletta sandwich piled high with Meat Hook salumi. Best of all is the fact that you can savor your pie in a lovely backyard garden beneath a shady maple tree in a dreamy stillness unimaginable on the Lower East Side.
Kings County Curry
Ugly Baby
407 Smith St., nr. 4th St., Carroll Gardens; 347-689-3075
At first you think that the entire dining room has a cold. But then you notice that the dazed expressions, eye-tearing, and nose-blowing are accompanied by the telltale flush and trickle of perspiration that can only signify serious, wanton capsaicin consumption. Yes, heat freaks, Ugly Baby is Thai-spicy. It's also the much-celebrated return of chef Sirichai Sreparplarn, who first won a following at Red Hook's short-lived Kao Soy and Chiang Mai. His single-page menu is a streamlined selection of dishes drawn from all over Thailand, some of which you probably haven't encountered before: a first sweet, then hot mushroom-pineapple curry with fragrant lime leaves and thin planks of tofu; sea bream with a turmeric-and-garlic rub that's scraped off before the fish is deep-fried, fried separately, then reapplied like frosting on a cake; mini-muffin-like coconut-milk cakes embedded with black beans and taro, slicked with tamarind-chile sauce, and scattered with crushed peanuts. All this means hot competition for front-runner Queens in the Thai-food-destination contest.
The Salvador Dalí of Sandwiches
BYGGYZ
37–39 Clinton St., nr. Stanton St. 212-475-0040
The reports of the closing of Dewey Dufresne's old-school sandwich shop have been greatly exaggerated — mainly by Dufresne himself. The latest news is that the place will stay open with restricted hours at least through the fall, and for the reprieve — brief as it may be — every right-thinking student of the sandwich should be glad. Tuck into the signature flavor-bomb BYGGYBEEF or the surprisingly great peanut-butter-carrot concoction known as the Karrottom before it's too late. The beauty of the sandwich is that anything goes. What you pile on or meticulously layer between two slices of bread or a hero roll or even, as Dufresne has lately taken to experimenting with, a whole-grain lavash is limited only by the imagination. And no one celebrates this fact more exuberantly than Dewey Dufresne.
Creole Soul
Lowerline
794 Washington Ave., nr. Sterling Pl., Prospect Heights; 347-533-7110
Everything you could ask for in a New Orleans–inspired neighborhood joint: sweet and briny oysters on ice, counter seats that overlook the kitchen, and a Louisiana native stirring the pots. In size and spirit, Lowerline brings to mind the original Pearl Oyster Bar on Cornelia Street, but instead of lobster rolls and clam chowders, you get oyster po'boys and seafood gumbos. Crawfish étouffée is a signature dish, and the muffuletta on Caputo Bakery bread does not disappoint. Best of all might be the red beans and rice — a creamy convergence of tender kidneys and andouille sausage flanked by a puck of fluffy white rice. One bite and you know why New Orleanians consider the dish a hangover cure par excellence.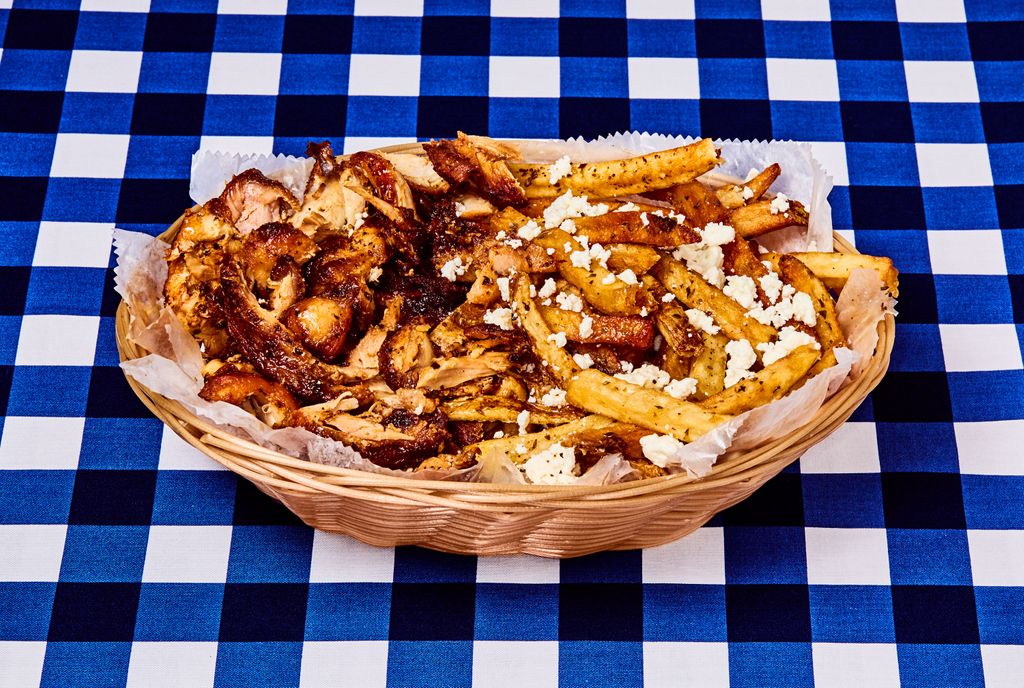 Meat on Sticks and Spits
Sherman's Grill & Rotisserie
121 Division St., nr. Orchard St. 646-861-2726
Decoratively speaking, Sherman's will never make it into the pages of Architectural Digest. The chairs and tables are old and mismatched and not necessarily in an aesthetically pleasing way. The walls are hung with maps and papers like a police-detective evidence board. It's hot and sweaty in the summer and cold in the winter. In other words, Sherman's is a dump, but a dump with soul, and lots of delicious food to boot. Everything on the meaty menu is good and cheap. Go for the gyro platter — aggressively seasoned pork or chicken carved off vertical spits and served with perfectly greasy fries that the kitchen will Salt Bae with crumbled feta for an extra buck. Or get your gyro meat stuffed into a pita pocket with all the fixings.
And on your way out, why not order a ten-stick box of souvlaki for later, which must be Sherman's answer to KFC's eight-piece bucket meal?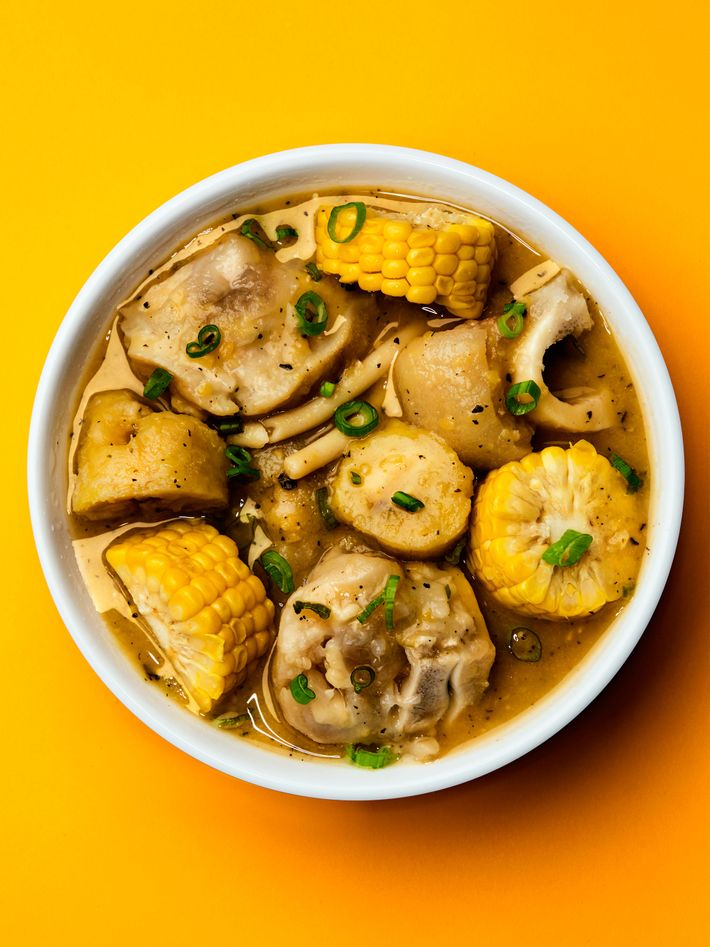 Guyanese Penicillin
German's Soup
793 Utica Ave., at Linden Blvd., East Flatbush; 718-513-0376
Hot soup dished out in Styrofoam tubs has to be pretty damn good to make you crave it on a 95-degree day. And so it is at this first branch of the iconic Georgetown, Guyana, restaurant, founded in 1960 by Hubert "German" Urling. The signature cow-heel potage — a dal-like broth loaded with corn and potatoes, short tubes of pasta, gelatinous hunks of beef, and tender-chewy dumplings — is slow-cooked and stirred up in big pots with long poles that could double as canoe paddles. The steam-table kitchen does an equally impressive job with the chicken curry (get it with roti) and the meaty West Indian stew called pepperpot. Doctor it all with the off-the-charts hot sauce you'll find on the counter next to the ketchup. Then put out the fire with a cool cup of tree-bark-based housemade mauby.
Taiwanese Beef Noodle Soup
Ho Foods
110 E. 7th St., nr. First Ave.; 347-788-0682
San Gabriel Valley native comes to New York to work in the restaurant biz, gets job as a front-of-house man at Blue Ribbon Sushi. All along, he's dreaming about his Taiwanese mom's beef noodle soup. So he decides to do a few pop-ups featuring that dish, keeping it simple and traditional, just like Mom's. Next thing you know, he's gone brick-and-mortar in the old Porchetta space. Now Richard Ho has a boffo hit on his hands, with a crowd waiting to get in for a taste of his soup — deeply flavored beef-bone broth with an undercurrent of spice and heat, plus tender slabs of red-cooked beef, springy wheat noodles, and pickled mustard greens. Even if Ho Foods had more than ten seats, you get the feeling that there'd still be a sizable mob outside the restaurant every night. This soup is that good.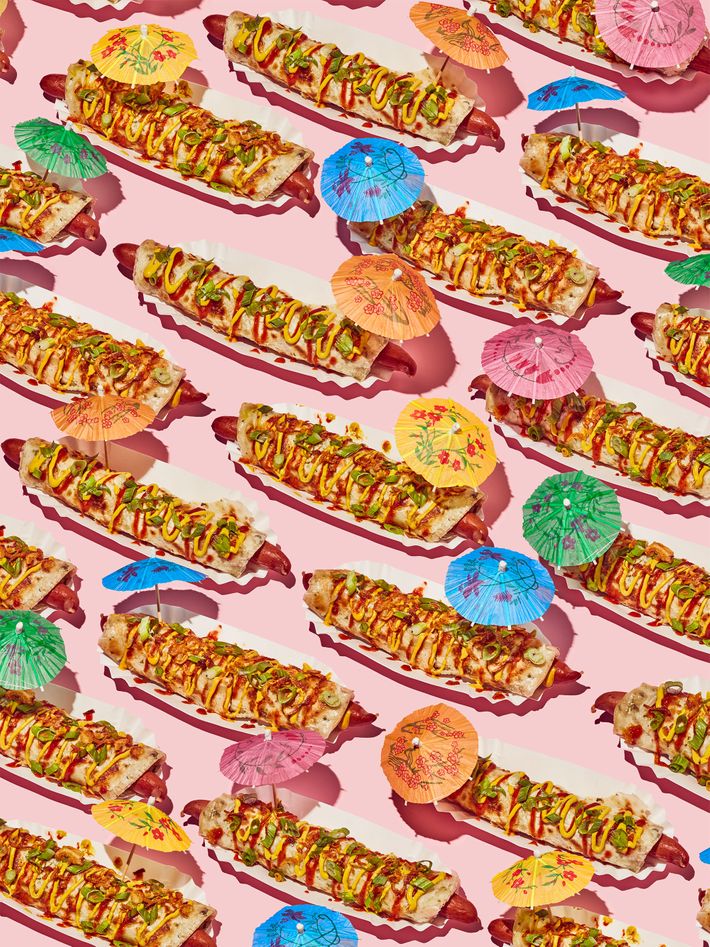 Chinese Bar Food
Boys Don't Cry
22 Orchard St., nr. Canal St.; no phone
It's no longer a shock to find yourself eating as well in a bar — even a dive bar — as you would in a restaurant. Further evidence of this happy circumstance is Wilson Tang's transformation of the restaurant space known as Nom Wah Tu (and before that, Fung Tu) into this Lower East Side watering hole. To say that the place is no-frills may be giving it too much credit, but the beer is cheap, the classic cocktails are $10, and even the popcorn makes an impression (the secret, according to our kitchen mole: soaking the kernels in clarified butter). What to get with your can of Wölffer Rosé Cider? How about some bite-size soup dumplings, a spicy chicken Sloppy Joe over rice, or a grass-fed frank rolled up in a scallion pancake and garnished with a cocktail umbrella?
Southeast-Asian Crêpes
Let's Makan!
64A Bayard St., nr. Elizabeth St. 646-649-4921
Reminiscent of the recently resuscitated Kopitiam, this like-minded Chinatown shop traffics in Malaysian sweets and snacks, both packaged and made to order. There's imported white coffee, sweetened with condensed milk; caramelized-coconut-custard-slathered kaya toast, which can be ordered crustless for an extra 25 cents; and an especially savory curry chicken rice, which might be the sleeper. The specialty of the house, though, is the street-food pancake called apam balik. You can design your own from crêpes flavored with ube or chocolate and fillings like taro, pumpkin, and even cornflakes. But why would you, when Auntie's Favorite has everything you could want in an apam balik: the piney scent of pandan in the batter, the crunch of peanuts, elemental butter and sugar, and a smattering of corn.
Couscous From Scratch
Kish-Kash
455 Hudson St., nr. Barrow St. 646-609-5298
In shining the spotlight on hand-rolled couscous — admittedly rare in these parts — chef-owner Einat Admony may be giving short shrift to the co-stars on the menu at her new West Village "couscous bar": the long-cooked North African braises that come alongside. Briny olives and preserved lemon enhance fall-off-the-bone chicken tagine; white beans and Swiss chard lend heft to stewy short rib; a meatball is somehow positioned inside a potato in the Libyan-style tomato-sauced mafrum. With cast-iron Dutch ovens lining the open kitchen, a long communal table dominating the brightly tiled dining room, and the aroma of roasting meats wafting about, the place combines the domestic pleasures of a home-cooked meal with the culinary thrills of a Mediterranean voyage.
Pho via Prague
Ginger & Lemongrass
153 Rivington St., nr. Suffolk St. 646-876-1237
The chef is Czech. The original location is in Whitestone, Queens, not Hanoi (or even Sunset Park). And the brick-walled, plant-strewn Lower East Side outpost unashamedly labels its food "Contemporary Vietnamese Fusion." All of which bodes not so well for those in search of classic pho and other Southeast Asian street fare. But Petra Rickman has proved herself to be a diligent student of the region's cuisines, her fragrant pho broth suggesting long hours of slow, patient simmering and her rice noodles satisfyingly firmer than most. The "fusion" part comes in, not unpleasingly, with win-you-over concoctions like a tart, creamy, spicy coconut-lemongrass soup and a panko-crusted-codfish sandwich given the pickled-carrot, jalapeño-spiced bánh mì treatment, if not the actual name.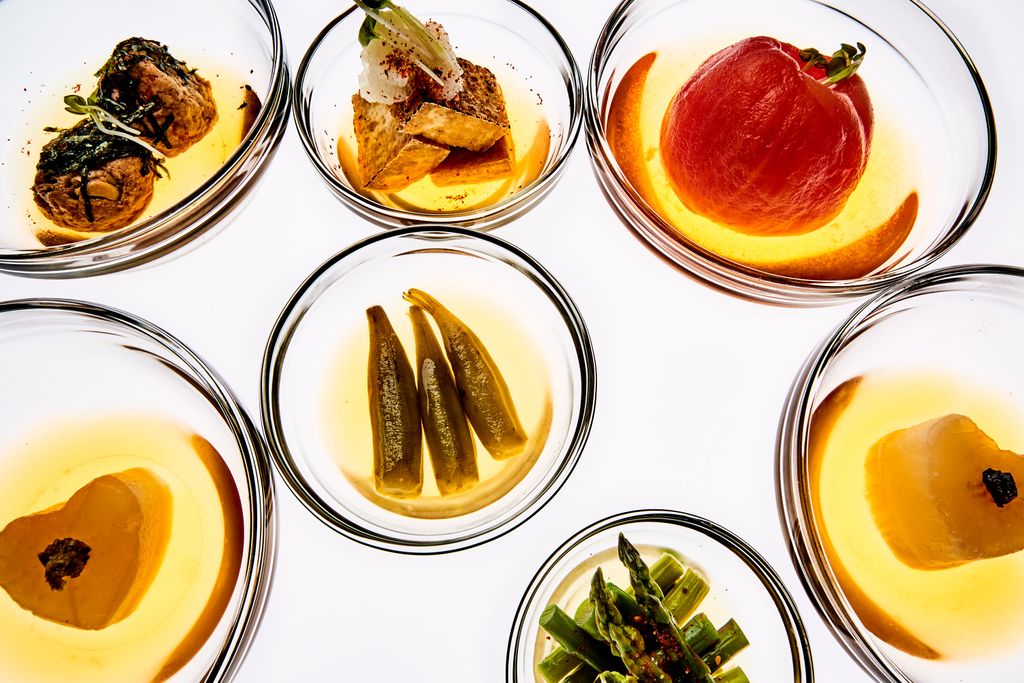 Japanese All-Day Café
Davelle
102 Suffolk St., nr. Delancey St. 646-771-7855
With only three tables and ten barstools, Davelle's Lower East Side space is quaint and small, especially when compared to chef-owner Yudai Kanayama's ambitions. The all-day menu reads like a primer in the multifarious subgenres and vocabularies of Japanese cuisine: By day it's a kissaten (literally "tearoom," but in this case, third-wave coffee shop), specializing in yoshoku, or Japanese-style western food. Breakfast translates to a hefty slab of soft Japanese milk bread slathered with butter and bean paste, accompanied by a hard-boiled egg and a scoop of sticky potato salad served in a teacup. For lunch, you want the curry rice, devised from scratch to mimic the flavor of a ubiquitous store-bought mix, or the Spicy Cod Caviar spaghetti, which is springy, creamy, briny, and soothing in equal measure. The dinner menu expands to include oden, the Japanese stew, based on a dashi broth Kanayama replenishes like a sourdough starter. Rather than combine your choice of ingredients in a single bowl, Kanayama offers them individually as sets of five or ten, ensuring each mochi-stuffed fried tofu skin and daikon radish gets the undivided attention it deserves.
Pita Pockets
Miznon
435 W. 15th St., nr. Ninth Ave. 646-490-5871
According to Israeli chef-impresario Eyal Shani, every branch of his global chain aims to translate a city's flavor (or, as the website elaborates, "the energies, the groove, the longings, the limitations, the beauty") into a pita sandwich. That's asking a lot of a pita pocket, and at his first American outpost, at Chelsea Market, Shani outsources the job to Angel Bakery, the New Jersey specialist that forms and parcooks the pillowy cradles. They're baked off at the restaurant and filled with Shani's edible notions of New York, most Instagrammably a "folded hamburger" cooked only on one side to create the would-be illusion of dining on steak tartare and a griddled smashburger at the same time. It's a bold gesture, but for pure primal pleasure, it can't beat the classic lamb kebab, tinged with chiles and flecks of herbs, garnished with tahini and grilled vegetables, and protruding rudely from its pocket like a middle finger. Pair it with a Shani signature like the "run-over potato," as comically flat as a cartoon character smooshed by a steamroller.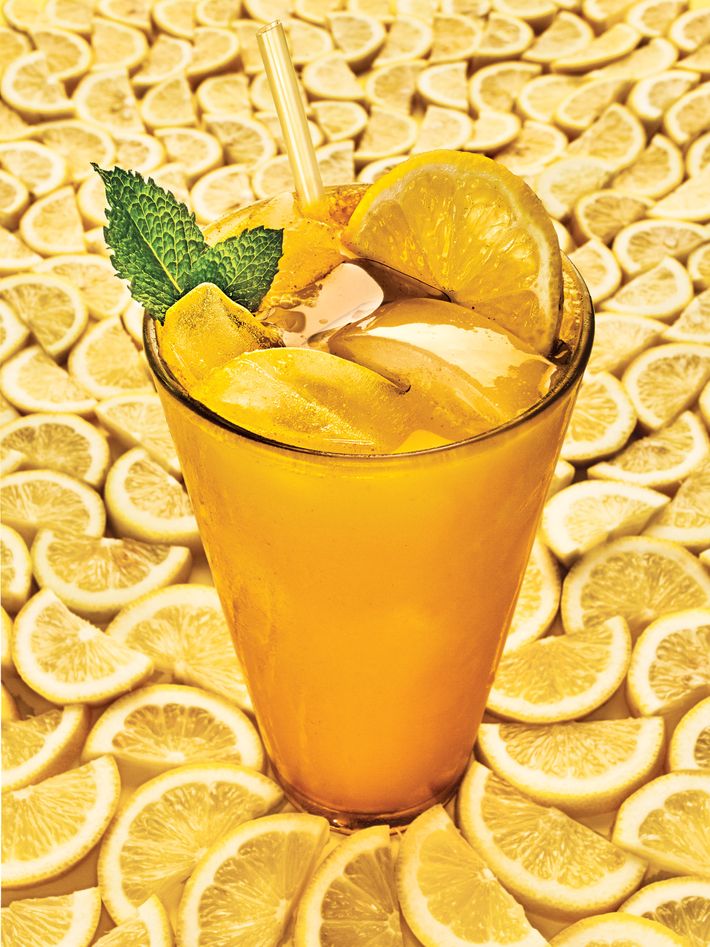 Flu-Fighting Fusion
Tamra Teahouse
1524 Bergen St., nr. Schenectady St., Crown Heights; 347-406-7710
In the "Only in New York" department: Two immigrants who fall into cooking in Manhattan — one from Korea, the other from Mali — meet working in an Australian-owned Thai restaurant on the Lower East Side, become partners, and co-open a bright and cheerful canteen in largely Caribbean Crown Heights. These influences and more come into play on an all-day menu that ranges from well-calibrated chicken curry and rice to an aromatic, herb-strewn chicken pho. Avocado toast is reinterpreted with planks of tostones supplanting the bread and a nourishing thatch of cabbage-and-carrot slaw on top, and medicinal teas and juices promise to cure whatever ails you. (We recommend the turmeric lemonade with a calming shot of CBD oil.)
Excellent Ethiopian
Benyam
2795 Frederick Douglass Blvd., nr. 149th St.; 212-510-7353
On the surface, there isn't much to distinguish this stylish Ethiopian restaurant from others springing up of late around the city and especially in Harlem. But it's always a promising sign when natives of the country in whose cuisine a restaurant specializes congregate there, as is the case at Benyam. And it's even more promising when one such expat pronounces the kitchen's doro wat, Ethiopia's de facto national dish of chicken legs stewed in the indigenous berbere spice blend, the best in New York, as our neighbor did one recent night. Even without the endorsement, we'd pronounce that dish delectable and as complexly seasoned as the stewed pulses and sautéed vegetables arranged alongside it on injera, the spongy, mildly sour fermented flatbread that triples as foodstuff, plate, and utensil.
Thai Sweets and Savories
Khao Nom
76-20 Woodside Ave., Elmhurst 929-208-0108
For an immersion course in the pandan-floral, coconut-creamy, tapioca-chewy, occasionally salty, and often translucent pleasures of the Thai-dessert pantheon, you could do no better than the display case of this quaint Elmhurst café. It used to be that the plan of action was to dine on incendiary steam-table curries around the corner at sister shop Khao Kang, then repair here for something sweet(ish). But the savory-snack menu has expanded to such a degree that that's no longer necessary — especially if you're in the mood for a credible khao soi, or one of the new over-rice dishes, including what passes for American fried rice in Thailand (it involves fried chicken, hot dogs, ketchup, and a fried egg). For dessert: a coconut-ice-cream sundae, showered with peanuts, palm seeds, sweet-potato cubes, and a healthy splash of condensed milk.
French Rotisserie
Risbo
701 Flatbush Ave., nr. Parkside Ave., Prospect-Lefferts Gardens; 347-425-9116
Get in line. Order at the counter. Choose a protein. Pick your sides and a sauce, then wait for your name to be called. When your grub's ready, shovel it down and get out. Ah, the art of the modern-day fast-casual feed. But going to Risbo is not so much like hitting up Sweetgreen after SoulCycle as it is stumbling into a dinner party hosted by a stocking-capped Frenchman who lives in a stylishly converted garage–slash–art gallery equipped with a $27,000 Rotisol rotisserie. The stocking-capped man in question is Paris-born Boris Ginet, a classically trained chef who wants his customers to buy his food, sure, but also to relax and hang out. Toward that end: the weekend DJ; the get-to-know-your-neighbor communal tables; the cozy bar dispensing delicious tropical-sounding cocktails like "Boris's Ginger Rum Drank." The rotisserie meats are good, too. Go for the Risbo chicken platter, a $20 paper-lined tray loaded barbecue-joint style with five sides — a southern meat-and-three (plus two) reconceived for Flatbush Avenue appetites with West Indian and North African accents.
Russian Dumplings
Daa! Dumplings
1000 Eighth Ave., at 58th St. 212-757-6207
You never know when and where a dumpling craving may strike, but if you happen to develop one while passing through the Columbus Circle subway station, you're in luck. Since February, Siberian native Ksenia Kolesova and her partner Raphael Nieto have been serving up hot, chewy pelmeni and larger, half-moon-shaped vareniki from their Turnstyle market stall to commuters in need of a doughy fix. Although you have your pick of meaty fillings, we recommend the potato, glossed with butter and flecked with dill, with a side of sour cream. If you're not running late, invest the extra five minutes it takes to steam a trio of khinkali, the pleated soup dumplings of Georgia that you pick up by their topknots and nibble gingerly to liberate the trapped juices — a maneuver we don't suggest you try while riding a rush-hour 1 train.
Cut-Rate Rigatoni
Pasta Flyer
510 Sixth Ave., nr. 13th St.; no phone
While other former fine-dining chefs were planning their fast-casual empires around doughnuts and tacos, Mark Ladner was figuring out how to bring pedigreed spaghetti to the masses. At Pasta Flyer, he's not only solved the riddle of the limp noodle, but he continues to tackle other quick-service problem areas of the Italian-American table with innovative techniques and great panache. Among the pastas, we recommend the rigatoni with nonna's meat ragù. You'll also want an order or two of the choux-pastry garlic "dots," which taste like a cross between a slice-joint garlic knot and a French gougère. And don't miss the sleeper tricolore side salad that gets its zip and zing from a braised-lentil dressing and shavings of sharp Pecorino. If you tire of pasta, try the chicken-parm sandwich with provolone and arugula on garlic-buttered bread, toasted via high-tech blowtorch to a perfect shade of golden brown.
Colonel Chang
Fuku Financial District
110 Wall St., entrance on Front St.; no phone
If David Chang is as smart as we think he is, he will never open more than 15 branches of Fuku, his bid for fast-food fried-chicken domination. That way, he won't have to post the calorie counts of such contributions to modern gastronomy as the paper boat of shoestrings deluged with spicy cheese sauce, bacon, and scallions known as loaded fries, and a similarly dressed spicy chicken sandwich — one of ten "off-menu" items available at Fuku FiDi, the only current outpost that's not in a stadium, arena, or food court. After all, what we don't know can't hurt us, and when it comes to crispy skin and calorific sauces, Chang & Co. aren't kidding around. The ranch dressing that goes with the chicken fingers is extra-ranchy. The chicken dip sandwich comes with a sidecar of dunking gravy. The Breakfast Bing Toast is twice as unwieldy and ten times more delicious than it looks. And then there's the glory that is the Chimek, a $65 fried-chicken feast for four to six rounded out with butter-enriched flatbread and a slew of quirky sides including battered pickles and cottage fries.
Yunnanese Noodles
South of the Clouds
16 W. 8th St., nr. Fifth Ave.; 212-888-9653
Even for the constantly morphing corridor that is Greenwich Village's 8th Street, this Chinese newcomer is a bit of a surprise, bringing the Yunnanese rice noodles called mixian out of their outer-borough and East Village strongholds to prime NYU territory. The kitchen has a pedigree: Owner Liheng Geng is the son of Side Geng, whose Sunset Park Yun Nan Flavour Snack was a New York Yunnanese pioneer. The setting is (relatively) spiffy and the clientele diverse, and the menu showcases all the requisite dry- and soup-noodle highlights — including the region's signature hot-pot variation, Crossing the Bridge noodles, whose apocryphal origin story appears, almost identically, on the walls or menu of every new restaurant specializing in the increasingly prevalent cuisine. For something off the beaten path, try the spicy tomato-beef soup, the skewered cumin pork, and the rose-scented mushroom dessert.
Roman Redoubts
Caffe Marchio and Vini e Fritti
30 E. 30th St., nr. Madison Ave.; no phone
We have to admit, we're fans of Danny Meyer's new growth strategy: For every fine-dining restaurant, open an affordable annex next door. Thus Union Square Cafe and Daily Provisions, Marta and Martina (connected conceptually if not geographically), and, also in the Marta orbit, Caffe Marchio and Vini e Fritti, two elegant, marble-trimmed rooms separated only by a hotel-entrance corridor. With Marchio custom-blended Italian coffee and sandwiches by day and Vini opening at four for (mostly) fried snacks and aperitivi, you could say they function as a single entity satisfying your every Roman-inspired desire. Here's the Underground Gourmet's idea of an ideal all-day graze: granita di caffè, cacio e pepe breakfast sandwich, rosemary-braised-chicken sandwich, affogato, Negroni Primavera, bagna cauda, fried cod, pork ribs. For the six hours (five on the weekend) both bars are closed, you're on your own.
Neapolitan Pizza for Pennies
Simò
90-92 Gansevoort St., nr. Washington St.; 212-462-2703
The folks at Simò, a new counter-service pizzeria in the meatpacking district, would have us believe that they are doing the pizza-eating public a favor by cooking Neapolitan pies in 90 seconds. "Ninety seconds to Naples" is the Simò slogan. But 90 seconds, as any Neapolitan pizzaiolo worth his Caputo 00 will tell you, is considered standard — if not slightly sluggish — practice. It's kind of like saying, "We make our dough with flour and water and cook our pizza in an oven." Despite the marketing shtick, Simò earns a place on this list because it gives the lie to the fact that you can't buy a Neapolitan pizza these days without breaking the Cheap Eats bank: The 12-inch pies here range in price from $8.70 to $10.40. And while the pizza is cooked in an electric oven and not in the same wood-fired league as, say, Una Pizza Napoletana, it's good: nicely balanced with a modest cornicione and a relatively dry center that's a little more chewy than tender. Bonus points for the handsome, comfortable, industrial space and the crackerjack service.
Takeout Thai
Uncle Boons Sister
203 Mott St., nr. Spring St.; 646-850-9374
The fried-chicken larb was inspired by KFC — not just any old KFC, but a Bangkok-food-court KFC — and it will blow the roof of your head off. You can get the great garlicky Thai sausage called sai oua as a platter with sticky rice or, if you so desire, stuffed into a Martin's potato roll with a slawlike heap of papaya salad on top. And if you're a fan of the Thai-street-food treat of coconut ice cream with shredded coconut and crushed peanuts, it's available here translated into a sort of Good Humor King Cone. What's great about Matt Danzer and Ann Redding's hole-in-the-wall spinoff of their full-fledged Thai restaurant, Uncle Boons, is not only that the cooking is as good as it is at the mother ship but that it strikes such a nice balance between authenticity and whimsy. That and the fact that nothing costs over $15.
Roman-Style Pizza Tonda
Martina
198 E. 11th St., nr. Third Ave.; 646-747-6635
Are Nick Anderer's gas-oven, counter-service, Roman-style thin-crust pies as good as the wood-fired ones he made at Marta? Just about. Factor in the price (the slightly smaller pizzas cost $7.50 to $11.50 versus Marta's $19 to $29), and you have yourself a Cheap Eats done deal, a frugal-gourmet no-brainer. You can't afford not to eat this pizza. Among the toppings, we're partial to the sausage-and-mushroom, plus seasonal specials like the current squash-blossom-anchovy number and wintertime's Brussels sprouts–Pecorino concoction. Also good: chicken meatballs straight-up in a tangy tomato sauce or given the hero treatment and squeezed into a Grandaisy sesame-seed roll with melted cheese and a dash of Sicilian oregano. For dessert, get the gelato soft-serve sundae topped with candied hazelnuts, amaro-spiked chocolate syrup, a drizzle of olive oil, and a sprinkle of sea salt.
California Quick Serve
Tender Greens
900 Broadway, nr. 20th St.; 212-339-7425
Sure, Tender Greens, as the name suggests, has plenty of sprightly lettuce leaves on hand. And yes, you can get a meal-size salad (we like the Salami, a zingy, antipasto-like mingling of cured meat and lacinato kale). But in an era of brimming bowls, this California quick-serve interloper seems happy to have reclaimed the plate. What distinguishes the place seems to be an unabashed embrace of what used to be called American home cooking — chicken, steak, tuna, nicely done and deftly seasoned, and artfully served with a choice of greens and sides on a china plate as flat as a Frisbee. This meat-and-two approach positions the chain as both more substantial and, in a way, more old school than the plant-pushing salad set, harking back to the days of square meals and blue-plate specials and — lordy be! — mashed potatoes (they serve those, too).
*A version of this article appears in the July 9, 2018, issue of New York Magazine. Subscribe Now!