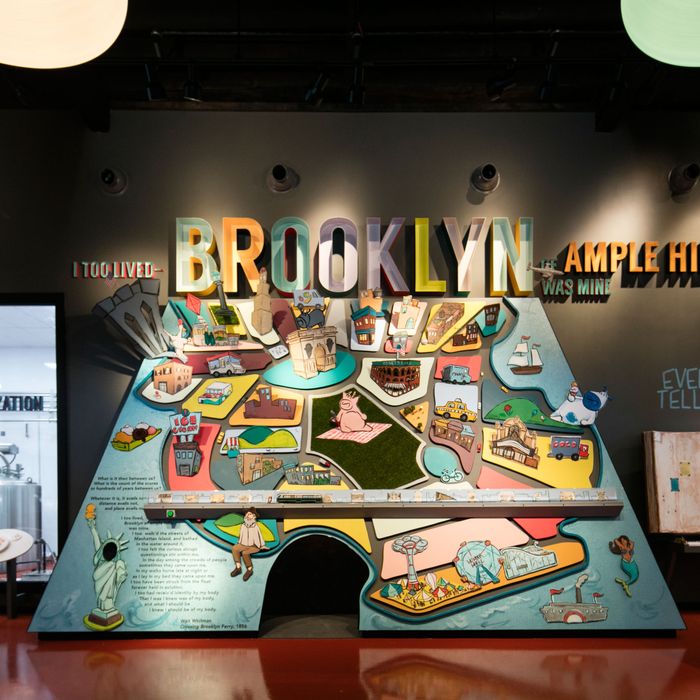 Inside the ice-cream factory.
Photo: Melissa Hom
In just a few short years, Ample Hills Creamery has grown to become one of the biggest names — if not the biggest name — in New York ice cream. It received $4 million in funding in 2015 and has been called the next Ben & Jerry's, a brand which it shares some of its more over-the-top tendencies. (And a love of chunky ice cream.) It might be more apt, though, to say that co-owners Brian Smith and Jackie Cuscuna approach their ice cream the way Willy Wonka approached candy: They want to turn it into pure Fantasia. And tomorrow, the couple will be unleashing their own Wonka-ish desires at Ample Hills' new factory, a 15,000-square-foot facility in Red Hook with an interactive area with tubes for the kids and glass windows overlooking the production area.
As much as "15,000-square-feet of ice cream making" sounds like paradise, an ice-cream factory isn't in and of itself isn't a big draw for regular people. There are only so many pints you'll want to watch get packed before deciding you'd rather just eat some at a local scoop shop. But the factory is just one half of the equation. Before Smith got into the scoop business, he wrote screenplays for horror movies, and his storytelling tendencies are woven into this place. "For me, the factory's interactive element, the narrative of inviting people into that, is a culmination of the last seven years," he says. "It's a dream for me to come to fruition, to sort of give it a physical life."
The Red Hook facility is being branded as a factory and "museum," in the parlance of this social-media age. But, "My interest is really in diving a little deeper, beyond just an Instagrammable picture," he says. "To be able to create a narrative and story, something that connects people to the collection of milk, cream, sugar, and eggs."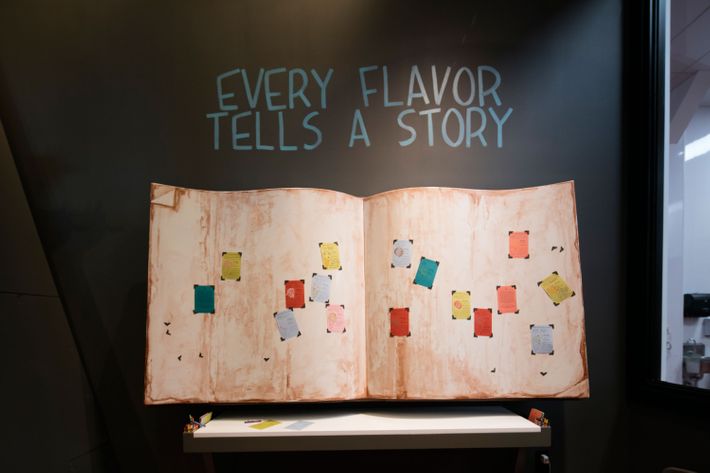 Along with those windows, through which you can see ice cream churn or peanut-butter cups get made, there are a number of playful aspects. There are interactive, five-foot-large spoons that operate as "museum-like didactic pieces," explaining what things like the pasteurizer do with illustrated cross-sections. Those can be interacted with, to show illustrations, and there will also be smell tubes and more. Smith says he's "tried to think of ice cream as a vehicle to tell stories," and the third element will echo that. It's a magnetic scrapbook, which they'll invite people to add their "life story as an ice cream flavor" to on postcards. "That's the way we like to try to think of it, and then once every so often we'll actually make those flavors and only in Red Hook," Smith says.
The centerpiece is the three-dimensional map of Brooklyn, a 15-foot-high wall that, Smith says, depicts the borough through Ample Hill's collective eyes. "Our name comes from a Walt Whitman poem," Smith says. "We wanted to find a way to create a visualization of the spirit of his poem." The inspiration is literary, but there are aspects for the kids: tubes to crawl through and a mini Red Hook trolley car that can be controlled.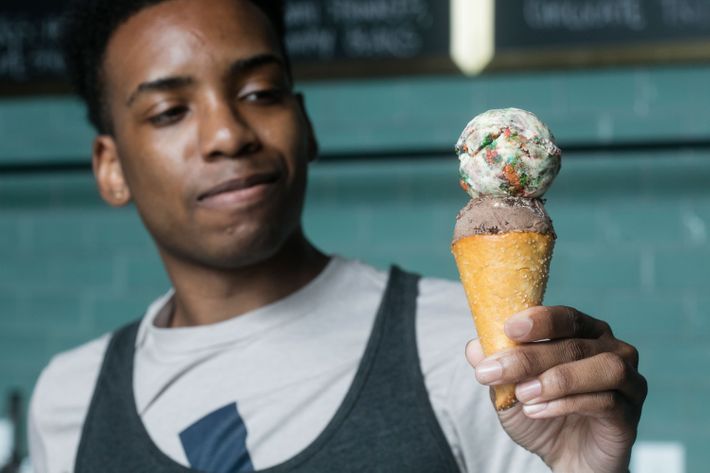 It's not all fun: Ample Hills' expansion plans (including to Los Angeles) hinge on this space. "We can't grow period until the factory opens," says Smith, who explains that all their pints are currently hand-picked. With the factory, they'll be able to expand not only their retail business but also dive deeper into e-commerce.
After, you can head to the factory's small scoop shop, where they've quietly been serving serving Ample Hill standards like Ooey Gooey Butter and PB Wins the Cup for a few weeks now. As with other locations, it'll be home to an exclusive flavor in the Hook. Made with burnt sugar ice cream, there will of course be chunky fillings. In this case, that means house stroopwaffles and chunks of salted fudge.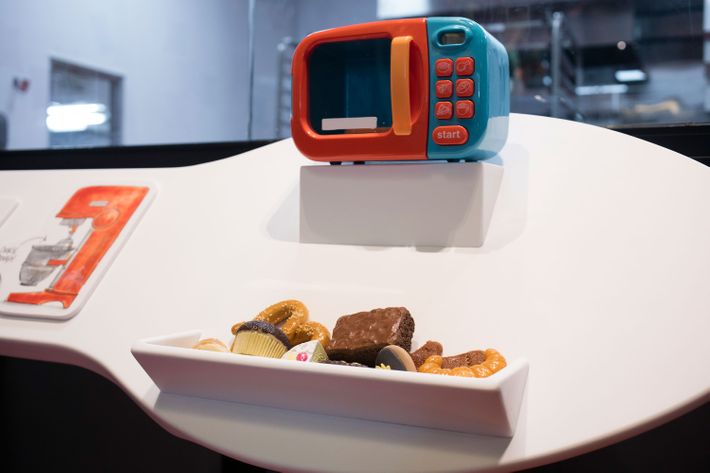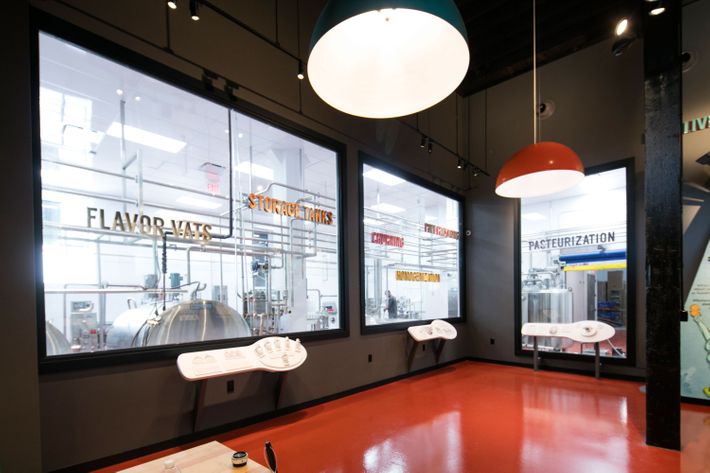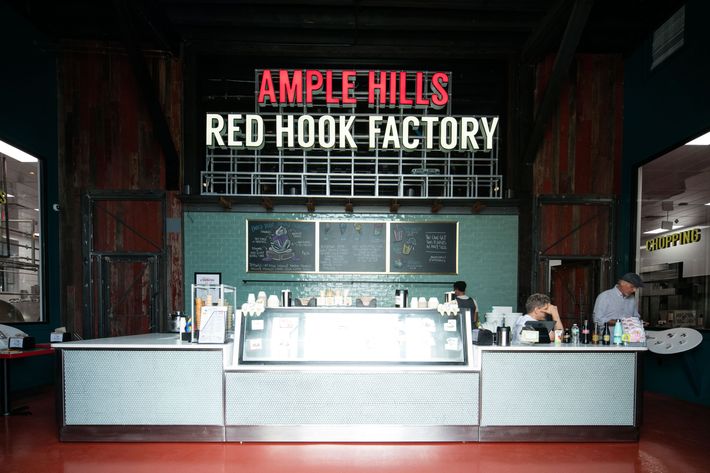 Ample Hills Factory and Museum, 421 Van Brunt Street, at Beard St.