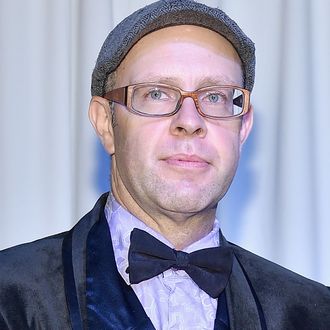 Adam Seger in 2016.
Photo: Mike Coppola/Getty Images for iPic
The Times-Picayune reports that Adam Seger, a well-known bartender, was arrested yesterday in New Orleans. Seger is 48 and works in Chicago and New York. He's best known for devising the Seelbach cocktail, and he also created drinks for iPic Theaters, the dine-in movie-theater complex where, according to his LinkedIn profile, he worked as the corporate sommelier.
(This afternoon in a statement, iPic Entertainment said it had no knowledge of the allegations when Seger was hired full-time, in 2016. The company wrote that it has "since terminated professional ties with Mr. Seger, effective immediately.")
Seger was arrested just a few days before the start of Tales of the Cocktail, the annual, multi-venue event that sees bartenders, restaurateurs, writers, and liquor-company personnel from around the world converge on New Orleans, along with unfathomable amounts of alcohol.
The charge against Seger is one count of third-degree rape. It stems from an incident that took place during Tales of the Cocktail in 2015. A man reportedly went to a party hosted by Seger and fell asleep after "numerous" drinks. According to the Times-Picayune:
When the man woke up, Seger was performing unwanted oral sex on him, the warrant states. The man said he moved and told Seger to stop, but Seger continued to fondle him and try to cuddle.

Seger apologized to the man the next day, according to his warrant, and agreed not to attend the Tales of the Cocktail events the man would be at.
Two days later, Seger allegedly sent a bottle of Champagne to the man, while he sat with peers at a separate event. After posting about the incident on social media and obtaining photos taken by another guest during Seger's party, in which the men appeared to be asleep and both men's "pants were pulled down," the man went to the police. Seger's arrest warrant was signed last July.
In April of 2017, spirits journalist Richard Morgan wrote a comprehensive account of sexual violence, which is underreported, within the bartending community. It included an account that conforms to the one described above. Morgan wrote:
Cooper Cheatham, the owner of Double Barrel Consulting, says he once awoke from a drunken stupor on a lounge chair in New Orleans — when people were in town for the annual Tales of the Cocktail conference, the industry's most prominent national gathering — to find an infamous bartender male friend forcibly fellating him. That same bartender was also accused of fondling Chicago bartender Vlad Novikov's penis in a pool, during the same conference one year earlier. "Year after year, the exact same shtick every fucking time: Get drunk, get in the pool, then he tries to do what he wants," says Novikov, who adds that he "felt stupid bringing it up because it's not like I was penetrated in an alley." But, "when I saw it happened to Cooper, too, and others, I realized I was a wingman, an accomplice."
At the time, in an emailed response, the lawyer representing the accused bartender downplayed Cheatham and Novikov's accounts, writing, "no lawyer could possibly keep a straight face and state that his client was the victim of a blowjob."
Adam Seger's path to cocktail-world fame was based on a lie. In 2016, it was revealed that Seger had concocted an elaborate origin story for the Seelbach cocktail, a favorite of bartenders who mine historical records for lore and recipes. Seger's pre-Prohibition narrative concerned accidental spillage at the bar in Louisville's Seelbach Hotel, and was apparently convincing enough to land him page space in books about vintage cocktails, along with an elevated standing in the community. He later poured drinks for Oprah Winfrey and sold bitters.
Catherine Rosen, executive director of Tales of the Cocktail Foundation, issued a statement yesterday. "We are deeply troubled by Mr. Seger's alleged actions and are saddened and heartbroken for the individual who was victimized," she wrote. Rosen, who was named to her position in February under entirely new leadership — ownership, too — told the paper that Seger was not scheduled to present or host at or even attend this year's event. The foundation's full statement includes additional information about a new, mandatory code of conduct, which was introduced back in February. It also announced alliances with Shift Change, a group focused on training industry personnel about sexual-violence prevention and response, as well as two additional awareness organizations. Read the entire text below.
Dated July 18, 2018

This afternoon it was brought to the attention of the Board of Directors of the Tales of the Cocktail Foundation that Adam Seger was arrested today, as reported by NOLA.com. Mr. Seger, a long time member of the spirits community, is charged with third degree rape which allegedly occurred years ago. We are deeply troubled by Mr. Seger's alleged actions and are saddened and heartbroken for the individual who was victimized.

We understand and acknowledge that sexual assault and misconduct of any kind is a serious issue for the hospitality and spirits industry. When we created the Foundation in February of this year, one of our first commitments was to make sure that Tales of the Cocktail New Orleans is safe for our attendees, participants, sponsors, cocktail apprentices, volunteers, staff, committee members, consultants and our Board of Directors.

To ensure this, the Foundation took several steps:

Instituting a mandatory Code of Conduct, created with the help of local non-profit Shift Change, for every individual registered and/or affiliated with Tales.Partnering with Sexual Trauma Awareness and Response (STAR), a Louisiana based 501c3, and Green Dot, a sexual and physical violence prevention organization, to offer seminars on assault and harassment, that are available for free to the entire community.Partnering with STAR to make a 24/7 hotline available to all Tales attendees. If you observe or experience sexual violence, it is important to inform the Tales of the Cocktail Foundation and/or contact a victim advocate organization by calling the hotline: 1-855-435-STAR

Additionally, the Board committed to programming at Tales designed to support the entire bartender and industry professional holistically. Beyond the Bar is an alcohol-free, no-charge, week-long activation, with a range of offerings including AA meetings, free health screenings, group therapy, physical health, and mental well-being seminars. These are open to the public and entirely free of charge.

We hope the Tales of the Cocktail Foundation will be a convener for change. We believe it is Tales' responsibility to create the space for conversation and commit to making sure there is action and progress towards a solution. We are not individually the experts, but we can bring them together.

Mr. Seger's alleged actions are egregious violations of Tales of the Cocktail Foundation's code of conduct. He is not affiliated with Tales of the Cocktail Foundation and will not be invited back.

We intend to offer all support and assistance we can to law enforcement and survivors.

Caroline Rosen, Executive Director of Tales of the Cocktail Foundation
iPic Entertainment offered this statement:
iPic® Entertainment, Inc. ("iPic" or the "Company") is surprised and disappointed to learn of the 2015 allegations concerning Adam Seger. We were not aware of any allegations upon his hiring full-time in 2016, and after learning of these allegations and consistent with our company policy, we have since terminated professional ties with Mr. Seger, effective immediately. We take allegations of sexual misconduct seriously. It is our highest priority to uphold policies that ensure iPic® Entertainment remains a safe and supportive environment for our team members and guests. These acts are inconsistent with our values as a company and are in no way reflective of the over 2,000 team members employed by iPic®.
This post has been updated with new information, along with the full statement from Tales of the Cocktail Executive Director Caroline Rosen, and a statement from iPic Entertainment, Inc.