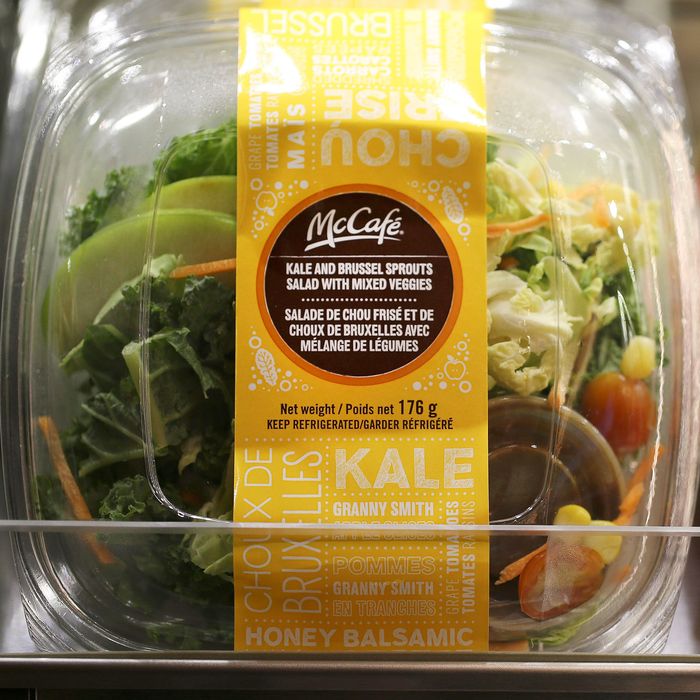 Photo: Richard Lautens/Toronto Star via Getty Images
Just a few weeks after the CDC said it was once again safe to eat romaine lettuce following a 32-state E. coli outbreak, McDonald's on Friday said it was voluntarily taking salads off the menu in 3,000 locations across 14 states. In a statement, the FDA said that an outbreak of cyclosporiasis, an illness caused by an intestinal parasite, was "likely linked" to the hamburger chain's salad.
"Out of an abundance of caution, we decided to voluntarily stop selling salads at impacted restaurants until we can switch to another lettuce blend supplier," the chain said, in a separate statement.
The outbreak has mainly affected customers in Illinois, where the first cases were reported in mid-May, and Iowa, where the outbreak began in late June and early July. Across both states, more than 100 people reported gastrointestinal distress, including severe nausea, fatigue, and diarrhea lasting more than a week, after eating a McDonald's salad. Cyclosporiasis is not typically fatal, but like E. coli, it is especially dangerous for immunocompromised people. Cyclospora are notoriously hardy, and the CDC advises that the parasite is "unlikely to be killed by routine chemical disinfection or sanitizing methods."
Over the weekend, the FDA released a follow-up statement that said, in part, that reported cases of infection are spread out across seven states, which the CDC says includes 61 cases. The chain's "potentially contaminated" lettuce, however, was distributed to 14 states total. The FDA is working with local state agencies as well as the fast-food chain to track the vegetable throughout its supply chain.