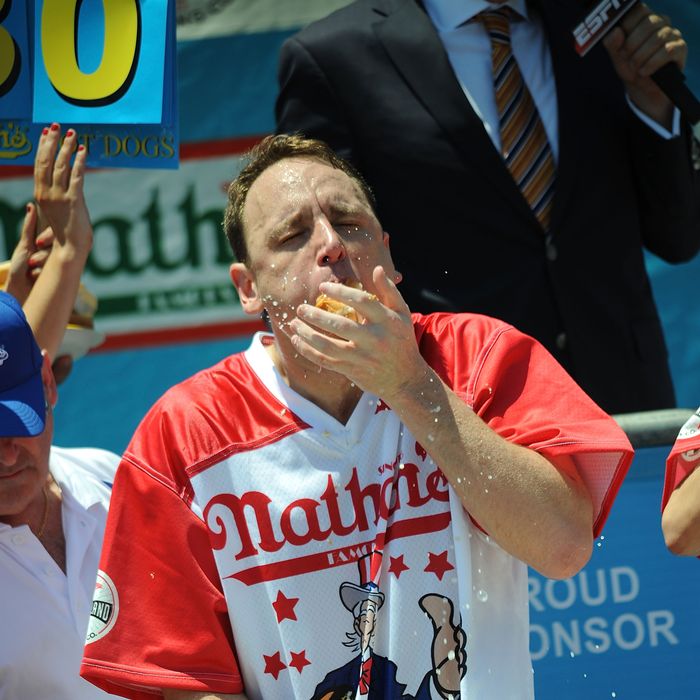 Competitive eating champ Joey Chestnut, plus hot dog.
Photo: Bobby Bank/WireImage
In town? Feel like braving the outdoors? Here are ten events to celebrate Independence Day on Wednesday — just add cold beverages.
1. Have some hot dogs (and booze) for a cause.
When you've caught up on the top dogs in this year's Nathan's Hot Dog Eating Contest at Coney Island, head to the Gatehouses at Kings County Distillery beginning at 5 p.m. for some up-close weiners, when the legendary Kobayashi Takeru hosts a hot dog competition, plus a DJ, drag show by Panthera and West Dakota, and whiskey by Kings County, who will also be hosting distillery tours at 3 and 5 p.m. (Full disclosure: The company is co-owned by an editor at New York Magazine.) Proceeds benefit the Brooklyn Community Bail Fund, which in its mission to stop criminalizing poverty pays for bail for presumptively innocent New Yorkers who cannot otherwise afford it, and who for that reason would end up in Rikers.
2. Stay cool in a movie theater.
The New York Asian Film Festival runs through July 15 at Lincoln Center, with the most exciting works coming out of East Asia. On the Fourth, catch films like the Taiwanese gangster saga Gatao 2: Rise of the King and South Korean period action film The Age of Blood.
3. Dance on a rooftop.
Go beyond the average rooftop bar hang with this eight-hour dance party on the roof of music venue Elsewhere, beginning at 2 p.m. with DJs spinning house, disco, soul, and more, plus a BBQ cookout and fireworks later in the evening. Admission is free before 4 p.m. Over at 64 Dobbin Street, Brooklyn venue the Good Room takes over the rooftop with an open-air party with DJ sets by LCD Soundsystem's Nancy Whang and Love Tempo's Justin Strauss & Billy Caldwell. Plus food by Burger Supreme and kickass views of the Macy's fireworks.
4. Visit Africa.
Through July 4 from 10 a.m. to 9 p.m. is the free International African Arts Festival in Downtown Brooklyn's Commodore Barry Park, with an African marketplace, performers, films, and art. On Wednesday see Bongi Duma, the Danny Mixon Ensemble, and the KowTeff African Dance Company.
5. Go to the ballet …
Love whimsical dance? This Wednesday the American Ballet Theatre has a sweet and surreal 2 p.m. performance of Whipped Cream, which follows a young boy as he overindulges in pastries and attempts to avoid his physician by dreaming up a rescue by Princess Praline and her court. Fun for all ages.
6. … Or opt for patriotic burlesque.
Attendees to Wasabassco's annual Fourth of July burlesque show at the Bell House are encouraged to dress as Wonder Woman, in a nod to what the priorities of America should be, and for a group picture at the end. Also there will be naked people dancing onstage, and beer.
7. Don't sleep on New Jersey.
Don't forget, Jersey has great views of the fireworks, too. And this year, they also have Snoop Dogg. He'll perform at the free 50 Star Fire Show Experience, co-hosted by Harborside Jersey City, which begins at noon and will also have a carnival, food, and a full music lineup including Brooklyn's rising star Bayli.
8. Treat yourself to a play.
If you've been meaning to catch Carey Mulligan in Dennis Kelly's play Girls & Boys at the intimate Minetta Lane Theatre, this Wednesday is a good day to do it. The performance is at 3 p.m.
9. Beach it.
You probably didn't need us to tell you to go to the beach. But if you're in need of guidance check out our Best Beaches Guide. If you settle on Rockaway make some time for the Yayoi Kusama installation Narcissus Garden, celebrate the opening of the newly opened Riis Park Beach Bazaar Bathhouse with a dance party, or just, you know, relax.
10. Fireworks!
Fireworks, how do they work? We couldn't tell you, but we do have the best places to see the Macy's extravaganza on Wednesday, from free spots on foot to a dinner cruise on the Bateaux, to some good ol' rooftop fun. Pick one, and enjoy the wonder.