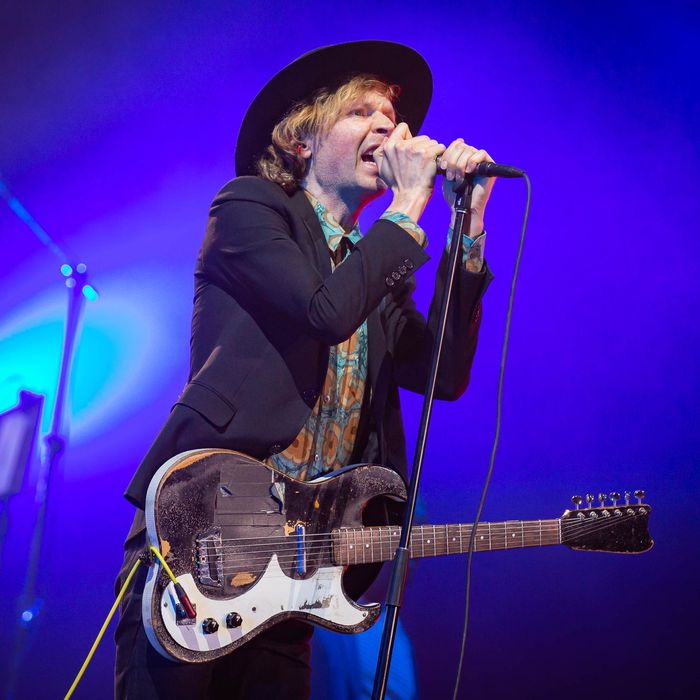 Beck headlines MSG on Thursday.
Photo: Mark Horton/Getty Images
Events to check out this weekend, July 19 to 22.
1. Celebrate a winner.
It's been 25 years since "Loser," the anthem of a generation that continues to pick up new fans. Tonight, see how far Beck has come when he flexes in his debut as a Madison Square Garden headliner, in support of last year's Colors. Jenny Lewis opens.
2. Festivals for the rest of alls.
What do Hillary Clinton, Hasan Minhaj, Roy Choi, Grover Norquist, Eureka from Drag Race, and Passion Pit have in common? They'll all be in Central Park this Saturday and Sunday for OZY Fest, an ideas and entertainment festival, also with food. This Saturday and Sunday is also the inaugural Sequence Music Festival, bridging electronic and indie music in the Industry City courtyard, with headliners Neon Indian (DJ set) and the synthwave of Com Truise.
3. Free your wallet.
This week the summer's second installment of the free Shakespeare in the Park opened in Central Park, with a musical adaptation of Twelfth Night featuring Ato Blankson-Wood (Detroit, BlacKkKlansman) and Nikki M. James (The Book of Mormon). On Friday morning give YouTube aficionado turned bona fide pop star Charlie Puth some attention, when he plays the Today show. (They say get there by 5 a.m. We say good luck.) The last House of Vans season continues Friday night with the Blondie and Liz Phair, and RSVPs are currently open. On Friday evening, you can also catch Anoushka Shankar and My Brightest Diamond gratis at BRIC Celebrate Brooklyn!, and on Sunday round out your weekend with R&B crooner and equestrian enthusiast Ginuwine when he headlines a free SummerStage show in Corporal Thompson Park in Staten Island.
4. Stan a legend.
Downtown New York artist David Wojnarowicz only lived to 37, but his activism has reached far beyond what even he could imagine. Our critic Jerry Saltz highly endorses his new retrospective at the Whitney, "History Keeps Me Awake at Night," as "astonishingly relevant" and "urgently important." Make it a Wojnarowicz weekend and hit the two related exhibitions, "The Unflinching Eye: The Symbols of David Wojnarowicz" at NYU's Mamdouha Bobst Gallery through September 30, and "Soon All This Will Be Picturesque Ruins: The Installations of David Wojnarowicz" at P.P.O.W. through August 24.
5. Go ale out. 
When it's hot outside, beer helps. This weekend at Citi Field, there will be plenty of options when the New York Beer Festival takes over on Saturday for two sessions. $50 ($80 VIP) gets you tastings of 200 beers from over 70 breweries, including Evil Twin, Ommegang, Captain Lawrence, and LIC Beer Project, plus music and games. Come with your stomach already padded: Beer tastings are unlimited, but food is sold separately.
6. Be an art star.
Or at least cheer for one. This Friday is the Art Battle at (le) Poisson Rouge, where 12 painters compete in live rounds with the audience as their judge. Winners have a chance to qualify for the NYC championships, then U.S. and international competitions. See beautiful works be created right before your eyes, and maybe be inspired to make your own.
7. Ladies! They're funny.
Bridget Everett tickets might be sold out by the time you read this, but it's worth a shot to check. She's at Joe's Pub tonight, Sunday and Monday, and again in August. Stacy London and Ophira Eisenberg are some of the guests for live tapings of the Go Fact Yourself game-show podcast, Saturday and Sunday morning at Caveat. And tonight through Saturday, comedian and former showrunner for the Roseanne reboot Whitney Cummings is at Carolines.
8. Step into a Lynchian set. 
If you've ever wanted to live in Twin Peaks — or at least eat there — now's your chance. The Lost Supper at the McKittrick Hotel is an immersive, magical throwback dinner party reminiscent of the David Lynch series, where as you dine characters emerge from tables, set pieces disorient, and actors hypnotize with their musical prowess. Plus, animal costumes. The show runs through September 8.
9. See dance, but on film.
The 46th edition of the Dance on Camera Festival begins this Friday and runs for five days at Lincoln Center, with works featuring ballet to tap, interpretations of legends like Merce Cunningham, plus a program curated by Spike Jonze of his own shorts, including some never-before-seen footage. We hope that includes Christopher Walken.
10. Head to Queens.
This Saturday is Louis Armstrong's Wonderful World, a free daylong festival just down the road from Louis Armstrong's home, featuring artists influenced by Satchmo's legend and this year headlined by Action Bronson. While you're out there, stop by the Queens Night Market on Saturday, an international food heaven recently featured in our Cheap Eats issue. Then take a trip to tropical lands on Sunday at the Grace Jamaican Jerk Festival, with hot Caribbean food and cool soca and reggae at Roy Wilkins Park. Weekends never tasted so good.