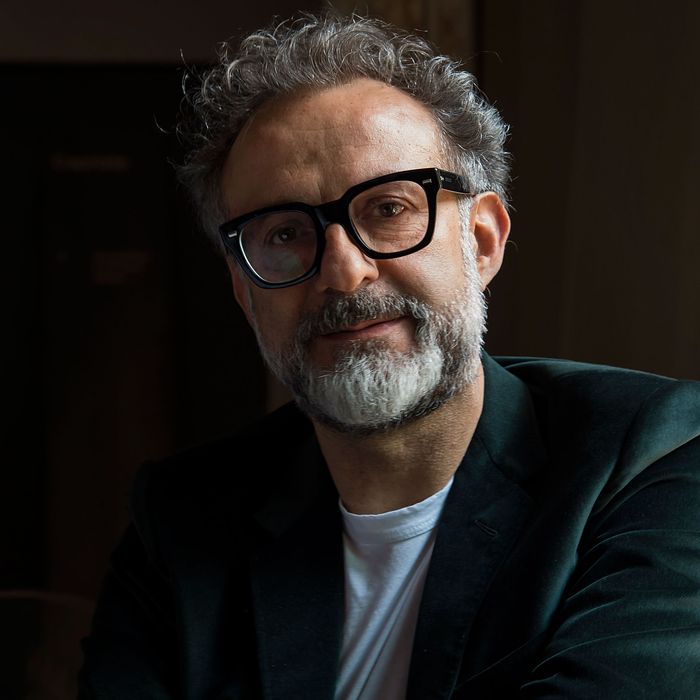 Chef Massimo Bottura, whose restaurant in Modena again regains the top spot.
Photo: Pier Marco Tacca/Getty Images
The news straight out of Bilbao, where hundreds of chefs and restaurateurs gathered today for the announcement of the annual 'World's 50 Best Restaurants,' is that Massimo Bottura's Osteria Francescana in Modena, Italy, is once again the "best," after previously taking the top spot in 2016. Spain's El Celler de Can Roca, which nabbed the No. 1 spot in 2015, is currently No. 2, and last year's victor, Eleven Madison Park, is now ranked at No. 4. So much drama.
And, to recap, last week marked the release of this year's 50 runner-up restaurants as well. (New York's standing: Estela slipped a few spots, from No. 66 to No. 83; while César Ramirez's Chef's Table at Brooklyn Fare jumped to No. 69; and Daniel Rose's Le Coucou, where discerning scammers go for pike quenelles and chocolate mousse, made its welcome debut at No. 85.)
The full list is below, and in case you were thinking the top ten includes a conspicuous absence, know that four-time winner Noma, which recently upped and left its original home for a new space with more room for Baltic whelks and such, was not considered among this year's contenders because of its late-breaking February 2018 reopening.
1. Osteria Francescana, Italy
2. El Celler de Can Roca, Spain
3. Mirazur, France
4. Eleven Madison Park, New York City
5. Gaggan, Thailand
6. Central, Peru
7. Maido, Peru
8. Arpège, France
9. Mugaritz, Spain
10. Asador Etxebarri, Spain
11. Quintonil, Mexico
12. Blue Hill at Stone Barns, Pocantico Hills, New York
13. Pujol, Mexico
14. Steirereck, Austria
15. White Rabbit, Russia
16. Piazza Duomo, Italy
17. Den, Japan
18. Disfrutar, Spain
19. Geranium, Denmark
20. Attica, Australia
21. Alain Ducasse au Plaza Athénée, France
22. Narisawa, Japan
23. Le Calandre, Italy
24. Ultraviolet, China
25. Cosme, New York City
26. Le Bernardin, New York City
27. Boragó, Chile
28. Odette, Singapore
29. Alléno Paris au Pavillon Ledoyen, France
30. D.O.M., Brazil
31. Arzak, Spain
32. Tickets, Spain
33. The Clove Club, England
34. Alinea, Chicago
35. Maaemo, Norway
36 Reale, Italy
37. Restaurant Tim Raue, Germany
38. Lyle's, England
39. Astrid y Gaston, Peru
40. Septime, France
41. Nihonryori RyuGin, Japan
42. The Ledbury, England
43. Azurmendi, Spain
44. Mikla, Turkey
45. Dinner by Heston Blumenthal, England
46. Saison, San Francisco
47. Schloss Schauenstein, Switzerland
48. Hiša Franko, Slovenia
49. Nahm, Thailand
50. The Test Kitchen, South Africa
51. De Librije, Zwolle, Netherlands
52. L'Astrance, Paris, France
53. Benu, San Francisco, USA
54. Sühring, Bangkok, Thailand
55. Don Julio, Buenos Aires, Argentina
56. Amber, Hong Kong, China
57. Nerua, Bilbao, Spain
58. Brae, Birregurra, Australia
59. Florilège, Tokyo, Japan
60. Tegui, Buenos Aires, Argentina
61. Burnt Ends, Singapore
62. Momofuku Ko, New York, USA
63. Hof Van Cleve, Kruishoutem, Belgium
64. Sud777, Mexico City, Mexico
65. Frantzén, Stockholm, Sweden
66. Vendôme, Bergisch Gladbach, Germany
67. Fäviken, Järpen, Sweden
68. Quique Dacosta, Denia, Spain
69. Chef's Table at Brooklyn Fare, New York, USA
70. Selfie, Moscow, Russia
71. Relae, Copenhagen, Denmark
72. Twins Garden, Moscow, Russia
73. Aqua, Wolfsburg, Germany
74. The Fat Duck, Bray, U.K.
75. Belcanto, Lisbon, Portugal
76. Martin Berasategui, Lasarte-Oria, Spain
77. Elkano, Getaria, Spain
78. Mingles, Seoul, Korea
79. A Casa do Porco, São Paulo, Brazil
80. Lung King Heen, Hong Kong, China
81. Per Se, New York, USA
82. Hedone, London, U.K.
83. Estela, New York, USA
84. St. John, London, U.K.
85. Le Coucou, New York, USA
86. The French Laundry, Yountville, USA
87. Maní, São Paulo, Brazil
88. Nobelhart & Schmutzig, Berlin, Germany
89. The Jane, Antwerp, Belgium
90. Indian Accent, New Delhi, India
91. SingleThread, Healdsburg, USA
92. L'Effervescence, Tokyo, Japan
93. 81/2 Otto e Mezzo Bombana, Hong Kong, China
94. Alo, Toronto, Canada
95. Enigma, Barcelona, Spain
96. Diverxo, Madrid, Spain
97. Atelier, Munich, Germany
98. 108, Copenhagen, Denmark
99. Leo, Bogotá, Colombia
100. Lasai, Rio de Janeiro, Brazil