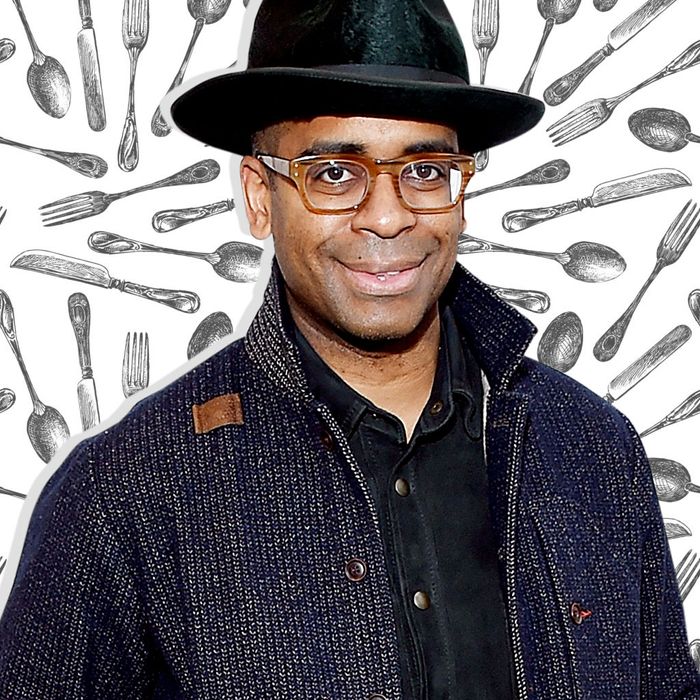 After a show,
Hamilton
star Daniel Breaker likes to dine in style.
Photo: Michael Loccisano/Getty Images
Big Tip is a weekly column featuring dining advice from real people who just happen to also love food.
Going to a Broadway show is usually a big affair: Babysitters are booked and tickets are purchased months in advance. But somehow, the decision on where to grab a preshow meal in the culinary chaos that is Midtown West is inevitably left until the last minute.
No one understands that dilemma more than Daniel Breaker, the actor who currently portrays Aaron Burr in the hit Broadway musical Hamilton. Breaker also happens to be a food-obsessive, which he traces back to his days as an army brat whose family moved every few years. "There was always a love, from my family, of new flavors, new ideas for cooking and entertaining," says Breaker. "And with that just came an undying love of food, and it really took off when I came to New York for college at Juilliard."
Despite a demanding show schedule, Breaker always finds time to dine out, whether he's dragging his co-stars downtown for the haute French cuisine at Le Coucou or grabbing a quick bite between shows. And unlike his character, the Hamilton star isn't "keeping his plans close to his chest." Here are his favorite spots to grab a bite around the Great White Way.
Marea
240 Central Park S., nr. Columbus Cir.; 212-582-5100
"The service is exquisite and it's a great pretheater spot. It's right off of Central Park. The view is lovely. If you want to do a quick meal, you can sit at the bar. If you want a longer meal, you can sit at a table. Their pastas are really the winners there. The pastas are always phenomenal. The wine selection is extensive. But really, those pastas. Every time I go there I get like three pastas, which is not the best thing to do right before you go perform a show."
Porter House Bar and Grill
10 Columbus Cir., at W. 60th St.; 212-823-9500
"It's in the Time Warner Center and the view is great. I always used to go there in the fall. It's a lovely place to have a meal and just walk downtown to the Theater District. My favorites here are the hamachi crudo, chili-rubbed rib eye, and the veal chop. And then feel free to order any and all of the sides!"
Gotham West Market
600 11th Ave., at W. 45th St.; 212-582-7940
"There's a series of different restaurants there. You have Ivan Ramen Slurp Shop, which is an amazing ramen spot, and you have Seamore's, which has a great seafood selection. There's also El Colmado. That's a great place for traditional tapas. The shrimp dishes, deviled eggs, and lamb meatballs are especially good. The deviled eggs are great. It's a perfect place to eat and then stroll into midtown."
Joe Allen Restaurant
326 W. 46th St., nr. Eighth Ave.; 212-581-6464
"If you want a classic New York theater spot, Joe Allen is always reliable. I love to get the escargot, a Negroni, and do some people-watching. It's also fun because the posters down there are all famous flops. I'm proud to say I've made the flop wall [for Shrek]. And now you can see me not in a flop in Hamilton."
Union Square Burger
729 Eighth Ave., at W. 46th St.; 917-265-8989
"It recently opened up. If you are just getting off of work, need something quick, go to Union Square Burger. The service will piss you off, but the burger is still phenomenal. It's the best burger I've had in midtown."