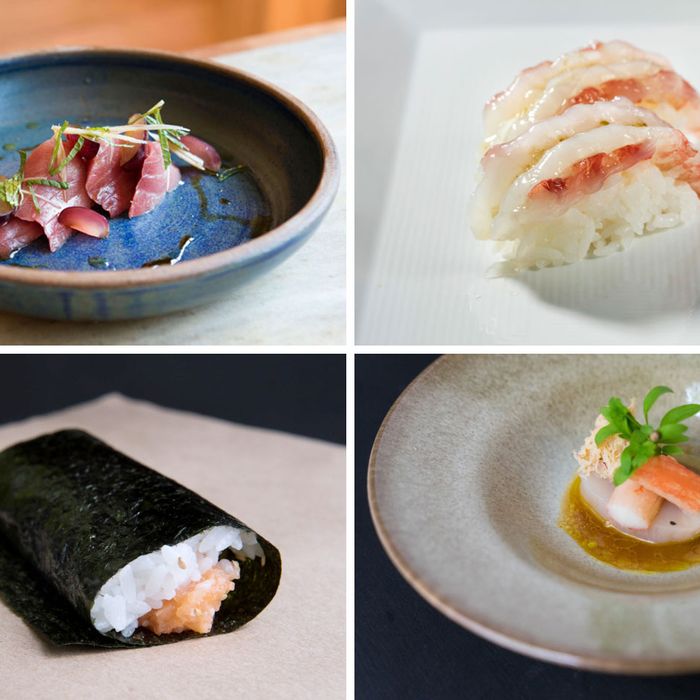 Sushi: It doesn't have to burn a hole in your wallet.
Photo: Liz Clayman; Melissa Hom; Sophie Fabbri
For most New Yorkers, eating good sushi means answering a simple question: Do I want to pay my rent this month or eat this amberjack? Fatty, endangered tuna has replaced bloody steak as the power meal of choice for bankers and other masters of the universe. And, in recent years, a parade of exceedingly expensive omakase restaurants have competed for the title of New York's priciest. Sometimes, in fact, it feels like these are the only places anyone is talking up — or know exist. Contrary to what this might suggest, there are places to eat sushi and not go bankrupt. (It's true!) In fact, there are more notable ones than there were a few years ago.
Under $50
Hibino
Price: $24 for a sushi plate, $30 for a sashimi plate
The Cobble Hill neighborhood spot specializes in Kyoto cuisine. There are lots of à la carte options, plus a sushi plate, with seven pieces chosen by the chef as well as rolls, and a sashimi plate, with 15 pieces of the chef's choosing and steamed rice.
Okozushi
Price: $25 to $45
The fish fanatic Yuji Haraguchi's idea? Quality comparable to a "$200, $300 omakase" at a price that's, for the most expensive option, roughly a sixth of the cost. The trick? Foregoing flying in fish from Japan and instead using local, sometimes unusual-for-sushi ones like bluefish that he pickles and cures in the Kyoto-style. It's arguably the year's most exciting sushi restaurant, and one you can actually afford to go to.
Sugarfish
Price: $27 to $51 during dinner, $23 to $45 during lunch
New Yorkers bugged out when the Los Angeles chainlet opened its first location here. Opened by chef Kazunori Nozawa, its conceit is that it keeps prices down and quality up by sticking to a more regular menu. What you lose in variety you gain in accessibility. Of note, too, is its sister business, the hand-roll specialist KazuNori that costs just a little more than Sunrise Mart.
Sushi Yasaka
Price: $50 for the longer omakase, $26 for the shorter option
On the Upper West Side, and not exactly in the mood to fork over $595 for dinner? Sushi Yasaka doesn't have the shine of Masa, but it's not far, and people line up for dinner here.
Wokuni
Price: $29 to $39
The owners of this izakaya have their own fish farm in Japan, which supplies some of what it serves here. The seafood is not abundant in variety, but it's good, fresh, and more accessibly priced. A platter of seven sushi and one roll, the splashiest option, runs $39.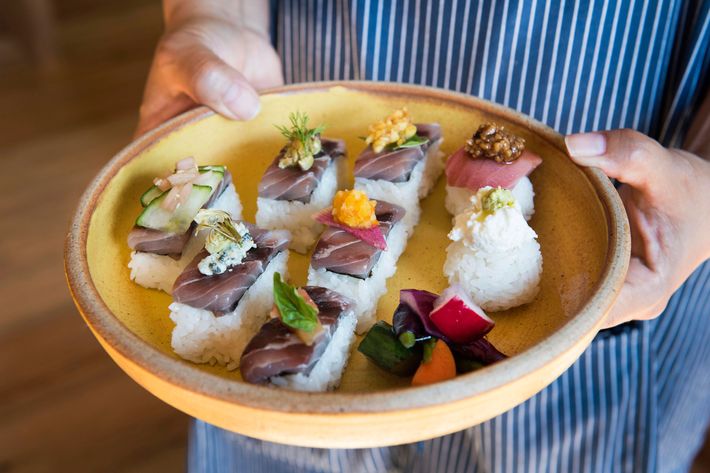 Under $75
1 or 8
Price: $28 to $60
This Williamsburg restaurant is considered one of the city's finer sushi spots, and there are a couple of options for the thrifty. For $48, you'll get five pieces of sashimi selected by the chef, while the $28 "classic 5" is a steal: tuna akami, salmon, yellowtail, fluke, and Spanish mackerel.
Sushi Katsuei
Price: $57
The Park Slope restaurant has enough fans of its reasonably priced omakase to expand to Manhattan so it can broaden its mission of "sushi for everyone." (Count among those fans New York restaurant critic Adam Platt.) For $57, you'll get nine pieces of nigiri and a toro-scallion hand roll.
Sushi Lin
Price: $26 to $34, or $60 for the omakase
Over in Prospect Heights, the dining room of this small spot is mostly taken up by the fish bar. There's a mini-omakase for just $28, as well as a sushi dinner with nine pieces of sushi and a maki roll for $26, and a ten-item sushi-and-sashimi combo for $34.
Sushi on Jones
Price: $58
The nigiri-in-a-hurry specialist serves its 12-piece, 30-minute omakase at two locations: the alfresco Bowery Market and indoors in the West Village. Expect unagi, botan shrimp, and the signature wagyu-ni.
Taro Sushi
Price: $3 to $8.50 for individual pieces, $8.50 to $14.75 for sets, $17 to $52 for assorted sushi and sashimi
The Flatbush Avenue restaurant is one of those places that stands packed: It has reasonable prices, but not reasonable ambitions. The menu is mostly à la carte, with six set menus built around, variously, seared yellowtail, uni, and more.
Uogashi
Price: $35 to $55 for set meals, or $85 for the omakase
The East Village spot is a solid, more under-the-radar destination. There's a trio of affordable set menus, the most expensive being the $55 tuna assortment with five different types of tuna (two pieces each), a salad, miso soup, and chawanmushi. The other two are $35, and offer a similarly complete meal. As for the omakase, the cheapest will get you ten pieces of sushi and a hand roll, supplemented by an appetizer and soup like miso and clam.
Ushiwakamaru
Price: $48 or $66
Once the favorite destination for more affordable sushi in New York, the prices here have increased a bit. While the omakase starts at $100 for 14 pieces of nigiri, there are a few cheaper options: seven nigiri, an egg omelette, and a half-roll for $48; four sashimi also for $48; and a combo meal of four sashimi, seven sushi, and egg custard for $68.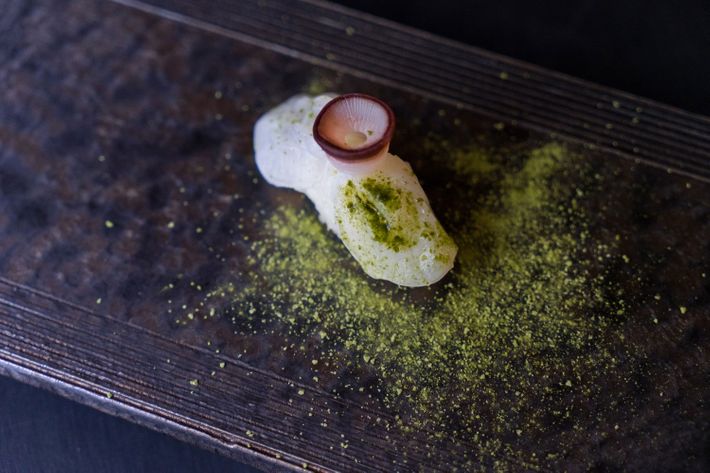 Under $100
Blue Ribbon Sushi
Price: $20 to $95
Although the omakase starts at $95, there are lots of cheaper options: $48 will get you a whole north Atlantic lobster sashimi, maki-roll combos range from $20 to $26, and the 18-piece sashimi deluxe is $42. They do good work with fish here; you'll be in good hands.
Juku
Price: $80 for the omakase
Juku's sushi chef Kazuo Yoshida developed a following at 1 or 8, with Bloomberg once writing that "he may be one of the most masterful sushi chefs in the city." He's since moved on to this spot, where he offers an omakase upstairs (and, sometimes, à la carte offerings) with fish like splendid alfonsino sashimi and scallop with smoked sea salt.
Kanoyama
Price: $23 to $96 for platters and omakase
It doesn't matter that this East Village spot isn't talked about a lot; it gets plenty of attention from the people who pack it. There's more variety than is typical at these prices, with fish like Japanese rock trout, baby red snapper, black throat sea perch, and seasonal specials. Along with platters, those at the bar can go all-in on the omakase.
Sushi by Bae
Price: $100 for omakase
Now operating out of the swanky Jue Lan Club, the chef here is an artist who trained under the chef at Tanoshi. So her sushi is gorgeously arranged, like the slice of halfbeak that's topped with two pieces of salmon roe and looks like a drawing of an owl's eyes. For your $100, you'll get 15 courses of seasonal fish like rosy sea perch, triggerfish, and more. (Sushi by Bae is different from Sushi by Bou —whose white owner David Bouhadana drew ire for using a fake Asian accent — though it operates next to it.)
Sushi Daizen
Price: $75 to $90
You don't need to leave Queens for your sushi needs. Just head to this Long Island City spot. The cheaper option nets you ten pieces of the day's sushi, tamago, and a hand roll, and you can upgrade to four sashimi and seven sushi with the tamago and hand roll. The à la carte options aren't plentiful, but there are all the standards like sea bream and California uni.
Sushi Ishikawa
Price: $85 for the cheapest omakase
The 12-piece omakase here is, by New York standards, a steal: The chef previously worked as the executive sushi chef at the lauded O Ya and serves seafood like nodoguro and octopus with green-tea salt.
Tanoshi Sushi Sake Bar
Price: $95-$99
The Upper East Side favorite made a splash a few years back for its excellent fish at a reasonable (and then lower) cost. It's at the upper limits of affordability, but what you get is very much worth it: crispy fluke, ten pieces of sushi like Hokkaido scallop and the XXX (uni, ikura, and quail egg), a hand roll, and akadashi miso soup.