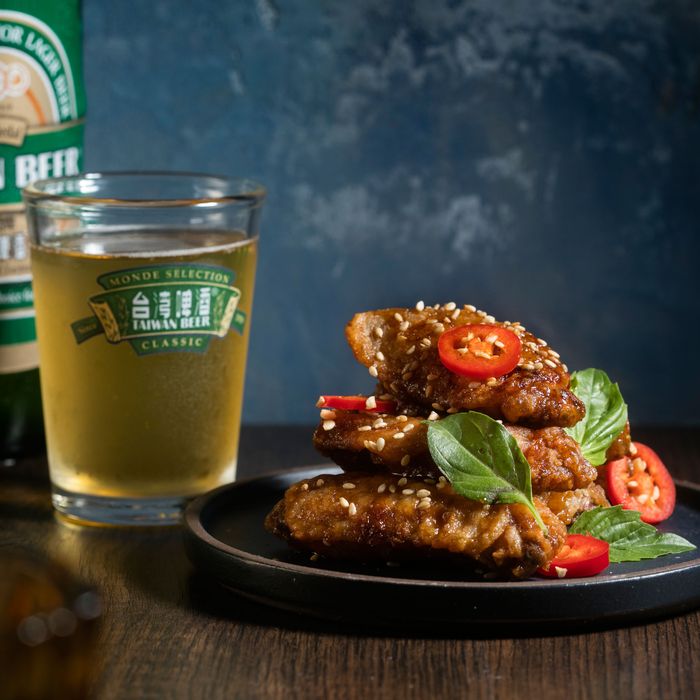 886's three-cup chicken wings.
Photo: Melissa Hom
Every month in New York, there are a bewildering number of new dishes to eat, drinks to imbibe, and food-themed events to attend. Often, the hardest part is just figuring out what's really worth your limited time. So Grub kicks off each month with a curated collection of dishes, drinks, and events that should absolutely be on your agenda. Make your plans now.
1. Eat yakitori at the new restaurants from the owners of Her Name is Han.
Atoboy, Her Name is Han, and Take31 are three of New York's most talked about contemporary Korean restaurants, places that feel exciting, fresh, and of the moment. Kihyun Lee and his HAND Hospitality have had a part in all three (as owners of Han and Take31, and "collaborators" in Atoboy), as well as a few other restaurants including Izakaya Mew. At their latest, Yakitori Nonono, the main show is skewers: There's an entire chicken's worth (get the thigh ($3) and the meatball ($4) glazed with sweet soy sauce,) plus shishito peppers, short rib with onions, and more. The grill is just the beginning: There's a refreshing, soft tomato ($5) in dashi; miso-slicked eggplant ($9) so soft you can spoon it out, tender duck deep-fried ($12) and dressed with yoshoku-style creamy nanban sauce, and grilled button mushrooms ($8) stuffed with scallop and a generous mound of basil sauce.
2. Then go eat three-cup chicken wings in the East Village.
On July 11, get on Taiwan time. That day, Eric Sze, who co-founded East Village's popular noodle shop the Tang, will open his second restaurant, 886. The 42-seat restaurant is extremely purple, though not so melodramatically to the point where it looks like what you might see if you were on acid and swimming in a pool of Welch's grape juice. Also, there's a cool, graphic novel–like painting of some people playing Mahjong and drinking Taiwan beer. Billed as a "Taiwanese izakaya," the name of the game here is reimagined classics: Three cup chicken, for example, gets turned into chicken wings, and there's the snack dish danzai noodles, and more. Of course, expect lots of beer and sake.
3. But don't forget to have Taiwanese chicken and Belgian waffles.
Speaking of Taiwanese food, East Williamsburg–favorite Win Son will pop-up due west in Williamsburg for an event at Blue Bottle Coffee. On July 1 from noon to 3 p.m. (tickets are $20,) they're bringing their fried chicken with five spice and maple gravy, which will paired with Blue Bottle's liège waffle, which some argue is the queen of waffles. Along with the food, tickets include one shakerato, the frothy shaken espresso drink that Blue Bottle is adding to its menu.
4. Stuff your mouth with focaccia and canolis at Jonathan Benno's new bakery.
On July 11, chef Jonathan Benno's ode to all things focaccia will open in the renovated Evelyn hotel. The keeper of the carbs at Leonelli Focacceria and Pasticceria is Lisa Kalemkiarian, who worked with Benno for a couple years at Lincoln. Inspired in part by the Roman baker Gabriel Bonci's Pizzarium, the Focacceria will serve, of course, focaccia with toppings like fennel sausage and hot peppers, focaccia sandwiches with Tuscan fried chicken or porchetta, and a variety of classic pastries. For the sweets, from baker Lisa Kalemkiarian, think cannoli, sfogliatelle, biscotti, and more.
5. Eat food, buy art, and listen to panels at an event celebrating all things Asian-American cuisine and culture.
For one day only on July 14, the Happy Family Night Market (tickets are $16 for all day, or $7 for night only) will take over 99 Scott Avenue in Bushwick for a day of all things Asian-American cuisine and culture. Among other food vendors, Kreung will serve Cambodian food, Bunker will bring its Vietnamese cooking, and Index will give snackers its Indian nachos. There will be art and merchandise to buy from the likes of Banana mag and Alison Kuo, and panels like Perspectives on Indian Cuisine and Authentically What? Hybridized Chinese Food in History and Today. An after-party hosted by Queer Asian dance-party Bubble_T will go from 11 p.m. to late night.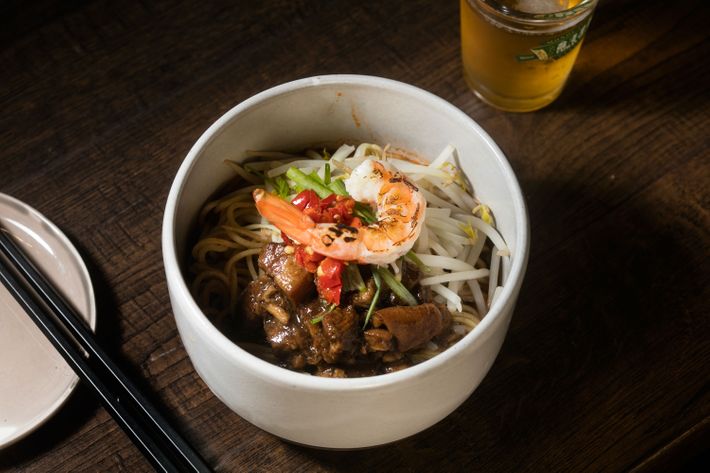 6. Have a leisurely lunch at one of 2018's hit restaurants.
In his two-star review for Simon & the Whale, New York critic Adam Platt praised it for "transcending this crowded genre" of neighborhood restaurants. Now, you can experience more of that. Last week, the Gabe Stulman restaurant in the Freehand Hotel started lunch service, with a menu that, dinner fans will be happy to hear, is similar to what's served at night. There's arctic char ceviche with grapefruit ($14) and lamb carpaccio with rosemary yogurt ($16) if you want to keep it light, the pork collar milanese ($29) Platt praised and pappardelle ($23) with pine nut pesto if you're hankering for carbs. There's also, per the strict rules of New York lunch, a burger ($24), made with jack cheese, tomato aioli, and crispy shallots.
7. Drink a bunch of cider in Gowanus.
Calling about cider lovers: On July 26, head to Gowanus music venue the Bell House for an evening of all things fermented apple juice. (Entry is free with an RSVP.) DoNYVC and Austin Eastciders are throwing the July Austin Eastciders Ramble, a night for drinking good cider and dancing. Eastciders will serve its whole line of boozy apple juice, including not-yet-available limited-release ciders and some cider cocktails. Music is promised, but the lineup hasn't been determined yet.
8. Or spend one of your Monday nights sipping on wine in Olmsted's backyard.
Starting July 2, au courant Brooklyn restaurant Olmsted will start hosting wine parties in its lovely garden. The events will highlight a specific producer: the first will be Bellwether Wine Cellars from the Finger Lakes, followed on July 23 by fellow Finger Lakes producer Heart and Hangs Wine Company. Paired food like tempura rabe with shiso butter will be a la carte, and the wine is first come, first serve.
9. Make it a movie Wednesday at a great outdoor bar.
You're already going to Gowanus outdoor bar Parklife for your Monday movie night. Now head over to Ridgewood outdoor venue and venue Nowadays for its Wednesday movie night. It's like watching movies in your backyard, if only your backyard had a bar and your friend who picked what to watch was the one of the most knowledgeable people on movies around. In this case, that person is the MoMA's former senior curator of film Laurence Kardish. The event is weekly, but note there's no movie on July 4 so they'll only play three flicks this July. First up is Victory, a soccer film set in a World War Two POW camp for all you World Cup fanatics; then Car Wash, the classic comedy with Richard Pryor, George Carlin, and the Pointer Sisters; and, lastly, Wag the Dog, the political satire about a president who has Hollywood invent a war for him. The movies are free, and you can watch hem while chowing down on jerk chicken thighs and drinking Tecates.
10. Hit a dance and barbecue day-party, then go to Rockaways for another day-party.
Not able to attend an actual barbecue for July 4, and feeling bummed about it? Do the next best thing, and head to the Knockdown Center on July 1 for its fifth year of Dope BBQ. (Tickets are $15 to $30, and 21 or over only.) The grilling will be going on all day, and so will the music courtesy of Mike Nasty, Proper Edakit, DJ Trueblendz, and DJ L Squared. Tickets come with a free plate of food. Speaking of music, day-parties, and eats: It's no secret that there's great food along the beach in Rockaway, and if you like dance music you'll want to head out there on July 8. From 1 p.m. to 6 p.m., the Level Party will surface for a party at Riis Park Beach Park. Pair house music with a food from one of the great vendors along the beach, and take a dip in the water. It's summer, why are you still dancing in the dark?
11. Learn all about season two of Nailed It!
A cooking game show about baking screw ups, Netflix's Nailed It! is a tonic to the staleness of most food television. On July 9 at 7 p.m. (tickets are $35,) its charming, funny host Nicole Byer will join chocolate master and Nailed It! judge Jacques Torres for a conversation at the 92nd Street Y. This one's for super-fans, as the duo will talk about what to expect in season 2.