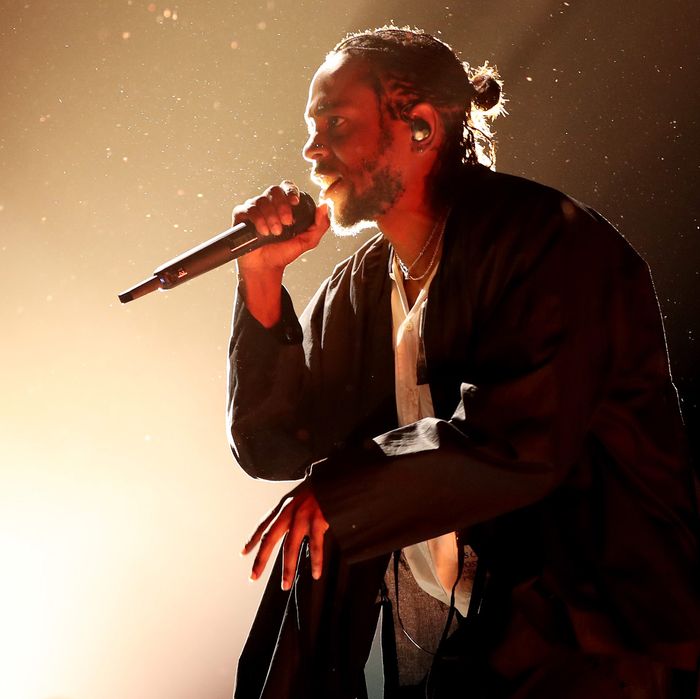 Kendrick Lamar performs this weekend at the Hot 97 Summer Jam.
Photo: Christopher Polk/Getty Images
Events to check out this weekend, June 7 to 10.
1. Hit a local festival.
Running through Sunday is the Northside Festival, a mini-SXSW of music, art, film, and tech taking over north Brooklyn with over 300 musical acts, including Liz Phair and Dinowalrus, speakers like Beth Comstock of GE and Erin Griffith of Wired, plus a free block party along Bedford Avenue. This Friday also kicks off the classical, visual, and culinary Chelsea Music Festival, running through June 16, which this year celebrates J.S. Bach's 333rd birthday with events that include walking tours of art galleries, churches, and the Washington Mews. Caffeine fiends will want to hit Counter Culture Coffee, which will be hosting Kaffeekantate / Coffeecantaste, a tasting and demonstration on Sunday in honor of Bach's comic opera about coffee, a thing that exists. The new PopSugar Play/Ground Festival on Saturday and Sunday features workouts, musical performances like Tinashe, and panels with Mindy Kaling, Kate Hudson, Tiffany Haddish, Yara Shahidi, and more. And last but not least, this Sunday is the Hot 97 Summer Jam, which sizzles in its 25th year with newly minted Pulitzer winner Kendrick Lamar, Lil Wayne, Meek Mill, and Remy Ma.
2. Stroll through some art and end with some Shakespeare.
This month is the Uptown Arts Stroll, where above 135th street artists take over spaces with their inspiring work. Catch a talk with author Frankie Medina on Thursday, check out the Inwood Music Festival on Saturday, see a concert of jazz and civil rights at the Harlem School of the Arts, also on Saturday, plus much more. When you're done, pop down to the Delacorte Theater for Othello at Shakespeare in the Park, running through June 24.
3. Sip a Negroni "for a cause," or some whiskey or wine just 'cause.
This weekend closes out Negroni Week, where participating bars and restaurants serve their takes on the Campari, gin, and vermouth cocktail to benefit a charity of their choosing. Stop by Butter & Scotch for their Negroni Pop Tarts benefiting Lambda Legal; Tipsy Scoop for their Negroni Pony Sundae benefiting the the James Beard Foundation; shell out $1,250 for one with a gold-flaked ice cube at Fine & Rare for the kids of restaurant employees; or hit up one of the many, many participating venues. If you're more of a brown-liquor fan, this Friday is the WhiskyX NYC in Greenpoint, with a tasting from over 40 international distilleries, and if you're down with rosé, don't miss National Rosé Day on Saturday. One way to celebrate is the all-inclusive Vinho Verde Wine Experience (which will also include rosé, don't worry). That happens in Chelsea.
4. Jazz it up.
June is a great month for jazz. This weekend see Swiss-Argentine María Grand playing with Joel Ross at Dizzy's Club Coca-Cola through Saturday; Wynton Marsalis premiering his new work The Ever Fonky Lowdown at Jazz at Lincoln Center, also through Saturday; drummer Makaya McCraven on Friday at National Sawdust (part of the Northside Festival); and a free performance of David Bowie's Blackstar by Ensemble LPR on Saturday at Rumsey Playfield in Central Park. For more great shows this month, check out our June Jazz Calendar.
5. Be thrilled by Steve Buscemi.
Because, who wouldn't be? See the off-duty firefighter himself at a Q&A with director Christina Choe on Friday, after a screening of their new thriller Nancy at Landmark at 57 West, which follows a lonely woman in her mid-30s who makes things up to stir up some excitement in her life. The film also stars Ann Dowd and John Leguizamo.
6. Stuff your face.
Lobster rolls? BBQ? No need to choose. This Thursday, 25 of the country's best lobster rolls battle it out at Tasting Table's Lobster Rumble in Greenpoint, including Luke's Lobster, the Mermaid Inn, Red Hook Lobster Pound, the John Dory Oyster Bar, SaltBrick Tavern, and much more. This Saturday and Sunday, the Big Apple BBQ once again takes place in Madison Square Park to the delight of pork fans, with masters of the 'cue, plus drinks and live music. Some proceeds benefit the Madison Square Park Conservancy.
7. See a Surrealist master's work.
This Friday, the comprehensive Alberto Giacometti exhibit opens at the Guggenheim, in collaboration with the Fondation Giacometti in Paris. See the distinctive figures by the Swiss artist (and son of Post-Impressionist painter Giovanni Giacometti) in bronze and plaster, plus drawings never before seen in this country.
8. Support local craftsmen.
Makers make their mark this Saturday and Sunday at Industry City. The free Cut & Crafted Brooklyn Summer fair brings together 60 local artisans, drinks like local beer from Five Boroughs and sparkling coffee from Keepers, food, and family-friendly activities, including photo walls and mini–tennis courts. Over at the Knockdown Center on Sunday and Monday, the hirsute, hair-lovers, and cosmetologists alike converge for Barbercon, the festival of the barbering community. Come for the live hair tutorials and product demonstrations and stay for the food trucks and music. Hey, we could all use another skill.
9. Go to a trippy one-night-only event at Lincoln Center.
This Friday, the New York Philharmonic closes out with the multisensory Foreign Bodies, conducted by Esa-Pekka Salonen (who composed two-thirds of the program) and featuring visual art and dance melded with music. Afterward, audience members can stick around for a bonus performance, mingle with the participants, and enjoy free tastings from Black Button Distilling and Brooklyn Brewery. Sounds like you'll need it.
10. Celebrate Broadway's biggest night with company. 
You might not be invited to the Tonys this Sunday at Radio City, but that shouldn't stop you from getting dressed up and celebrating your love of SpongeBob. Umami Burger in the Hudson Hotel will be screening the festivities, with themed drinks and show-tune sing-alongs during the commercial breaks. At the Green Room 42, drag trio Stephanie's Child hosts a bash where you can request your favorite musical number be performed. And if you want to be as fancy as the attendees, Ocean Prime hosts a party with themed cocktails (Potter Punch, etc.) and ballot competitions where viewers can win a $150 gift card. Best brush up on your nominees!