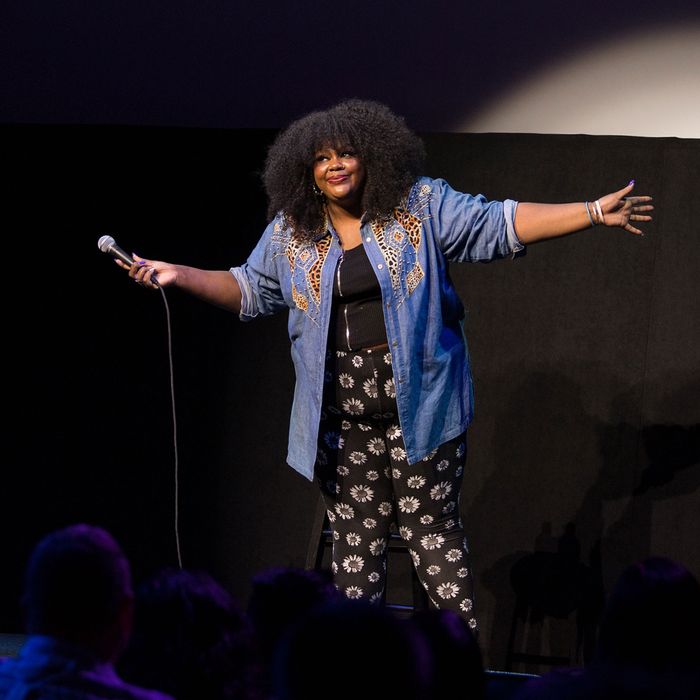 See Nicole Byer multiple times at this weekend's Del Close Marathon.
Photo: Emma McIntyre/Getty Images
Events to check out this weekend, June 28 to July 1.
1. Spell it out.
No one's going to know about your sick spelling skills if you don't actively demonstrate them, preferably in front of an audience, in an outdoor setting. Show off your prowess tonight at the Bryant Park Spelling Bee, where from 7 p.m. to 9 p.m. word-obsessed contestants (like you?) battle it out for supremacy, and dictionaries. It's free to watch and participate, just remember to drop the E off potato.
2. See some myths and mortals.
The South African–born, Amsterdam-based Marlene Dumas is a superstar of painting, with blurry yet visceral figure works exploring poignantly human themes, often using mass media and photographs of her friends as subjects. Works at her Jerry Saltz–endorsed show "Myths & Mortals" at the David Zwirner gallery depict the story of Venus's love for Adonis, drawing on Ovid's Metamorphoses, plus more intimate paintings of her daughter, women's bodies, and bodily parts scaled to canvases.
3. Protest.
Though an executive order was signed to end the Trump administration's zero-tolerance immigration policy, there is no reunification plan set for the thousands of children torn from their parents seeking asylum. (There are upwards of 300 in New York alone. )This Saturday, organizers, including MoveOn and the ACLU, are planning #FamiliesBelongTogether events around the nation. In New York, the march begins at 10 a.m., at Foley Square, and will go across the Brooklyn Bridge. RSVP to attend and for more information.
4. Cock-a-doodle do it.
Through July 3, Le Coq Rico, chef Antoine Westermann's "bistro of beautiful birds," will serve Plymouth Rock rooster, a flavor-rich 180-day-aged bird. This batch is raised by Ariane Daguin (of D'Artagnan) and farmer John Lapp from Lititz, Pennsylvania, and will be prepared stuffed (quarter, $38; whole, $38 per person, order ahead of time), with jus, Alsatian gnocchi, and salad.
5. Rosé a day (or three) away.
Fans of the pink stuff, this is your weekend. Kick it off with the view-tacular pop-up rosé bar adjacent to the Rainbow Room, happening this Friday and other select dates this summer, with glasses starting at $12. Or begin Friday at Ocean Prime, where summer Friday happy hour goes from 3 p.m. to 6 p.m. and includes half-priced glasses of Veuve Rosé and half-priced oysters (the deal repeats on Sundays from 5 p.m. to 8 p.m.). Then go hard at the Pinknic on Governors Island on Saturday and Sunday, featuring all forms of rosé, plus a music lineup. They encourage you to don pink and white for that one, but it's probably fine if you just spill some wine on yourself and call it a day.
6. Dance under the night sky.
The Full Moon Festival will be bathed in glowing light this Saturday — with an imported beach! — at the Knockdown Center in Queens, with sets by Metronomy, Whitney, Sudan Archives, a DJ set by James Murphy, and more. Festivities begin at 2 p.m. and sets when the moon does at 4 a.m. (The festival will also donate $1 from every ticket to the ocean conservation nonprofit Surfrider Foundation, so you'll be dancing for a cause.) Over in Manhattan, the classiest al fresco dance-a-thon is back with Midsummer Night's Swing at Lincoln Center's Damrosch Park. Tickets include a dance lesson, which you can then put to use dancing to disco on Thursday with Joe McGinty & the Loser's Lounge. On Friday, test out your ballroom skills with Gerard Carelli and his orchestra. And on Saturday learn the Lindy Hop before the big-band swing styles of the Glenn Crytzer Orchestra.
7. Visit an old friend.
As long as we're dancing, this season's Warm Up parties kick off at MoMA PS1 on Saturday. Dance to the stylings of Cashmere Cat, Venus X & Asmara, Burna Boy, Fuck U Pay Us, and more in a courtyard decorated by Dream the Combine's mirrored kinetic installation, "Hide & Seek." On Sunday, hop down to a former train garage in Fort Tilden for "Narcissus Garden," a site-specific installation of 1,500 mirrored steel spheres by Yayoi Kusama, part of Rockaway!, a free public art festival co-presented by the museum.
8. Laugh … for hours.
There will be no shortage of funny this Friday through Sunday with the Del Close Marathon, a massive weekend-long improv festival with performers like Nicole Byer, Nick Kroll, Lauren Adams of Unbreakable Kimmy Schmidt, Scott Adsit, Jon Daly, and much, much more. Buy a general admission festival pass for $45 or individual tickets for high-profile shows.
9. Combine your classical music with social awareness.
Through Friday at the Kitchen, composer-pianist (and MacArthur Genius) Vijay Iyer enlists multiple collaborators for "The What of the World," one of three weeklong residencies in the Racial Imaginary Institute's On Whiteness series. See the free sound installation by Iyer and Garnette Cadogan, "How the Spotlight Sounds," followed by evening shows examining race, featuring artists like Himanshu Suri, Arooj Aftab, Kassa Overall, Mike Ladd, and Ursula Rucker.
10. Free stuff!
Live that no-money-required life this weekend beginning on Friday, with a screening of Wonder Woman on the Intrepid. On Friday morning you can also catch Florence and the Machine in Central Park (note: that's a GMA show at 7 a.m.). On Friday evening, the Metropolitan Opera Summer Recital Series continues at Socrates Sculpture Park in Queens, and on Saturday see an Aretha Franklin and Stevie Wonder collaborator in 3 Sides of Damien Sneed: Classical, Jazz and Sanctified Soul at Central Park SummerStage. Also on Saturday, Talib Kweli performs at the Betsy Head Memorial Playground in Brooklyn. Pack a picnic and go.