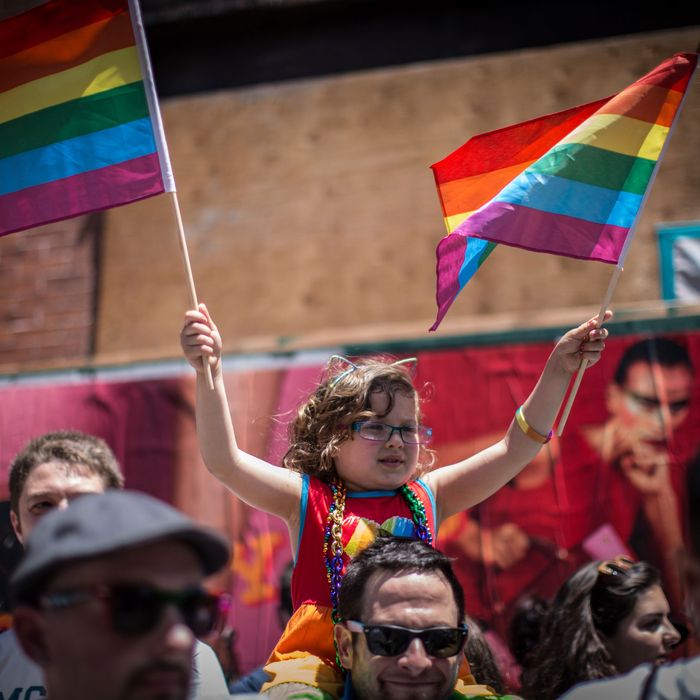 Photo: Maite H. Mateo/VIEW press/Corbis via Getty Images
Events to check out this weekend, June 21 to 24.
1. Welcome summer with music and pig.
Today is the first day of the summer and all across five boroughs the Make Music New York festival hosts over 1,000 free outdoor concerts, plus music lessons and jam sessions. Then head over to Pig Beach for their Summer Solstice Smoke Out, where southern bartender Natalie Migliarini and meat expert Jess Pryles (also known as the Hardcore Carnivore) join chef Matt Abdoo for a meaty celebration party. Tickets are $45 and get you dishes, two cocktails, and Jess Pryles's cookbook.
2. Grab a stool for a star of stage and screen (if you're lucky).
This week Alan Cumming debuted his new show Legal Immigrant at the Cafe Carlyle uptown, with late-night shows at Joe's Pub down south. As you can imagine, these sold out quickly. But silver lining for die-hard fans with semi-deep pockets, barstools at the Carlyle are left open for a first-come, first-served basis. Get there early, and good luck.
3. Catch a film.
The tenth anniversary of independent-film showcase BAMCinemaFest runs through July 1, with films this weekend including the New York premiere of Clara's Ghost tonight, followed by a Q&A with director Bridey Elliott and star (and father) Chris Elliott; Support the Girls on Friday, followed by a Q&A with director Andrew Bujalski and stars Regina Hall and Shayna McHayle; and Wild Nights With Emily on Sunday, starring Molly Shannon and followed by a Q&A with director Madeleine Olnek. On Friday you can also catch a preview screening by Rooftop Films of Michael Palmieri and Donal Mosher's documentary The Gospel of Eureka, about the LGBTQIA-friendly town of Eureka Springs, Arkansas, which is also home to a live-action Great Passion Play. Narrated by Mx Justin Vivian Bond, and followed by an after-party featuring a gospel drag performance by the film's protagonists.
4. Get read.
Pride weekend is here, and along with it some fun events. On Friday and Saturday the Hudson Hotel's Hudson Bar hosts drag queens Marti Cummings and Markus Kelle to serve up songs and read classic bedtime stories to guests from 9 to 9:30 p.m., a version of their tasks at the Drag Queen Story Hour, an organization that sends drag queens to read to children in libraries, bookstores, and schools. This time it's the adults that will get a reading-to, with rainbow-themed cocktails to match, with $1 from the sale of each Pride cocktail benefiting the Ali Forney Center.
5. Be official.
Pick out your best rainbow gear, or just let it all hang out with the official Pride events this weekend. The rally at Stonewall Inn kicks off festivities on Friday, with some rooftops, leather, and dancing in between, with the big event the March on Sunday (look out for Queer Eye's Bobby Berk officiating marriage ceremonies on the Lyft float). At the end of the parade route, Bust and the John Dory Oyster Bar will be hosting a free party with DJs and giveaways and food specials. RSVP here.
6. Dance (and imbibe) for your Pride.
This Friday at the Brooklyn Mirage is the first LadyLand festival, presented by nightlife maven LadyFag. Stop by for sets by artist and producer Sophie as well as Tommy Genesis, Kim Petras, Mike Servito, Total Freedom, JD Samson, and more, plus a marketplace for designers. Friday night is also the Bushwig! Pride Party at the Wythe Hotel, a '90s queer nostalgia party of drag, queer performance, and music. The Wythe is also home to Queer|Art|Pride, with events from film screenings to salons. Find tickets for it all here.
7. Free music!
Got the itch to dance outside for free? This weekend is a good one, beginning with a Celebrate Brooklyn lineup of Aimee Mann, Superchunk, and Jonathan Coulton in Prospect Park tonight, MCs Lil Ugly Mane and Wiki at Red Hook's Coffey Park on Saturday, and back to Prospect Park on the same night for Xeno & Oaklander, Juliana Huxtable, and electroclash pioneers Fischerspooner. Why stay inside?
8. Spend some time on an island.
Did you know Governors Island stays open late on Fridays? Every weekend from now until September 14 catch the sunset with Manhattan as your background before heading back to the mainland. This weekend on the island you can also watch folks swim in the New York Harbor, participate in an arts festival, and stomp on a porch, or, rather, watch others perform bluegrass, square dances, take part in a banjo parade, and more.
9. Soak yourself in gin.
At this Friday's Gin in June!, take in the history, myths, and medicinal uses of the aromatic spirit, learn about its famous fans (including Dr. Seuss!), and taste a lineup of the hooch. Then try to find your way home. Led by food historian Tonya Hopkins at the Old Stone House in Brooklyn.
10. Have an operatic weekend.
The Metropolitan Opera's Summer Recital Series continues this weekend with free performances tonight at 7 p.m. at Clove Lakes, Staten Island, with soprano Gabriella Reyes de Ramírez, tenor Gerard Schneider, baritone Adrian Timpau, and pianist Dan Saunders. On Saturday at 3 p.m. the same lineup performs at Williamsbridge Oval in the Bronx.