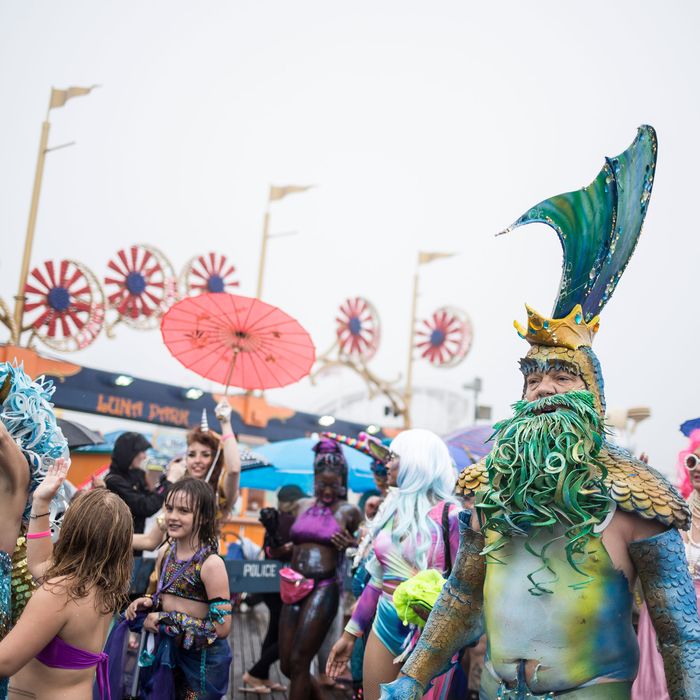 Dad might like to go to the Coney Island Mermaid Parade.
Photo: Alex Wroblewski/Getty Images
Events to check out this weekend, June 14 to 17.
1. Celebrate the big guy.
First thing's first: Sunday is Father's Day. If you're looking for last-minute gifts, a Grand Central Terminal pop-up features gifts like Josh Cellars wine (including engraving the bottles for free, with 100 percent of the profits going to the Firemen's Association of the State of New York), Crosley Radio, Native Union, This Is Ground, and RBT. Stop by Library Bar at the Hudson Hotel all weekend for a special Father's Day Weekend Whiskey Flight for $30, including Rittenhouse Rye, Henry McKenna Sour Mash, and Evan Williams Kentucky Black Bourbon. If he's a hot-jazz man, this Saturday and Sunday is the Jazz Age Lawn Party on Governors Island, with dance lessons, contests, vintage cars, and cocktails (don't forget to dress up in period wear). And if he's a train guy, this weekend is the New York Transit Museum's Parade of Trains, where you can hop on and off six different types of vintage train cars, including the 1904 BRT Brooklyn Union Elevated Cars. Rides originate at the Brighton Beach station B/Q platforms from 11 a.m. to 4 p.m. on Saturday and Sunday.
2. Put a little pep in your step.
This Friday, catch a last-minute DJ set at the Well by former Beastie Boy Mike D. Keep dancing Saturday at Elsewhere at the NY Night Train Soul Clap & Dance-Off, and while you're there, check out the new rooftop, with a daily sunset happy hour beginning at 5 p.m., and events like Saturday's free party with JD Samson. That begins at 2 p.m.
3. Watch the World Cup.
Today marks the beginning of the FIFA World Cup, and while you can easily just watch in a sports bar, some establishments have specials worth seeking out, like a $9 wurst deal at German restaurant Black Forest, a whole-roasted-pig party at the Standard Biergarten on opening day, July 4, and the finale games, there will be a whole-roasted-pig party, free beers at Boqueria whenever Spain wins, and a collaboration between Threes Brewing and the Meat Hook to serve sausages representing participating countries around the world.
4. Drink some sake and frozen Negronis (not together, though).
Friday is the annual Joy of Sake extravaganza at the Metropolitan Pavilion, with over 400 premium labels. And soak up some sunshine, seafood (soft-shell-crab sandwich, lobster roll), and frozen cocktails (including a frozen Negroni) at the Golden Hour, a pop-up bar and restaurant in the High Line Hotel's garden, from the Maison Premiere team.
5. Go under the sea.
This Saturday is the always-fun Coney Island Mermaid Parade, with Amanda Palmer and Neil Gaiman as this year's queen and king. Don your favorite ocean-adjacent costume (note to parents and prudes, some participants will be wearing … not much) and come on down to the water beginning at 1 p.m.
6. Enjoy the classics.
It's worth getting up early for this solstice sunrise concert at the Cathedral Church of St. John the Divine. Beginning at 4:30 a.m. on Saturday, the music takes you from darkness to light with performers like vocalist Theresa Thomason, and the 16-voice Pletenitsa Balkan Choir, conducted by Christiane Karam. From Thursday to Sunday, you can also catch free New York Philharmonic Concerts in the Parks, with shows in Queens and Brooklyn followed by fireworks, and an indoor performance in Staten Island.
7. Get some culture for free.
Summer in the city means free performances, and this Friday begins the River to River Festival, which runs through the 24th with all events gratis and open to the public. Highlights this weekend include MasterVoices' Naamah's Ark on Sunday, a dramatic oratorio telling the story of Noah's ark from the perspective of Noah's wife; New York–born artist Elia Alba's The Supper Club; and Cori Olinghouse's installation performance of Grandma, an exploration of media, aging, and the American South.
8. Hang with some indie-rock icons.
Fans of '90s indie rock, your weekend has arrived. This Friday, the Le Poisson Rouge 10th-anniversary celebration continues with Wilco's Nels Cline and his trio. Plus, Joan As Police Woman, Toshi Reagon, Yonatan Gat, TAK Ensemble, and much more, for just $10. On Thursday and Friday, catch Stephen Malkmus & the Jicks at Music Hall of Williamsburg, and Friday and Saturday, the Magnetic Fields are up at the Apollo in support of the new album, 50 Song Memoir, one song for each of songwriter Stephin Merritt's 50 years.
9. Indulge your love of truffles.
Starting tomorrow and running to June 24, restaurants — including Ai Fiori, Vinateria in Harlem, and Mother Dough Pizza — will participate in the First Annual Black Truffle Festival, hosted by Grana Padano cheese and Urbani Truffles. Participating restaurants will showcase specialty dishes featuring — you guessed it — black truffles and Grana Padano cheese. (Have you booked a dinner for Father's Day yet?)
10. Raise a glass to James Joyce.
This Saturday is June 16, or Bloomsday, a day to celebrate Irish writer James Joyce and the day during which the events of the book Ulysses take place. Symphony Space celebrates with an evening dedicated to the epic tome, going through the first 17 episodes with Joyceans, musicians, and actors from stage and screen. Plus, there's an after-party at Bar Thalia with musicians and, no doubt, whiskey.