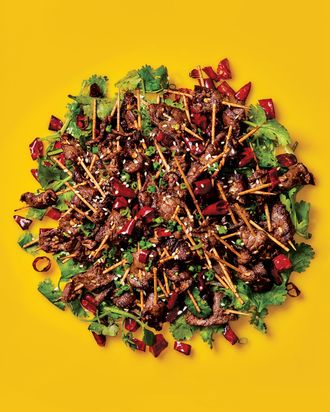 Hunan Slurp's Skewed Beef.
Photo: Bobby Doherty/New York Magazine
Every now and then, the Underground Gourmet takes stock of all the excellent (and not so excellent) grub we've shoveled down our gullets to bring you this — our slightly random, completely subjective, 100 percent delicious top-ten new things to eat and drink.
1. Skewed Beef at Hunan Slurp
112 First Ave.
Meat on a stick times 50. Strips of marinated beef shank get toothpicked like cocktail onions, shallow-fried in oil, dry-fried with garlic and chiles, Salt-Bae'd with cumin, then served like a game of pickup sticks on a fancy platter. It's the best thing to happen to toothpick food since the bacon-wrapped date.
2. Grilled Bread, Goat Butter, Anchovies at Restaurant Ukiyo
239 E. 5th St.
This combo works only when the chef persuades the restaurateur to empty his pockets and spring for the good stuff, food costs and profit margins be damned. Such is the case at Ukiyo, where chef Marco Prins drapes top-shelf Spanish anchovies over twin planks of sourdough spackled with upstate goat's-milk butter so rich and smooth it looks like cream-cheese frosting on a carrot cake.
3. Red Beans and Rice at Lowerline
794 Washington Ave., Prospect Heights
Creole penicillin. Beans, perfumed by a smoky hit of eau de ham bone, are stewed to the point where firm meets tender, enhanced by hunks of andouille, and served with a scoop of steamed white rice. 2nd Ave Deli's chicken soup has nothing on Lowerline's red beans and rice.
4. Royalton Burger at The Cannibal Beer & Butcher
113 E. 29th St.
It's a homecoming of sorts at the Cannibal, where Ryan Skeen made his name eleven years ago, back when the pubby place was known as Resto. Now he's returned, and where Ryan Skeen goes, a good burger follows. To wit, eight heady ounces of dry-aged Wagyu on a brioche bun, plus Cheddar, aïoli, bacon-onion chutney, and about five arugula leaves for health.
5. Patty Melt at Madcap Cafe
387 Court St., Carroll Gardens
That said, what this town could use is fewer burgers and more patty melts, like this juicy puck of beef with Cheddar and onions on squishy white bread lavishly buttered and cooked in a pan like a grilled cheese. Never mind that they call it a CGBG (Carroll Gardens burger). That's just a bait-and-switch to lure patty-melt skeptics.
6. Margherita Pizza at The Woodstock
446 W. 14th St.
Thin-crusted, puffy-cornicioned, nicely balanced Neapolitan-style pizza that's thinner and dryer in the middle than most. It's cooked in a weird, Italian-brand revolving-deck electric oven, though you wouldn't know it from all that smoky char around the edges.
7. Drip Coffee at Sullivan Street Bakery
533 W. 47th St.
An unexpectedly killer cup of joe — rich and toasty with good body — via a small-batch roaster called Great Circle Coffee from that renowned java town … Miami? Goes great with a bombolone.
8. Instant Coffee at Joe Coffee
Multiple locations
Speaking of cups of mud, the third-wavers at Joe have entered the instant market, which is like Folgers going all in on, say, Sombezi Peaberry. The dehydrated stuff comes in little packets, six to a box, and against all odds, it's not only drinkable but pretty delicious.
9. Three-Cheese Pie at The Athenian
224 E. 10th St.
Filo is folded around a mixture of feta, kasseri, and kefalotyri, shaped like an outsize tortellino, brushed with butter and baked, then topped with preserved kumquats. Have one as an appetizer, and another for dessert.
10. Fish Taco Salad at Sweetgreen
Multiple locations
The fish is baked steelhead; the "taco" is crushed tortilla chips. Will one bite transport you straight to Ensenada? Nope, but the quinoa base is warm, the arugula and cabbage fresh and lively, and the zingy lime dressing helped along by a slug of hot sauce.
*This article appears in the June 25, 2018, issue of New York Magazine. Subscribe Now!