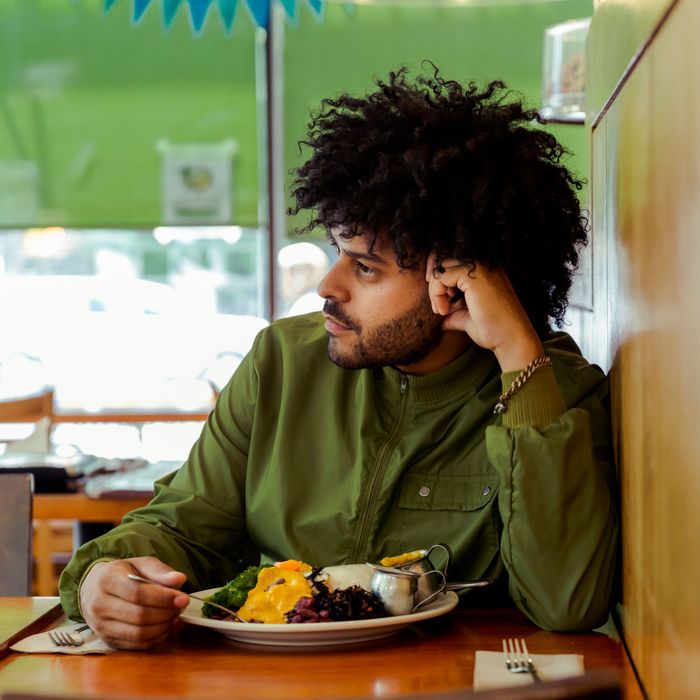 "You can't find Dominican food in L.A. It breaks my heart," says Twin Shadow, who counts Souen in Soho among his regular New York stops.
Photo: Mark Abramson
George Lewis Jr., better known as Twin Shadow, makes smooth, jangly synth-pop that's often compared to Prince's. A versatile artist, he's also written a novel, acted in his first feature this year, done voice-over work, and fashion modeled. In April, he released Caer, his first album since 2015's critically acclaimed Eclipse. A tour-bus crash set his career off course, and this go-around he's shed some of the glossier elements of his earlier music. Lewis, who was born in the Dominican Republic and now lives in Los Angeles, also loves being in the kitchen. Which might explain why his response to L.A.'s lack of Dominican food — "It breaks my heart" — is to keep thinking about opening his own spot. This week, he was in New York and New Jersey, where he ate "Jersey paella," took his niece and nephew for frozen-yogurt sundaes, and, of course, feasted on Dominican food. Read all about it in this week's Grub Street Diet.
Friday, June 8
I met up with my old friend Noel and we contemplated getting a big breakfast somewhere near his old apartment in the West Village. We ended up at a spot he recommended called Elephant & Castle. I'm not really sure what the place is trying to be and that suited us. We looked over the menu for a sec and decided that sharing a slice of chocolate cake was all that we needed. The perfect food for catching up. I'm kind of a chocolate junkie. Anything that gets the dopamine levels going is good for me.
I then went to Jersey City, picked up a rental car, and headed out to visit my half-sister in Hightstown, where I sat and played piano and edited prom photos with my niece and nephew, while my sister cooked her version of a paella. Jersey paella, as it turns out, is pretty delicious; I had two servings. The Jersey version I'd say is a much quicker whip-up and simpler, with chicken that's chicken breast instead of stewed chicken or grilled chicken or grilled meat. Usually, the big trick with paella is that it takes a long time. It was really delicious.
So I have an interesting history with my half-sister and half-brother. They've kind of been estranged from us for a very long time. We kind of just met them seven or eight years ago. My half-sister came to visit my Dominican side of the family and enjoyed the paella made there. It's a big part of not only Spanish culture, but in the Dominican Republic as well.
When I first met the kids, there was a Taco Bell close to their house, and that was a super luxury for them because their mom was having them eat very healthy. I'm not really clear on what being an uncle is supposed to be, but I think part of it is taking them to eat or do anything that their parents won't let them do. I felt like I had to do something unclelike, so I took the kids to Yogurtland for frozen yogurt piled with M&M's, hot fudge, marshmallow drizzle (new to me), and peanuts. I don't like the little mini-M&M's. And while I love peanut M&M's, I don't like them in ice cream, so I always get regular M&M's. They get hard and crunchy. It's my favorite thing. With the peanuts, it's next level.
This fulfilled my uncle quota. We actually drove two towns away just to get it. All in all, the day was pretty unhealthy, but very comforting.
Saturday, June 9
I woke up and drove to Long Beach Island, where I met with some old friends for brunch at a place called the Arlington. That was really good. I was surprised. You never really know with surf towns. We sat at the bar and it could've really been a bar-food version of brunch, but it was really nice. I feel like a lot of those places, they get a brunch crowd, and most of the week it is like the local bar or pub, and maybe they're just slinging burgers, so they dress it up on the weekend.
I had a piece of grilled salmon, it was cooked perfectly, on top of farro salad with a housemade labneh. I really wasn't ready to try housemade labneh from a place where mostly people are just drunk and going to the beach, but it was delicious. Oh, and it came with fennel, which I'm always a fan of, especially with salmon.
After that, I headed to Asbury Park, where I met with my long-lost brother, and we had chicken-parmigiana sandwiches with two bottles of coke. I don't actually know where the sandwiches were from; my brother had them delivered. But it felt very Jersey. It was one of those times when I knew for sure that it wasn't a good chicken-parm sandwich. But because I was sharing it and drinking 20-ounce, plastic Coca-Cola with my brother, with whom I've never had more than a 30-minute conversation, it felt like a really good experience to be having. I feel like any kind of tomato sauce goes well with a coke, pizza especially. I don't really drink it that often. I actually kind of think it's gross, but there's a time and a place.
Honestly, I always feel guilty about ordering chicken parm — especially a sandwich, I feel really guilty about that. But just a chicken-parm dish, any kind of fried cutlet of chicken covered in tomato sauce and mozzarella sauce — I feel like a 12-year-old when I order it. But, you'd be surprised; there's this place in L.A. called Osteria La Buca that has the best chicken parm you've ever had. They serve it with broccoli rabe. I feel guilty every time. And I always mention that to the waitress or waiter there, and they're like, "We totally understand, but this is a really special one."
Sunday, June 10
Back in New York, I met up with Noel again to go see our friend James Carbonetti. Naturally, the small boutique guitar shop wasn't open when we arrived, so we took a walk around Sunset Park, and I noticed a Dominican spot, La Fe, with a sign that said piatto tipico creolo. I know all about spots like this. Delicious Dominican food. We had rice and peas, baked chicken, rice with camarones (shrimp), big red beans, and platano maduro (sweet fried plantains). This is all I ever really need, and I was pleased to see my friend dig into it so hard.
You can't find Dominican food in L.A. It breaks my heart. I've asked other Dominicans and they are all like, "Just come over to my house." Every day I consider opening up a spot, flying my mom out, and having her cook.
So when I'm in New York, I always hit a Dominican spot at least once. One of the better ones — it's not the best; it just gives me good memories — is La Isla. The one on Myrtle and Broadway is my favorite because I used to live over there, and I'd go there when I was writing my first record. For $5, you'd get the biggest plate of beans and rice and chicken. You could live off of that for three days.
For dinner, I went to that place in Soho, Ladurée, where they sell macarons in the front. I bought a $26 package of five macarons for my girlfriend. I love the courtyard, but my food wasn't that great. I mean, you know, I think it just depends. Sometimes French food, if you're looking for simple but rich, if you're in the mood, it can be really comforting like that. But if you're in the mood for really flavorful or exciting food, I don't know the French dishes that are "knock you back to your seat." Dominican food, a lot of people think it's spicy, but it's not. It's just very flavorful. I think French food is sometimes very — I don't want to say bland; it's just rich and simple. That's how I define it as I know it, and that is me being somewhat ignorant because I don't go out for French food all the time.
Monday, June 11
I skipped breakfast and got lunch. Well, no, I guess it was brunch. I went to Café Mogador in Williamsburg. A lot of brunch places have a scene, and I guess this place does, too, but I really like it. I used to go there all the time when I lived in New York.
I just really like the vibe. It doesn't feel like New York. I'm not saying it feels like Morocco or anything; it just feels not American. The staff is just generally good at what they do. It's not pretentious; it's just a quality place. I guess it's hyped because everything in Williamsburg is a bit hyped. But it's really great.
I was with friends, so we just split a bunch of stuff. I had the halloumi eggs. Those eggs were really good, the pita was amazing, and the halloumi cheese was just delicious — you can't really go wrong with it. Usually, I'm there for dinner because we'll be playing somewhere, and I'll just get the eggplant, hummus, and tabbouleh. I like anyplace where you can get filled up on some labneh, some pita, and you don't have to have this massive meal. They're good at portions, too; their portions aren't ridiculous. I see a lot of this, this fight over big portions versus small portions, quality versus class, and all that stuff.
That night, I had a slice of pizza for dinner. There's a little hole-in-the-wall just around the corner from Gramercy Theatre, with this crazy old guy. I don't remember the name. It's funny; this poor guy, I saw him get ripped off by this teenager who was like, "I came in and ordered my pizza 30 minutes ago. I'm still waiting for my slices." And I was like, Man, this probably happens every day. These kids scamming this guy for pizza, and this guy always breaks down and gives it to them.
Anyway, I felt bad because I ruined dinner. I was like, Okay, I've had two slices of pizza, I can't really do dinner. My girlfriend and I were considering going somewhere; we were maybe going to get bánh mì sandwiches and take them back to the hotel. But it was late, so the pizza worked. The problem with pizza is, it's kind of like sushi. You have two slices and you don't quite think you had dinner, but you definitely had dinner.
I was saying to a friend that the amazing thing about New York is that the worst slice of pizza is still ten times better than the best slice of pizza in L.A. I don't know the mystery, I've heard all the theories, I don't know what it is, but somebody should figure it out.
Tuesday, June 12
My first meal of the day was at the Smile, which is another favorite place of mine. I always get the chicken sandwich there; it's really excellent. What always bums me out is, right across the street from Opening Ceremony, they have a little café with sandwiches and the sandwich there is better than at the regular place, and I'm not sure how that works. Sometimes I'll go there instead and get that.
To be honest, I almost always skip breakfast unless I can make it. I can do yogurt in the morning, but I'm not a big-breakfast person. I go in and out of my love for eggs. And I'm definitely in an "I hate eggs" phase.
For dinner, I ate at the Grand Bar & Lounge in the Soho Grand. I just had a very simple Tuscan kale–Parmesan salad, with a piece of grilled salmon. When I moved out to California five years ago, my diet became all sort of health stuff mostly because my girlfriend at the time was a health nut. Recently, I've gone back to "eat because it makes you feel joyful" without overdoing it. I do appreciate good food, most of all I love home-cooked meals, and I really love cooking. But when I travel, I try to eat really healthy, so I don't feel terrible when I'm flying.