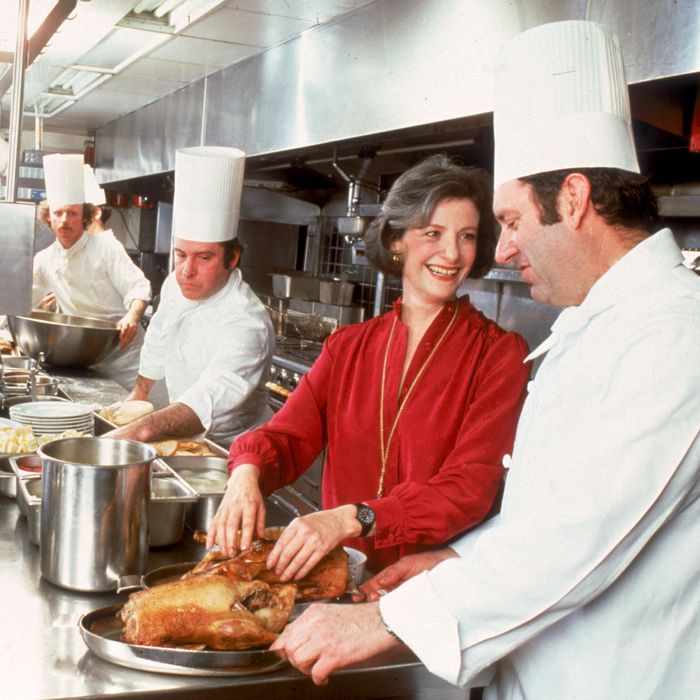 Kafka at Windows on the World in 1979.
Photo: Susan Wood/Getty Images
Barbara Kafka, the writer and cook, has died at the age of 84. Her husband, Dr. Ernest Kafka, tells the Washington Post that she suffered from Parkinson's as well as other ailments.
Over her long career, Kafka wrote numerous cookbooks and was a contributor to publications like the Times and Gourmet. She also had her own grocery store at one point, and was previously a restaurant consultant, including for some of New York's most famous restaurants. She picked flatware and silverware for Windows on the World, the restaurant at the top of the World Trade Center, and wrote the menu for Gotham Bar and Grill when it opened.
Kafka's last book, The Intolerant Gourmet, published in 2011, was motivated by her own resurgent gluten and lactose intolerances, and is meant to help people with those allergies eat deliciously. It was a practical bent that defined books like, most obviously, the Times best seller Microwave Gourmet. She preached the practice of cranking the oven in Roasting, much to the chagrin of Julia Child, and her Vegetable Love won the 2006 IACP Award for Best Single-Subject Cookbook. The James Beard Foundation also honored her with its Lifetime Achievement Award and inducted her into its Cookbook Hall of Fame. And as if her writing and restaurants hadn't kept her busy enough, Kafka helped Gael Greene and James Beard raise $35,000 to start City Meals on Wheels.
The news prompted an outpouring of remembrances, from both writers and people who knew or were friends with Kafka. Many talked about how much they've relied on her books, in particular Roasting and Microwave Gourmet. The James Beard Foundation published a remembrance, in which its executive vice-president Mitchell Davis credited her with "shap[ing] the way we eat," while others took to Twitter.