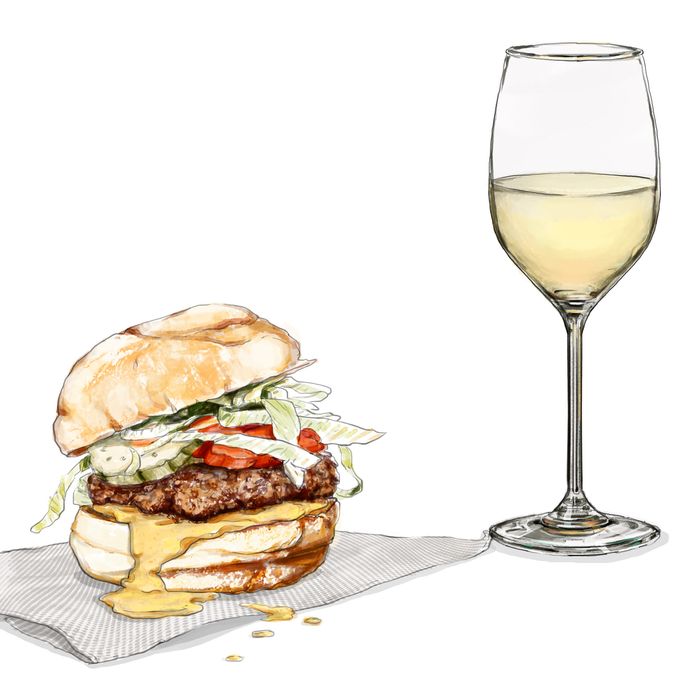 The East Village meets New Zealand's premier wine region.
Illustration: The Ellaphant In The Room
"Veggie burger" is very much an all-encompassing category of sandwich that covers pretty much anything with a plant-based patty served between two pieces of bread. Some try to re-create meat, others embrace their vegetal nature, but the burger that is currently leading the charge is the Superiority Burger, the New York phenomenon that somehow manages to highlight everything great about fast-food burgers and vegetarian food.
According to the cookbook released just this month, the patty is made from quinoa, carrots, chickpeas, onions, fennel seeds, walnuts, spices, and Frank's RedHot Sauce. Add roasted tomatoes, special sauce, optional cheese, and some pickles and you've got it. Of course, the great thing about this combination of ingredients is that they all match up wonderfully with New Zealand Sauvignon Blanc.
Like "veggie burger," "New Zealand Sauvignon Blanc" is a catchall term. When trying to get a handle on these wines, it helps to understand that there are a number of regions on New Zealand's North and South Islands that produce different styles. The benchmark style comes from a region called Marlborough, on the northern tip of the South Island. The wines are intensely aromatic, zesty, and often fierce on the palate. Marlborough is the region that put New Zealand Sauvignon Blanc on the map for most Americans in the late '90s and early aughts, but if you look beyond the biggest players, some wineries are trying to change the perception of what Sauvignon Blanc from this area can be, without trying to veer too far away from the classic style. Little did they know, they were also creating wines that are a strong match to excellent veggie burgers from the East Village.
Here's why it works: By reining in some of the intensity and balancing all of the flavors and textures, some of the most interesting producers make something less heady and more food-friendly, which is more difficult than it sounds. Sauvignon Blanc is a grape that is naturally rich in aromatic character and packs a big herbal punch. Compounds called pyrazines are what cause wines to have herbal and vegetal characteristics, and that's a good thing. People associate notes like "bell pepper" and "grassiness" with Marlborough's wines, but they can also remind people of tomato, green bean, or jalapeño. There are also fruit notes like grapefruit, lime, mango, pineapple, or gooseberry. To go with alllll of these beautiful smells is a raging amount of acidity that is tamed by the seared veggie patty, the richness of the bun, and the tanginess of the sauces and pickles.
Lastly, these wines also have a lot of what is called mid-palate texture, where you feel a lot happening in the middle of your mouth that can leave behind a tactile residue that is silky or waxy. All of this coating effect works to balance the diverse textures of the sandwich itself.
So, whether you grab burgers to go from Superiority's East Village storefront, try to make one at home, or pick up a different veggie burger altogether, snag a bottle of the wines below to truly achieve the full range of vegetal bliss.
Dog Point Sauvignon Blanc ($19)
This is a property that takes Sauvignon Blanc seriously. It will be medium-bodied, intensely structured, juicily flavored, and bone-dry.
Greywacke Sauvignon Blanc ($23)
This winery has managed to convert some very vocal critics of New Zealand Sauvignon Blanc by producing a classic style that has an elegance and vibrancy that transcends the cliché wines from the area.
Fairbourne Sauvignon Blanc ($30)
Coming from a handpicked single vineyard site, this is a beautiful expression of what quality Marlborough Sauvignon Blanc can achieve.