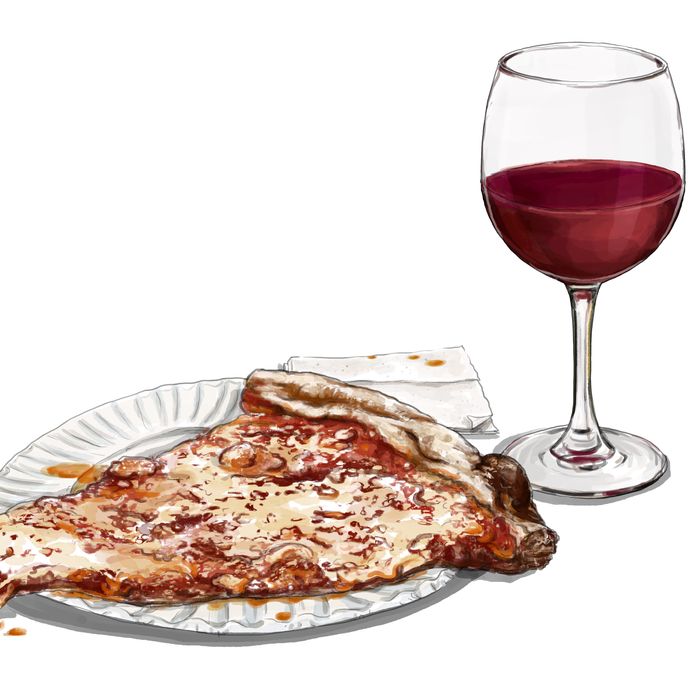 Every Monday night should look something like this.
Illustration: The Ellaphant In The Room
The charm of the 99-cent pizza slice (or the $1.25 pizza slice, or whatever the going rate is for very cheap pizza in your neighborhood) is that it is among the most affordable foods in all of New York City. When I first moved here, rent took up like 80 percent of my income, and I quickly became so devoted to dollar slices that I'll still grab some on my way home to eat while I pop a bottle of wine on the couch. And when I do that, I reach for a Montepulciano from Abruzzo every time.
Here's Why It Works: Even a cheap slice typically involves a fair amount of red sauce, full of tomato and acidity. That means you want a wine that also has a good amount of acid, so it won't taste flat or strangely sweet in comparison to the pizza. A sprinkling of fatty mozzarella is even more reason to pick a crisp, sharp wine. And this is where Montepulciano — a grape grown all over Italy — comes in. Naturally high in acidity, the wines are like pizza's best friends.
In addition to the symbiosis of acidity, the wines are typically medium-bodied and juicy, which makes them very easy to drink (especially if you throw them in the fridge for a few minutes to get a quick chill). The wine's spritely tannins will also ensure that the oiliness of your cheapo pizza — or even regular-priced pizza, for that matter — doesn't linger in your mouth.
Montepulciano d'Abruzzo is the most famous rendition of the wine. Abruzzo is the name of the region (located in central Italy, east of Rome), and the winemakers there craft some of the most beautiful wines in the world. Montepulciano d'Abruzzo is a prime example, but — good news for fans of $1 pizza — that doesn't mean that they have to be oppressively expensive. In fact, many of these wines are relatively budget-friendly. Here are three to get you started.
Borgo Reale ($13)
A classic example of what this grape and region have to offer, at a very easy-to-digest price point.
Cantinarte 'Ode' ($23)
An organically farmed, small estate offering vibrant renditions punching well above its weight in price.
Emidio Pepe ($145)
Okay, if you really want to splurge, the (big) buck stops here. This is age-worthy and dead sexy.