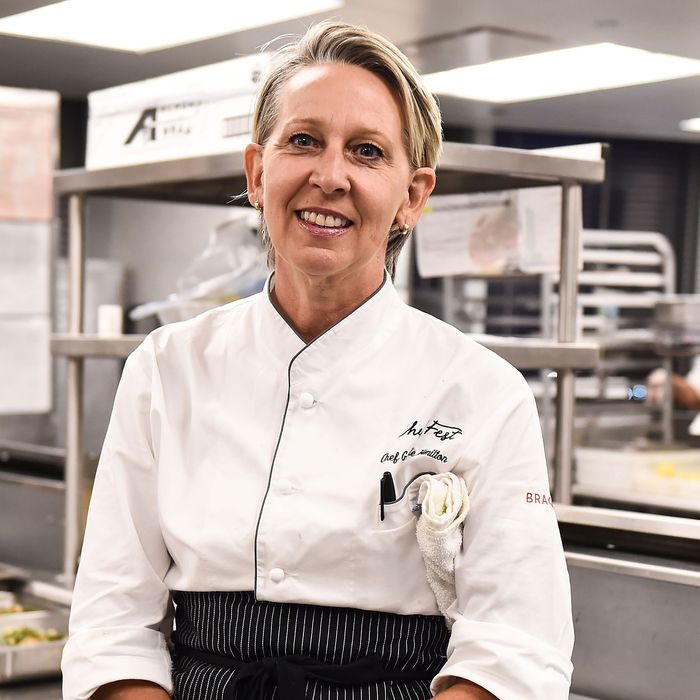 It's a baffling career move.
Photo: Daniel Zuchnik/Getty Images for NYCWFF
Gabrielle Hamilton, the chef and owner of Prune in the East Village, will take on partnership and executive-chef duties at the embattled Spotted Pig, along with her wife, Ashley Merriman, the chef tells the Times. Staff were informed last night, according to a person close to the restaurant, and at the moment, details are limited. "Everyone gets so excited when José Andrés goes into these natural disasters and helps people," Hamilton says, making a somewhat inapt comparison. "They ought to be happy that these two women are going into a man-made disaster to help make things right."
Criticism of the move on social media was swift:
A source close to the Spotted Pig says staff were informed of the imminent change last night during service, but the Times account makes it seem like the terms of the Hamilton-Merriman changeover aren't finalized. "We don't have a deal, but we're going to make one," Hamilton is quoted as saying. "We're going to be chef-owners. We're going to run the Pig."
Perhaps not coincidentally, yesterday marked the six-month mark of a major New York Times report in which ten women detailed instances of bullying, groping, and unwelcome sexual advances at the Spotted Pig. The culture of abuse had festered to the extent that employees had reportedly assigned the restaurant's third-floor private dining room a grim new moniker, the "rape room." Up until that point, partner Ken Friedman and chef-partner April Bloomfield's restaurant was most widely known for its acclaimed and influential reputation.
The fallout has been considerable. Friedman issued a public apology, in which he wrote that "some instances were not as described." Two days after the report, Bloomfield apologized on Instagram, in which she wrote, in part, "I fell short, and I am filled with anger."
In May, 60 Minutes leveled additional accusations against Friedman and Mario Batali, another of the Spotted Pig's partners who has also been the subject of misconduct reports, including an allegation that Batali drugged and raped a woman at the restaurant. Along with work published at Eater, the news has prompted what seems like a seismic shift in the hospitality industry. Last month, the NYPD confirmed a criminal investigation of Mario Batali.
The Spotted Pig remains busy, as it was in the immediate wake of the Friedman report, but there are signs of attrition behind the scenes. Bloomfield announced an imminent business divorce from Friedman in conjunction with the 60 Minutes story, and others have left the now-dissolved group's restaurants in California and New York. Tosca Cafe in San Francisco lost its chef and a partner last month; earlier, Erika Nakamura and Jocelyn Guest stepped away from White Gold Butchers. Last week, April Bloomfield announced through a spokesperson that the chef has permanently left the Spotted Pig and White Gold, and is "re-concepting" the John Dory Oyster Bar, while making changes at the Breslin, the Hearth & Hound in Los Angeles, and Tosca Cafe. Salvation Taco will rebrand as an Empellón restaurant under new owner Alex Stupak. A source tells Grub Street that Edie Ugot, who ran the Pig's kitchen under Bloomfield, recently left the restaurant.
Hamilton debuted Prune in 1999. Menus are long lists of plates like radishes and butter, roast marrow, or sardines on Triscuits, which seemed familiar but also rebellious, in that the food has long been immune to trends. Dishes like pan-fried sweetbreads with bacon and capers bridged gaps between a kind of throwback American regionalism and the sort of stuff line cooks put together on the fly for other cooks. Hamilton was close with Anthony Bourdain — there's a cigarette-accented shrine to him up now near the pass at Prune — who called Blood, Bones, and Butter, her 2011 book, "simply the best chef memoir ever." The Mind of a Chef recently devoted half of its 2015 season to her, and in May, Hamilton was awarded Outstanding Chef by the James Beard Foundation.