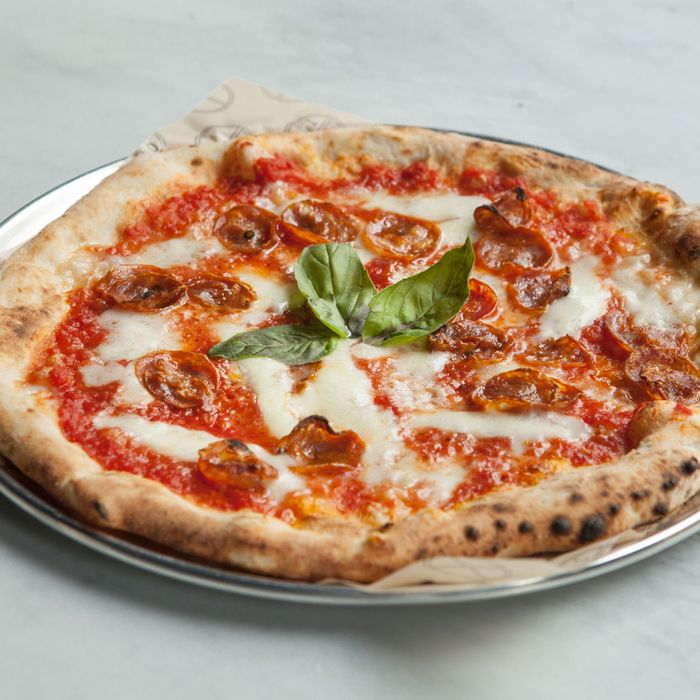 The Diavola with tomatoes, buffalo mozzarella, spicy soppressata, extra-virgin olive oil, and basil.
Photo: Melissa Hom
As far as Neapolitan pizza goes, Rossopomodoro is big business. The international chain has over 120 locations, including in New York, where it first arrived as part of the city's original Eataly. That location's chef Simone Falco, whose uncle Franco Manna founded Rossopomodoro, handles operations for branches in Eataly USA and opened the United States' first stand-alone location in the West Village. Doing that, however, apparently hasn't filled up Falco's plate. Today, he opens the first location of the more budget-minded Simó Pizza.
The new restaurant is in the Meatpacking District, but there was never going to be only one Simó. When first announcing the project, Falco said that he had this first location planned, plus a second in Boerum Hill. And he's now signed leases for two more locations, including one in Chelsea. Regardless of the numbers, the conceit behind this chain-to-be is relatively straightforward: Neapolitan pizza has gotten too expensive. New Yorkers tend to think of it as the fancy pizza, and when the Neapolitan boom started in the late 2000s, it was packaged with premium ingredients.
That's not how Falco sees things. "Growing up in Naples, where pizza is considered firstly food you grab and go, I think $20 for a pizza, for something quick, is too much," he explains. "I felt there was a possibility to make it under $10 for the same quality and same size."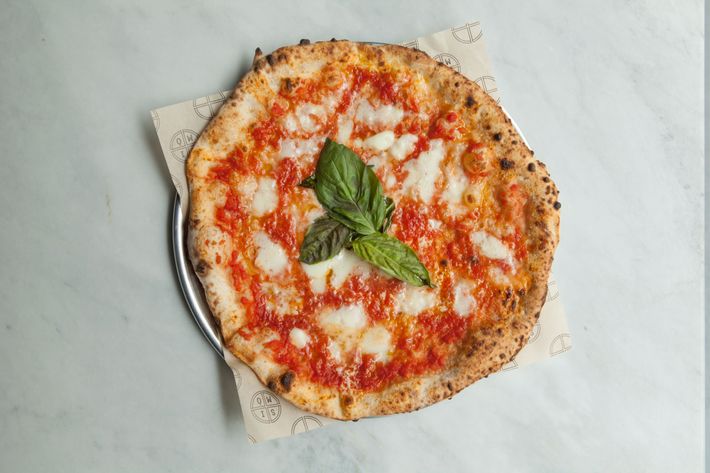 Falco's goal, then, is to serve exactly what you'd get at a Neapolitan pizzeria — with the same quality and size as at Rossopomodoro — with prices that are kept down by a tight menu and a quick-service model that involves ordering at a counter. (It's not dissimilar, because of pedigree, to Danny Meyer and Nick Andrer's Martina, the more affordable Marta spinoff.) At the 30-seat Simó, the pizzas are all personal pies, they all cost less than $11, and you're promised that you'll be served in under five minutes. The opening menu lists six options, from your basic margherita to a tomatoless cacio e pepe with buffalo mozzarella, Pecorino, black pepper, olive oil, and basil.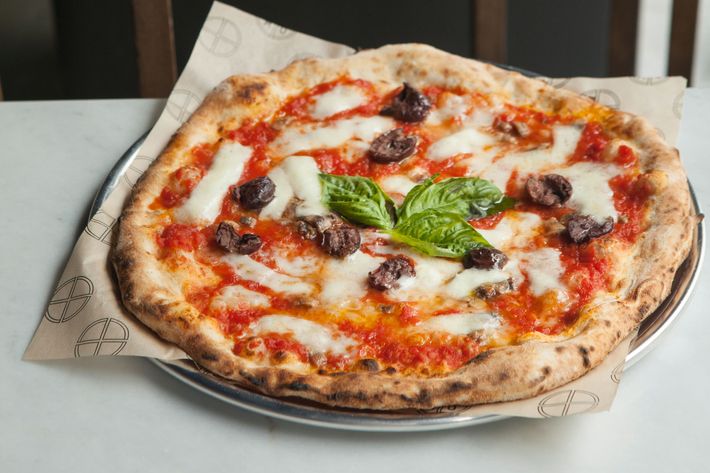 Along with the pizza, there are three salad options, plus beer, red wine, white wine, and Prosecco. Eventually, they'll add a specials board with pizza, salad, and dessert, but Falco says he'll first focus on feeding the carb-free. "The gluten-free menu is a little complex for a concept that promises to serve you in under five minutes," he says.
One more thing to note about Simó: It's cash-free, a model that has provoked criticism for being, as one writer argued, classist. Falco says that he "knows some people will be upset," but also says that at Rossopomodoro, cash sales account for less than 5 percent of business.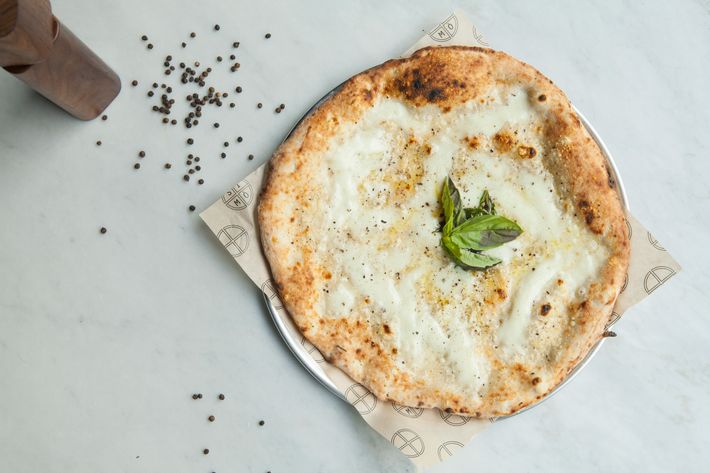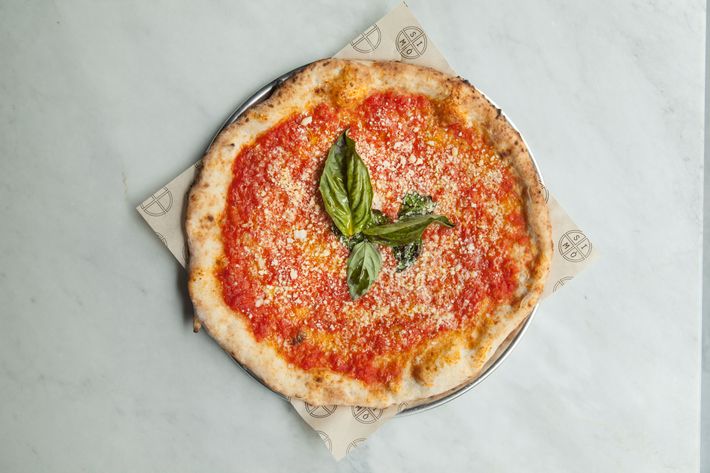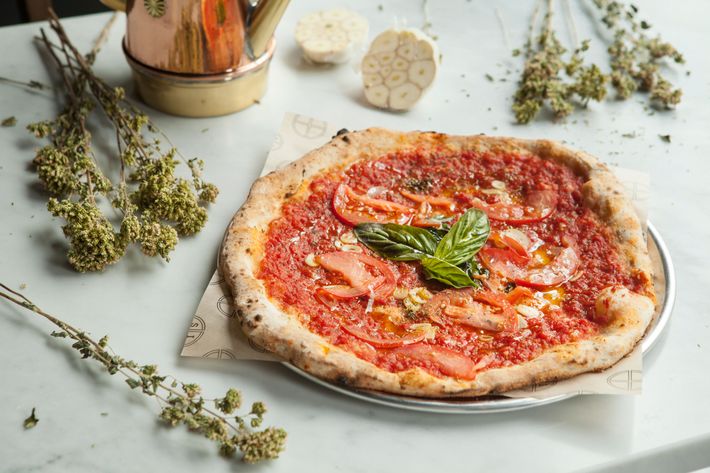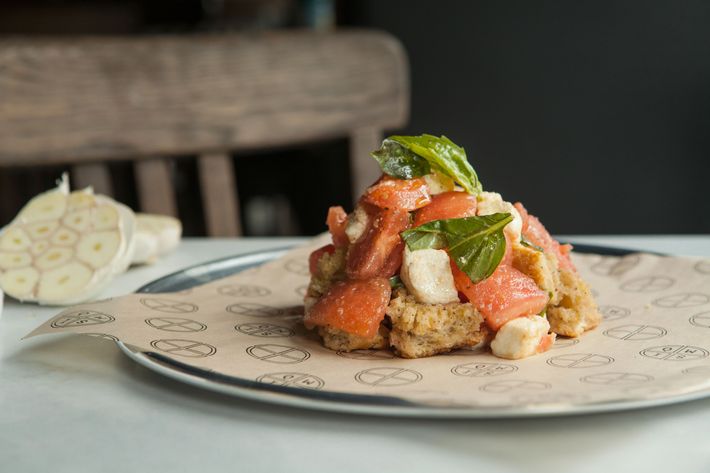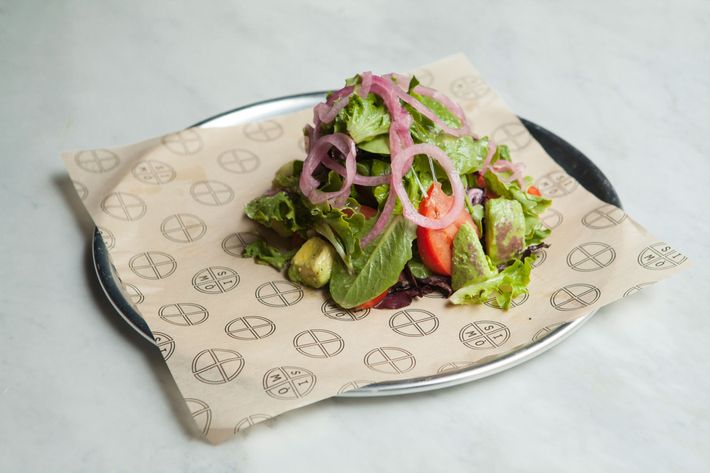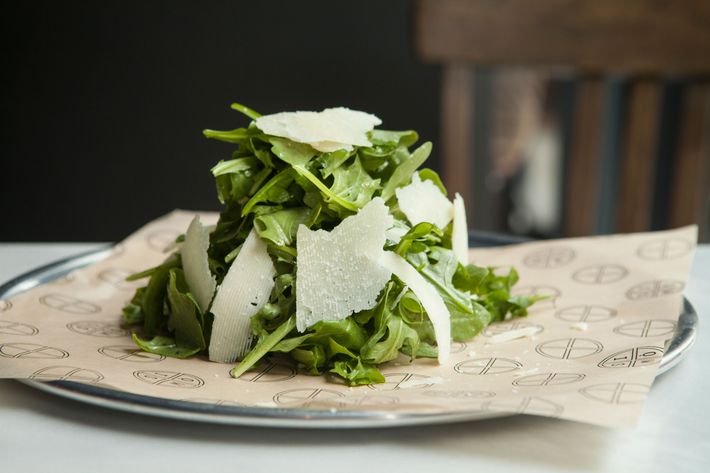 Simó Pizza, 90-92 Gansevoort St., nr. Washington St.