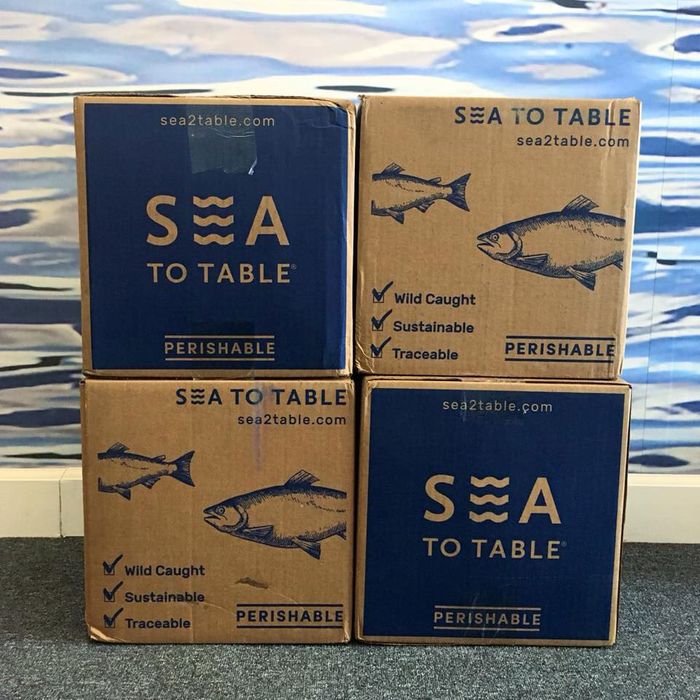 Sea to Table seafood.
Photo: @sea2table/Facebook
Sea to Table is a company held up as an emblem of sustainable fishing by chefs and the media. It's also the subject of yet another report on fraud and labor abuse in the industry. Tracing seafood is very difficult because of overseas processing, which meant many companies and people were buying seafood hauled in by boats that were overfishing and/or manned by de facto slaves. Founded in 2004, Sea to Table presented itself as combating this. But a lengthy, thorough AP story about the company, which purports to sell nothing but wild seafood that could be directly traced to American docks and occasionally even boats, pokes holes in that narrative.
The details are damning. Sea to Table claimed to be selling Montauk tuna during the winter, but one week, reporters took 36,000 time-lapse photos of a Montauk harbor and not a single one captured a tuna boat docking. They connected the company's supply chain to migrant fishermen who had described both abusive labor practices — including boats that paid fishermen $1.50 for 22-hour shifts without appropriate food and water — as well as the slaughtering of dolphins, sharks, and whales. While all of the seafood was supposed to be local, the New York company offered seafood in other parts of the country that was farmed, illegal to fish, and out of season. Preliminary DNA tests on yellowfin tuna found that it came from the other side of Earth, and the company promoted fresh Maryland blue crab in January, several months out of season.
In one case, caterers for a ball hosted by Washington governor Jay Inslee turned to the company Inslee had helped get through a law combating seafood labeling, but the Montauk tuna served at this dinner was actually from North Carolina. Certain partner docks were not actually docks, like the Santa Barbara Fish Market, a store where (as I once did) you can buy decidedly not-local Maine lobster. In some cases, the company also claimed to be getting fish from boats that were operating hundreds of miles away. One such boat's owner, Robert Devlin, tells the AP that's not an uncommon practice.
A half-dozen fishermen and dealers expressed concern and anger about Sea to Table, and the famous ocean conservationist Carl Safina told the AP that if a company preys on consumers' desire to do good, then it "deserves to be put out of business immediately." If Sea to Table is found to have misled customers, clients, and possible investors, it could be criminally liable. A seller that knows or should've known about mislabeling can be found guilty of charges including defrauding the U.S. government and face fines and jail time. Responding to the report, Sea to Table's founder, Sean Dimin, posted a letter to the company's website. In it, Dimin writes that the company is "addressing these claims quickly," that it has discontinued its relationship with a supplier named in the story, Montauk's Gossman, and that the company is "unwavering in our commitment" to sustainable fishing.