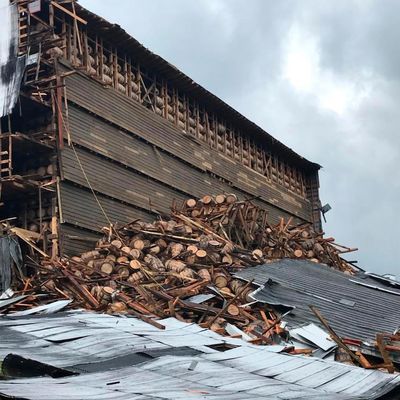 About half of the barrels in Barton 1792 Distillery's warehouse came tumbling out.
Photo: Chief Billy Mattingly/AP/REX/Shutterstock
Bad news out of Kentucky, folks: Thousands of barrels of aging bourbon and other spirits were injured when a warehouse partially collapsed last Friday. Luckily, no humans were hurt.
According to the Times, the collapse took place at Warehouse No. 30 on the property of the Barton 1792 Distillery, the oldest fully operating bourbon distillery in Bardstown, Kentucky. Of the 20,000 barrels of bourbon and other spirits being held in the warehouse, about 9,000 came tumbling down. (See a video of the collapse below.)
Naturally, the Environmental Protection Agency was called in to make sure the booze didn't seep into the local groundwater. So far, the groundwater seems safe, but according to Louisville paper, the Courier-Journal, some damage was wreaked on the local waters: As of Saturday, about 800 dead fish were found in nearby Withrow Creek.
The only good news here: The collapse took place during the "summer shutdown," a period when distilleries cease operations for a few weeks for maintenance. So, good timing on Warehouse No. 30's part. According to Sazerac, the owners of Barton 1792, consumers and local tourists shouldn't see any disruptions in production.