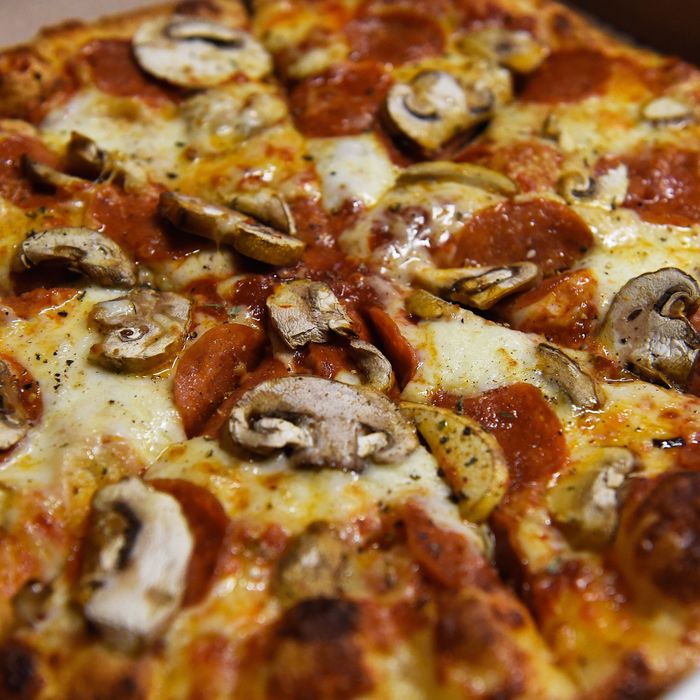 Pablo Villavicencio tried to deliver the pizza to Fort Hamilton.
Photo: Seth McConnell/Denver Post via Getty Images
What was supposed to be a pizzeria worker's uneventful delivery run to Fort Hamilton last week ended in his sudden detention at the hands of U.S. Immigration and Customs Enforcement officials. Pablo Villavicencio, a 32-year-old employee of a Brooklyn restaurant, was born in Ecuador. He has a green-card application in process, and had in the past delivered to the Army-controlled base. This past Friday, however, he arrived at the gates, and a guard asked Villavicencio for ID to prove that he was a citizen. When Villavicencio apparently could not produce any, the guard made a call and "handed him over to immigration authorities."
Villavicencio is now thought to be locked in a New Jersey facility, but his exact location is unclear. Sandra Chica, his wife, is trying to prevent his deportation, and has reached out to TV stations and Spanish-language newspapers. Personnel at neither Fort Hamilton nor ICE have commented on the events, but activists say the circumstances of Villavicencio's detention are unprecedented in New York City and State. Javier Valdés, co-executive director of Make the Road, an immigrant family advocacy group, has called for an investigation of the incident, which seems to represent a "collaboration" between the military and ICE. It has also been alleged that the guard did not have legal authority to question Villavicencio about his citizenship status.
Delivery workers and restaurant personnel have been frequently targeted by U.S. Immigration and Customs Enforcement since its founding in 2003. For this and other reasons, political candidates such as Alexandria Ocasio-Cortez, of New York's 14th district, are openly calling for its abolition.
Councilmember Justin Brannan and Brooklyn borough president Eric Adams are expected to make formal inquiries today about the circumstances that led to Villavicencio's detention. City Councilmember Carlos Menchaca, who also chairs the council's Committee on Immigration, released a statement condemning Immigration and Customs Enforcement tactics that he alleges are "specifically designed to intimidate immigrant communities through fear." Villavicencio's wife and two children are U.S. citizens, and his path to citizenship was well underway at the time of his detention. In a bizarre detail, Chica told Telemundo that her husband called to say he had been arrested, and mentioned that Fort Hamilton workers took the pizzas while they waited for ICE to arrive.
A march is scheduled for tonight, and a GoFundMe campaign has been set up in Villavicencio's name.