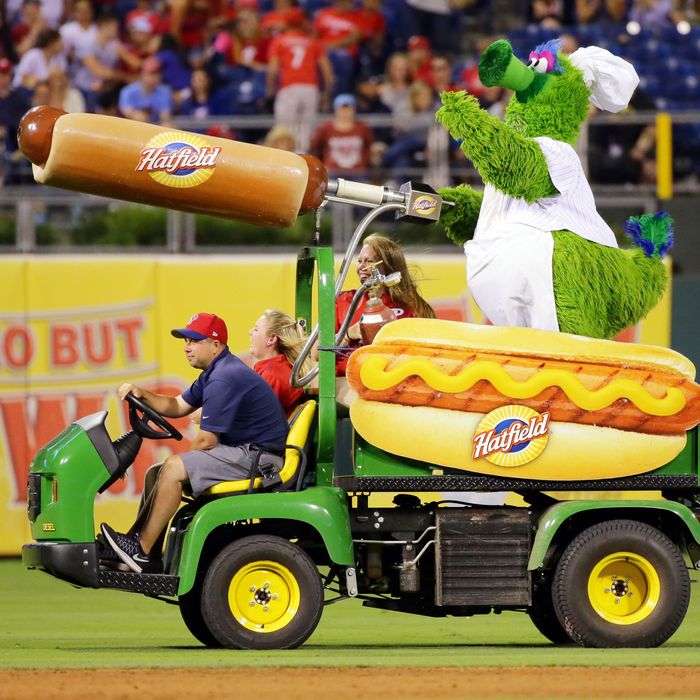 The Phanatic and his weapon of choice.
Photo: Hunter Martin/Getty Images
If baseball mascots were celebrities, the Phillie Phanatic would be Justin Bieber circa 2013, when he was peeing in buckets and cursing Bill Clinton's name.
The Phanatic is known as one of the wilder mascots in baseball: He rides around on an ATV, tries to trick fans into flashing the crowd, and generally causes a little chaos. And this week is no exception: the Phanatic is in hot water after injuring a fan with a hot-dog cannon.
According to WPVI-TV, the incident took place on Monday night as the Phillies faced the Cardinals. One Kathy McVay told the news outlet that she was enjoying the game when a hot dog wrapped in duct tape "came out of nowhere and hard." McVay's glasses flew off her face and she now sports bruises under her right eye and around her nose.
After a visit to the emergency room to check if she had a concussion and many an ice pack, McVay is recovering. And, in good news for baseball's "most-sued mascot," she has no plans to take legal action. Also, this is probably the end for hot-dog cannons, which is totally fine.