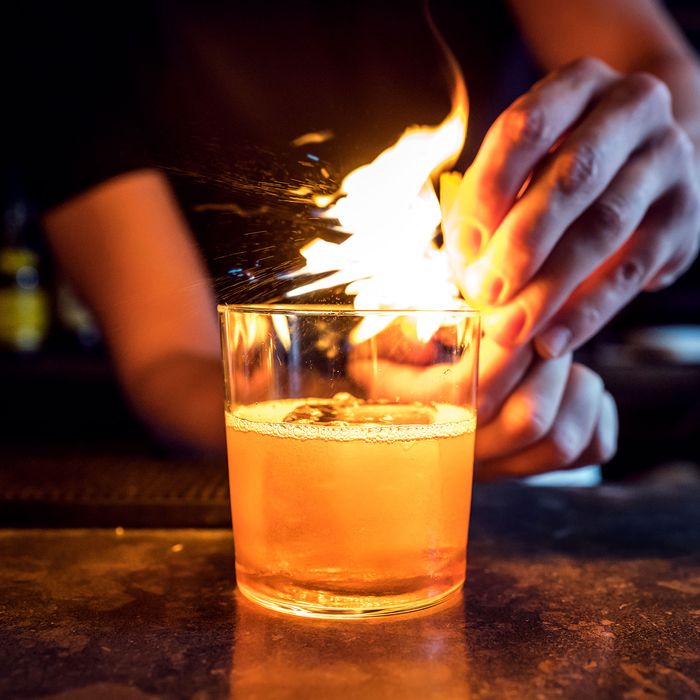 Applying the finishing touch to a Patxaran cocktail at Txikito.
Photo: Noah Fecks
At Txikito, in Chelsea, the Navarrico is a surprising drink: Cucumber, gin, bay leaf, and ginger are all lifted by a note that's hard to place, something that's sweet and herby at the same time, like a combination of Fernet and Aperol, but somehow gentler than both. The same mystery note shows up in the Casco Viejo, where it amplifies the bite of whiskey and brandy. The responsible party, it turns out, is Patxaran, a spirit that flows freely as both an aperitif and digestif in the Basque country, but which remains obscure here — despite a flavor profile that will no doubt appeal to most cocktail lovers. "It's like if someone turned Angostura bitters into a real liquor," says Txikito bartender Jonathan Young.
In Spain, Patxaran — also spelled Pacharán — dates back to at least the 15th century, where it was something of a do-anything liquor, served for celebrations and as a stomach-soother. Its existence wasn't revealed to the wider world until 1926, at the General Exhibition of Bordeaux and the Pamplona Regional Agrifood Exhibition. It wasn't commercially available until 1956, and even then, it was barely available outside of Spain.
The flavor itself derives from a regulated process: sloe fruits, coffee, and a cinnamon pod from anisette are soaked for between one and eight months. Patxaran is not allowed to have any added colors or flavors, so different brands tend to be somewhat uniform. I returned from a recent trip to Spain having more or less fallen in love with it, and was surprised by how hard it is to find in New York. For the people who do carry it, though, Patxaran can do something special: In an industry driven by hype about the next big thing, it makes drinks feel unique without calling a lot of attention to itself.
Asked their thoughts on Patxaran, the city's bartenders — even the big ones, the ones who pride themselves on knowing this stuff — know almost nothing. They frequently cup their ears and ask Patxaran seekers to repeat their request: "Are you asking for Patrón?" As of last year, there was only one distributor citywide, in the Bronx's Hunts Point, and they had only five clients, all liquor stores in downtown Manhattan.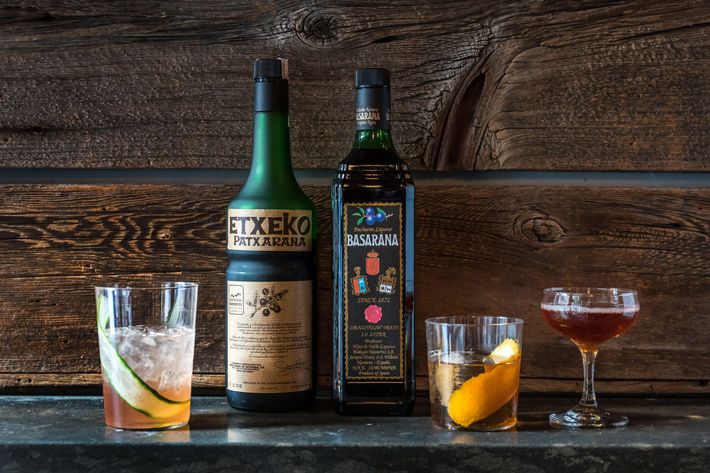 "It's embarrassing how little we know about Patxaran," says bartender Ricky Agustin. "There's a lot of flavor. Imagine drinking Coca-Cola your whole childhood and not trying Pepsi until you're 25 or 30. That's Patxaran. Do you know how hard it is to find new territory in cocktails?"
It might get a little easier, since there's now a new distributor, and you can pick up a $35 bottle of Patxaran at Astor Wines. It's also starting to pop up at a few more bars, where it might be used as palate ornamentation in an otherwise simple drink, as it is in the Agua de Valencia of the East Village's Huertas. Other times it's the through line that ties together some otherwise-disparate ingredients, as it is at Ortzi, where it's combined with vodka, egg white, elderflower, and grapefruit juice in the Baiona Sour.
The core of the city's Spanish scene for the past 150 years has been the Spanish Benevolent Society on West 14th Street. Its basement restaurant, La Nacional, reopened this month after a grand renovation two years in the making — a $1 million overhaul that includes the addition of a Patxaran cocktail called the Basqurian, which also involves cava, cider, and rose water. The drink is sweet without being cloying, and light without feeling frivolous.
Nacional's cocktail consultant, Clark Moore, first learned of Patxaran in a tasting room off of Chambers Street. Patxaran is what Moore calls a "tertiary liquor, along the lines of St. Germain or vermouth. It's floral and herbal. It's not just one note. It's very built."
Patxaran is not an ingredient with any kind of cachet — most people haven't even heard of it — and instead, the decision to carry it for some owners is just a point of pride. "It was, and remains, a hard sell," says Txikito's chef and founder, Alex Raij, who has carried it since opening the restaurant ten years ago. "It feels like one of the many ways that we impart Basque tradition in support of the food that we make." And at Alcala, in east midtown, I asked a Spanish waiter how he prefers to drink Patxaran. "With seltzer," he replied. Nothing more? He just shrugged, "We don't need more — we are Basque."